CMC Fulbright Student Scholars
The College is once again a top producer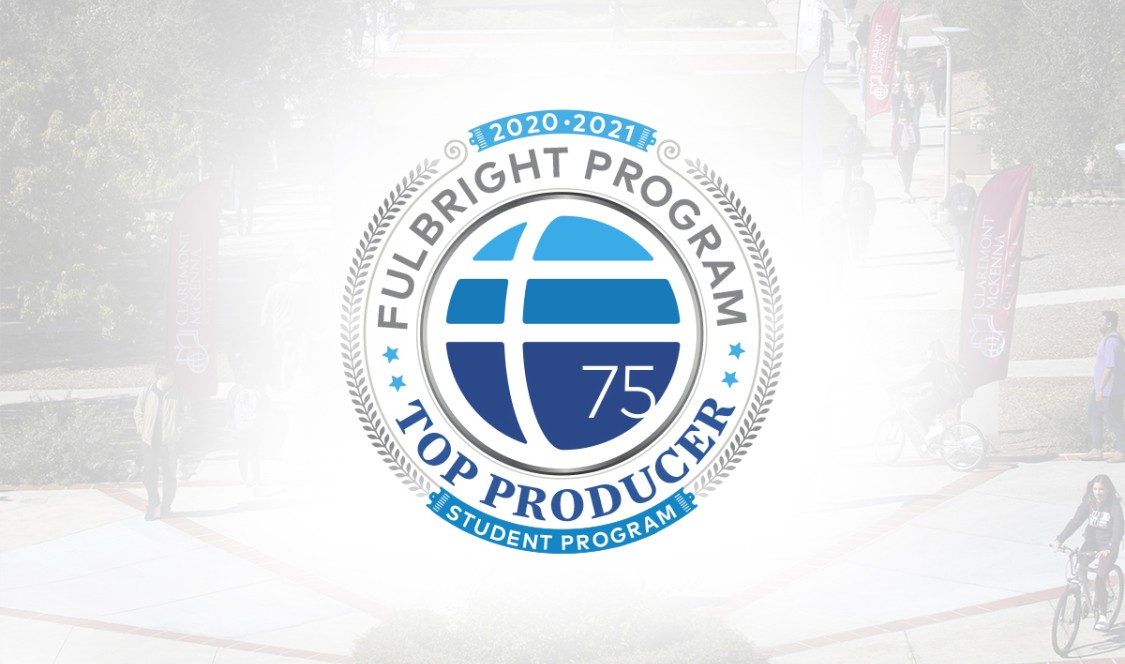 Claremont McKenna College has been named a Top Producing Institution of Fulbright U.S. Students for 2020-21, a recognition of outstanding academic achievement and engagement with the world at large.
Last year, five recent CMC graduates were offered Fulbright grants for the current academic year. While they could not begin their grants on schedule, they have been offered the chance to defer their grants to the upcoming academic year.
CMC Fulbright U.S.
Students for 2020-21
Andrew Ciacci '20 – Research – Political Science – Kosovo
Gabrielle Clouse '20 – Study – Biology – Finland
Emma Henson '19 – English Teaching Assistantship – Germany
Amanda Kandasamy '20 – English Teaching Assistantship – Kosovo
Lucas Radice '19 – English Teaching Assistantship – Germany
Separately, 19 applicants for the upcoming academic year are semi-finalists for Fulbrights, a record for the College. Finalists will be announced in spring.
For the past decade, CMC has consistently been among colleges and universities with the most students accepted to the prestigious program, said Brian Davidson '08, director of fellowships advising, who works with students pursuing highly competitive national and international grants and awards.
The recent graduates received their Fulbrights for diverse projects, including a proposal to study multi-ethnic democratic institutions in Kosovo, research in molecular biotechnology and diagnostics in Finland, and curricular proposals for English language instruction.
With Fulbright grants, the CMCers will serve as American cultural ambassadors as they engage in their research, study, and teaching pursuits. They will have the chance to participate in a variety of other educational and diplomatic activities abroad when it is safe to travel.
"It is an understatement to say that the past year has deeply impacted international education and exchanges," said Davidson. "I know that not all of our grantees will be able to take up their awards in the fall. Still, I am humbled by how committed CMCers remain to international engagement, and this recognition shows that they are ready to meet the world once the world is ready for them."
The U.S. Department of State's Bureau of Educational and Cultural Affairs announced the top producing institutions for the Fulbright Program, with The Chronicle of Higher Education publishing the list of awardees.
The Fulbright U.S. Student Program funds about 2,000 students every year to teach and conduct research in more than 125 countries around the world. Applicants are selected based on their academic and professional work, the quality and achievability of their teaching or research proposals, and their ability and willingness to engage culturally with their host communities.
For this academic year, Fulbright calculated Top Producing institutions based on the number of Fulbright grants offered, rather than taken because many grants were cancelled or postponed due to the COVID-19 pandemic.
CMC's consistent placement as a top Fulbright producer is a testament to the College's commitment to preparing students to make a global impact.
"Our cherished partnership with the Fulbright program perseveres, even in a year of formidable challenges," said CMC President Hiram Chodosh. "This recognition is a vital source of inspiration for all of us as we support our record number of Fulbright semi-finalists this year and prepare all of our students for a 'future world of affairs,' in which they will perform roles of responsible leadership in taking on the world's biggest challenges and opportunities."
—Gilien Silsby
Contact
Office of Public Affairs and Communications
400 N. Claremont Blvd.
Claremont, CA 91711
Phone: (909) 621-8099
Email: publicaffairs@cmc.edu

Media inquiries: Gilien Silsby
Phone: (213) 500-8673
Email: gsilsby@cmc.edu