For their tech company to build a clientele list that includes National Geographic, TD Bank, Gallup, and MasterCard, Ritvij Gautam '14 and Tim Rotolo '14 had to juggle many responsibilities.
The two former classmates credit the success of their company TryMyUI to "bootstrapping it" – keeping their team small, taking minimal outside investment, and taking on multiple roles, often at the same time. In the company's early days, Gautam worked every stage of the sales cycle while managing operations. Rotolo designed products, created content for marketing, optimized their website, and provided customer support.
Gautam started running the company, which provides screen recording software that tests website user interfaces, just four months after graduation.
During a job interview with software company IdeaScale, Gautam received a unique offer from the company's board chairman Vivek Bhaskaran. Bhaskaran wanted Gautam to turn software he owned into a start-up and run it. Gautam reminded Bhaskaran that he had just graduated from college and had no experience running a company.
Bhaskaran's response was simple: "You seem smart, you'll figure it out."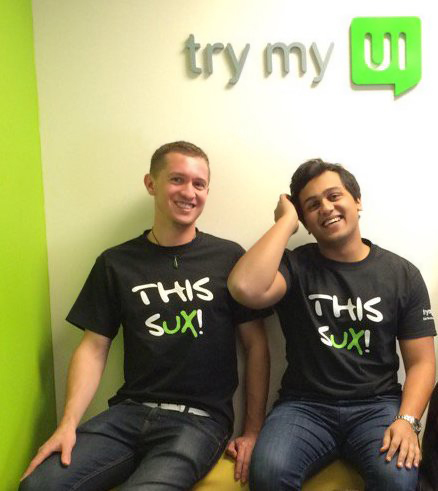 ​ ​
Tim Rotolo '14 and Ritvij Gautam '14
Gautam said he hasn't looked back since he launched the start-up. Rotolo was one of the first employees, joining to lead marketing and product design and to help Gautum build a team.
As they scaled the company, the two executives found themselves in leadership positions reminiscent to their time at Claremont McKenna College, where they met in Stark Hall as first-year students.
"Being at CMC," Rotolo said, "surrounded by smart, hard-working, and passionate people really forces you to be a leader. You learn that leadership is not about issuing top-down directives to the people around you, but about seeing the great value that other people can bring and making sure everyone's voice is heard."
Gautam said while they had group projects that forced them to take initiative and act like project managers, there were times when they bowed to their peers' knowledge. These lessons from CMC are especially valuable for managing a small company where every employee can have an impact and make contributions, he said.
Beyond leadership skills, Gautam also uses concepts he learned about it in Prof. Amy Kind's Imagination seminar as a part of his business repertoire. He theorized that users imagine a website should work in a certain way, and the design and interface will either help or hinder their experience. He said he always considers what users are imaginging when they interact with a website.
Rotolo attributes growth on the marketing side to his project management skills and the TryMyUI blog. As a research assistant to Minxin Pei, the Tom and Margot Pritzker '72 Professor of Government and George R. Roberts Fellow, he would plan and execute 30-40 page research projects independently. In this position, he learned to take large amounts of complex information and condense it to down to accessible content, a skill he uses when creating marketing materials.
"Those skills have been very applicable to the way I head marketing and product," Rotolo said. "I plan what I'm going to do, how I'm going to spend my time, and have deadlines and targets that I work towards."
Though they don't have a treasure chest to pull from, Gautam and Rotolo are optimistic about hitting their goal of $1 million in revenue by the end of 2018. True to the bootstrapper philosophy, the company relocated to Salt Lake City from the Bay Area because of the young talent pool and cost effectiveness.
With the freedom to take his company in any direction, Gautam fears he'll never be able to work for anyone else.
"The work I do has a real, tangible, and measurable impact on the future of the company," Gautam said. "That's the most gratifying aspect of running this start-up."
—Michael Tesauro