CMC mourns, remembers actor and comedian Robin Williams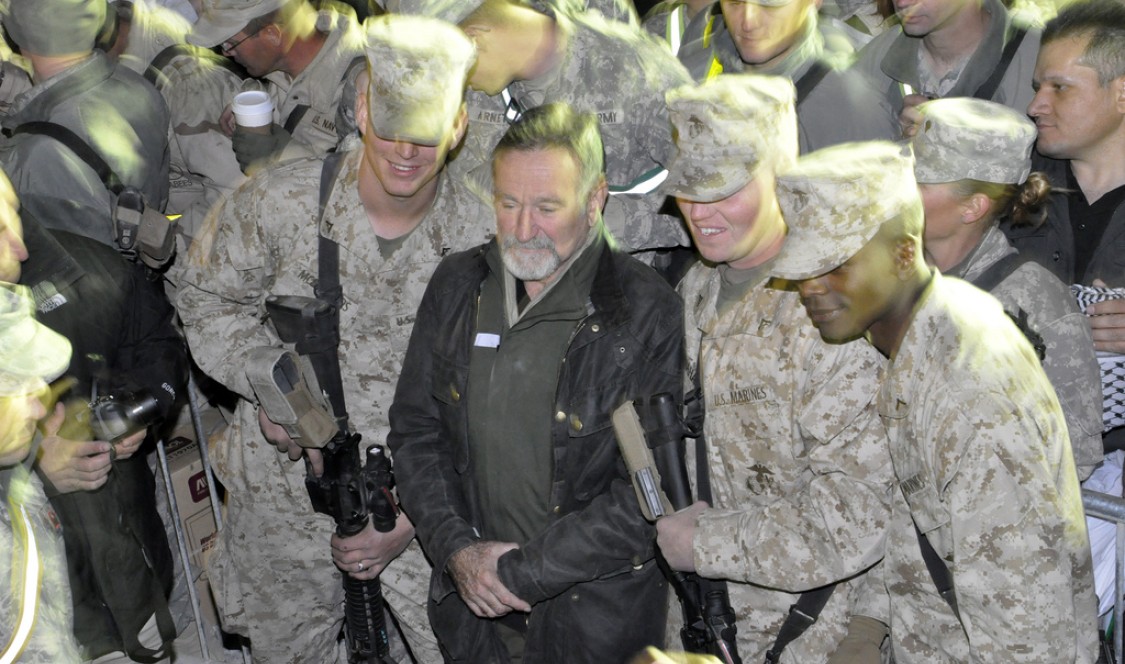 The Claremont McKenna College community joins the rest of the world in mourning the loss of actor and comedian Robin Williams, who died earlier this week.
Williams spent the 1969-70 academic year as a freshman at what was then Claremont Men's College, where he played soccer and demonstrated his trademark lightning-fast humor for the delight of his classmates.
That humor, in fact, was on abundant display during a student comedy show held in McKenna Auditorium in the spring semester of 1970.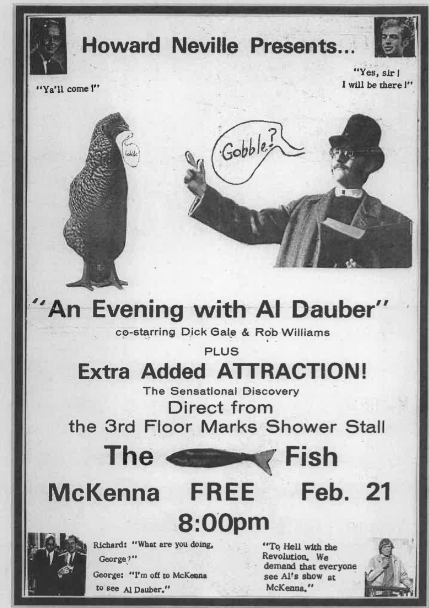 Williams' performance is described in the latest collection of alumni anecdotes, Myths, Legends and Tall Tales, in a story by Dick Gale '71.
Gale quotes Al Dauber '71, who organized the event and ran a full-page advertisement (pictured, left) in The Claremont Collegian,the main newspaper reporting on events at all of the Claremont Colleges.
Both Gale and Dauber said Williams stunned everyone at rehearsal with his powers of improv. According to Gale's anecdote:
"The next thing I knew…" Dauber recalled, "he was being challenged by one of us after another, to do the most off-the-wall characters and accents. 'OK, do a Russian fisherman lost at sea… Rob, do a Bulgarian farmer trying to revive his crops after a storm… Robin, can you do a South American priest trying to convert an orthodox rabbi to Catholicism?' "
"I had never seen anything like it," Dauber continued. "With every outlandish request we made, he would not only switch dialects in mid-sentence, but—without missing a beat—he would have us in stitches. It was as though he had rehearsed for weeks, when in reality he was making this material up on the spot."
In a recent email exchange for this article, Dauber added that he believes their comedy show at McKenna served as "the catalyst for Robin's launching of an incredible career in comedy."
Along with the standard general course requirements for all freshmen, Williams also took a class on improvisational theatre at Scripps, which is mentioned in a 2011 profile in CMC Magazine of Fr. Patrick Conroy '72, Chaplain of the U.S. House of Representatives. In that article, Conroy recalls that he and Williams were enrolled in the same class at Scripps. Williams also belonged to the men's soccer team, which Coach Steve Davis led to an SCIAC championship that season.
After leaving CMC, Williams would go on to study acting on a full scholarship at the Juilliard School before achieving international success as an actor and comedian. He was also a tireless supporter of many charities and on behalf of many causes, including his visits to U.S. troops posted at military bases around the world (see photo at top of story).
In another CMC connection, Williams also participated with other celebrities and public figures in honoring Augie Nieto '80 at the 2007 IDEA World Fitness Convention for Nieto's efforts to find a cure for ALS.
Contact
Office of Public Affairs and Communications
400 N. Claremont Blvd.
Claremont, CA 91711
Phone: (909) 621-8099
Email: publicaffairs@cmc.edu

Media inquiries: Gilien Silsby
Phone: (213) 500-8673
Email: gsilsby@cmc.edu