The CMC family was out in force on the morning of July 4 to run the Freedom 5000 1K/5K, an annual community celebration taking place on the tree-lined streets of Claremont.
CMC's group of runners -- comprised of staff, faculty, alumni, family members -- formed one of the largest groups in this annual event kicking off the city's celebration of the Fourth of July.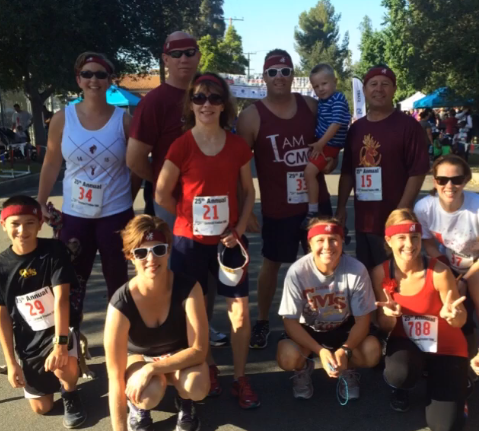 Organized by Development's Josh Walter '01, the CMC group wore burgundy-colored headbands stamped with "CMC 26.2" similar to the ones worn by CMCers running in this year's L.A. Marathon earlier this spring.
For the 5K event, the starter's gun went off promptly at 8 a.m., sending hundreds of runners of all ages on a course through the northeast section of The Claremont Colleges (past HMC, Scripps, Pitzer, and CMC), down Claremont Boulevard to Sixth Street, down Mills Avenue to First Street and over to College Avenue.
The stretch of College Avenue formed the race's final mile, testing many runners' endurance with a climb through Pomona College as they headed for the finish line on Yale Avenue.
The Freedom 5000 also included a 1K Kids Run as well as a 5K Competitive Race Walk. Participation fees are used to support Claremont High School's Cross Country team.