CMC senior award-winners shine

In an extraordinary year, CMC celebrated outstanding seniors for keeping each other connected throughout socially distanced semesters, leading anti-racism efforts, and boosting the well-being of their fellow CMCers.
The stellar students from the Class of 2021 made a difference to the entire CMC community, all while performing at a top academic level.
The Class of 2021's highest awards recognized Emma Finn '21 and Johnson Lin '21, who won the Berger Award for Outstanding Seniors, established by Fran and Nor Berger. The prize recognizes the awardees' overall contributions to the College and the student body.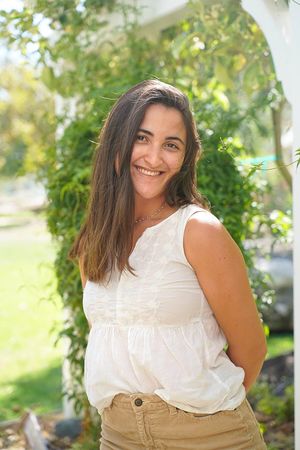 As a transfer student, Finn made an "immediate impact," said Dianna "DT" Graves '98, associate vice president and dean of students. Finn created "organizations and programs designed to bring academic, professional, and emotional support to all CMC students," Graves said.
Finn, a science management major, co-founded the Claremont Colleges Emergency Medical Services club and started The Buddy Program, which helped connect students isolated by the pandemic. Through her role as a resident assistant, Finn also "led strong programs to combat mental health challenges and to help students achieve," Graves noted.
Further, as a Career Services Mentor, Finn offered professional development guidance to students and helped guide their exploration in a range of possible career and internship paths. "Her dynamic impact has made CMC a stronger institution and community," Graves said.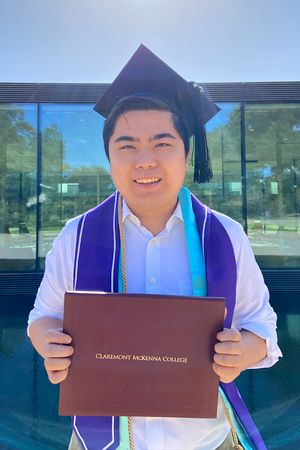 Meanwhile, Lin, a PPE major with a data science sequence, demonstrated leadership qualities as early as his first year, when he was elected class president. Graves described Lin as "a force for ASCMC" who "immediately started working to build community on campus."
Lin was reelected as class president for his sophomore and junior years, and spearheaded changes such as free admission to the annual Monte Carlo party. Serving as president of ASCMC his senior year, Graves said Lin "shepherded the student body through the pandemic, including the transition to online learning. He was a key liaison to the administration in navigating the move off campus, the grading policy, and plans to return."
He also led anti-racism efforts and "helped diversify the student government across a range of identities and experiences," said Graves. An outstanding student, Lin served as a CMC Advocate and Asian Pacific American Mentor.
In addition, Lin was recognized with the Alamshah Award for Student Leadership. "His contributions will be felt for years to come," Graves said.
2021 STUDENT AWARDS
The Alamshah Award
Johnson Lin
The Alumni Association Citizenship Award
Grace (Qingyang) Wang
The Berger Award for Outstanding Senior Men and Women
Emma Limor Finn
Johnson Lin
The William Dickinson Athletic Award
Nicholas James Parise
The Brian Walkenbach Award for Outstanding Resident Assistant
Anna Elise Green
---
NATIONAL AWARDS
Fulbright Student Scholars
Sarah Samantha Ceja
Emma Limor Finn
Nandeeni Kamlesh Patel
Critical Language Scholarship
Renee E. Perper
Luce Scholar
Boren Scholar
Angel Ornelas
Renee E. Perper
Davis Projects for Peace Grantee
Dri Tattersfield
Elbaz Family Post-Graduate Fellowship
Sahib Bhasin
Tallan Elizabeth Donine
Mellon Mays Undergraduate Fellowship
Elena Isabel Castellanos
Angel Ornelas
---
ACADEMIC DEPARTMENT AWARDS
Robert Day School of Economics & Finance
Best Thesis: Mert Akan
Outstanding Major: Joshua Robert Tatum
Best Thesis (Financial Economics): Coleman Arthur Cornell
Robert Day School of Economics (Accounting) & Finance
Best Thesis: Chance Sears
Outstanding Major: Patrick C. Chen
Environment, Economics, and Politics
Best Thesis: Megan R. Perron
Outstanding Major: Emma Katherine Ranheim
Gender Studies
Best Thesis: Angel Ornelas
Government
Best Thesis: Josephine F. Savaria-Watson
Outstanding Major: Kai O'Neill
History
Best Thesis: Chandler Stewart Presson
Outstanding Major: Teressa Allerton Ulrich
Innovation & Entrepreneurship
Best Thesis: Joshua Robert Tatum
International Relations
Best Thesis: Andrea Medina
Outstanding Major: Shanil F. Verjee
Literature
Best Thesis: Mimi Thompson
Outstanding Major: Mimi Thompson
Mathematics
Best Thesis: SiKe Wang
Outstanding Major: Yuan (Ray) Song
Military Science
Outstanding Major: Jordan J. Venglass
Modern Languages & Literatures
Best Thesis – Spanish: Brandon Ruiz
Outstanding Major – Spanish: Brandon Ruiz
Philosophy
Best Thesis: Elena Isabel Castellanos
Outstanding Major: Dri Tattersfield
Psychological Sciences
Best Thesis: Adrienne Mishel Kafka
Outstanding Major: Su Young (Kevin) Choi
Religious Studies
Best Thesis: Carter John Arthur Henderson
Outstanding Major: Carter John Arthur Henderson
Sciences
Best Thesis:
Biological Sciences: Kelly Grace Keene
Neuroscience: Madeline Rose Valdez
Physical Sciences: Mia Whitney Syme
Outstanding Major: Katrina Frances Ostrom
---
OTHER AWARDS
Class of 2021 Valedictorian
Ben McAnally
George Blair Award
Jacob Scott Leischner
Roland Award for Excellence in Public Affairs
William Philip Frankel
Roland Prize for Best Thesis in Public Administration or Public Policy
Charles Hill Mounts
The John and Bonnie Snortum Award for Distinctive Character
Simran Arora
Robert Day School of Economics & Finance Chairman's Award for Best Student in B.A/M.A Program
Maxwell Orrin Dawson
Government Department Chair's Award for Merit
William Philip Frankel
Katherine Elizabeth O'Neill
Keck Center Best Senior Thesis
U.S. Foreign Policy
Tallan Elizabeth Donine
International Human Rights
Sahib Bhasin
Comparative Politics
Katherine Elizabeth O'Neill
Foreign Affairs & International Diplomacy
Nandeeni Kamlesh Patel
International Security
Caroline Ellis Jenkins
International Policy
Xinyi Zhang
Mgrublian Center for Human Rights
Best Thesis – Human Rights
Jaelin John-Thomas Kinney
Human Rights, Genocide, and Holocaust Studies Sequence Best Overall Student
Tallan Elizabeth Donine
Contact
Office of Strategic Communications & Marketing
400 N. Claremont Blvd.
Claremont, CA 91711
Phone: (909) 621-8099
Email: communications@cmc.edu

Media inquiries: Gilien Silsby
Phone: (213) 500-8673
Email: gsilsby@cmc.edu