CMC students come together to give back

A CMC student-led effort to encourage student philanthropy is inspiring current CMCers from all class years to give back by donating their time, talent, treasure, and ties.
Launched in spring 2020, as students found themselves separated from the CMC community due to the pandemic, the Student Philanthropy Council (SPC) was organized as a way for students to come together to leave a positive impact on CMC.
"I was drawn to join SPC because of what the club represented—its goal of making the CMC community thrive even further," said William Turner '24, an economics-accounting major from New Zealand.
Fifteen students are currently involved with SPC, with the primary purpose to educate their peers about the importance of philanthropy through the 4 T's of Philanthropy: time, talent, treasure, and ties.
Designating February as the "Month of Gratitude," the SPC hosts giveaways and challenges via the SPC Instagram account and are planning to highlight several student groups' talents through their newsletter.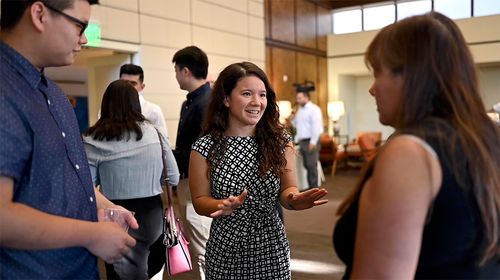 Kimi Adler '23 said that as a member of the "Ties" subcommittee she enjoyed the opportunity to work on the engaging immersion boxes CMC seniors are receiving in the lead up to their graduation.
Adler was introduced to the SPC via her association with the ASCMC, when the groups co-hosted the panel series, "Diversity Dialogues," which features CMC alumni discussing topics such as education equity.
Now Adler, a dual major in government and classical studies, said she sees her involvement in the SPC as a way to maintain the feeling of community, even while attending school remotely.
"Though I am now a second semester sophomore, I have not been on CMC's campus since last March," Adler said. "Yet, throughout this past year of the pandemic, I have always felt connected to CMC's community. And I understand that the strong CMC community is due to the hard work and dedication of many people, including the Dean of Students office, the ASCMC, clubs, and the faculty. Witnessing such dedication has inspired me to give back to CMC in whatever way that I can."
"We are delighted and grateful that our students have stepped up to raise awareness about philanthropy among their peers," said Danielle Yellen, Assistant Director of Annual Giving – Student Based Outreach. "They have generated a feeling of giving back that will not only last throughout their years at CMC, but also will be sustained as they transition to becoming alumni volunteers and future donors."
To get involved and learn more, follow the Student Philanthropy Council on Instagram
—Anne Bergman
Contact
Office of Public Affairs and Communications
400 N. Claremont Blvd.
Claremont, CA 91711
Phone: (909) 621-8099
Email: publicaffairs@cmc.edu

Media inquiries: Gilien Silsby
Phone: (213) 500-8673
Email: gsilsby@cmc.edu