#CMConnected is a regular web series where we'll catch up with students, faculty, staff, and alumni about how the CMC community is connecting in new ways during this period of physical distancing due to COVID-19.
As senior class president, Laleh Ahmad '20 has taken on her share of leadership challenges and commitments at CMC. But in the midst of campus emptying in mid-March due to the COVID-19 pandemic, there didn't seem to be a playbook for what should come next.
So, Ahmad relied on calm reassurance amid the heartbreak and tears as the Class of 2020 departed. They would see each other again, especially on commencement day. And she would be the one to make it happen, Ahmad promised.
She kept her word.
Ahmad organized a virtual call with roughly 150 of her fellow graduates (and some family members) on the afternoon of May 16—the day of their original commencement before it was postponed. Perched at a table outside The Hub in the center of campus, she experienced the gamut of emotions while watching from a laptop—smiling to raise a champagne glass and tearing up during moments of reflection.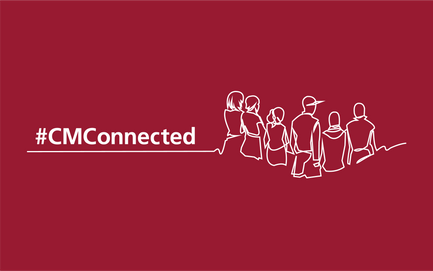 "I wanted us to have a moment of community," said Ahmad, one of the 55 students living at CMC since the pandemic started. "Yes, we've gone through something scary and big together. But I also wanted everyone to look back on their entire time at CMC, not just these last two months.
"At the very least, I thought it was important that we remember we are a class, going through this together. So, let's laugh and have a good time as a group."
Ahmad asked students from across a wide range of experiences and backgrounds at CMC to give prepared toasts. Crystal Salinas '20 and Sofia Trigo '20 spoke about the value of friendship; Isaiah Tulanda '20 talked about the importance of being yourself; Connor Gaskin '20 and Maxwell Kirsch '20 gave advice about finding CMC everywhere in the world. Together, they all watched the special 20-minute video produced by the College for their Mark the Moment boxes that arrived earlier in the week. Nezihe Atun '20 also shared her own video of personal moments that she captured while on campus.
Given the magnitude of the day, Ahmad said she was nervous leading up to the call. "I wasn't sure how prepared I was to do something like this well," she said. But Ahmad quickly learned to embrace the day's unplanned moments, for instance, the spontaneity of unmuting Lina Aluzri '20 so her family could yell from across the room about how proud they were of the entire class. After the gathering, she received several personal messages of appreciation from classmates for taking on the task of uniting them from afar. And for keeping her promise.
"There's really nothing to compare this to, so it was very fulfilling to see that people enjoyed marking this moment together," Ahmad said. "It definitely became something unique. For instance, at no other time would we have had as many students speak as we had on Saturday. So, I love that it felt special in its own way. I think it was something we all needed."
Have someone you'd like us to connect with for #CMConnected? Email suggestions to trozwadowski@cmc.edu.
—Thomas Rozwadowski