CMC's World Model UN team wins second successive international competition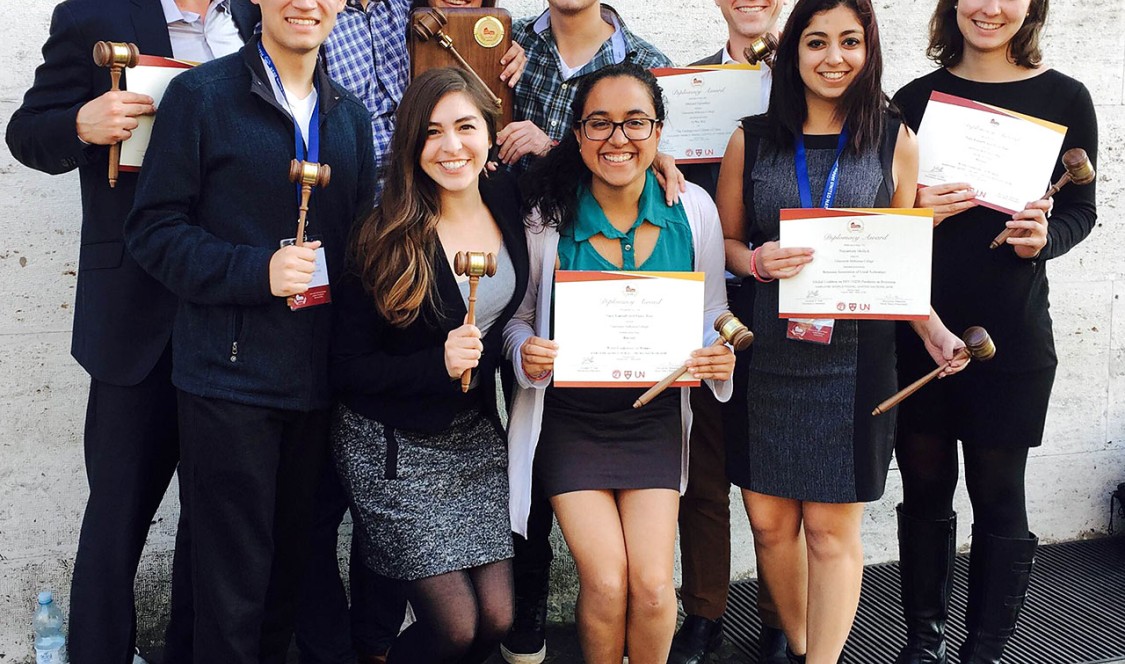 History repeats.
CMC's World Model UN (WorldMUN) team won Best Small Delegation at the Harvard World Model United Nations Conference from March 14-18 in Rome. This establishes CMC as a back-to-back world champion at what is considered to be the "Olympics of MUN," after the team's victory in the same category last year in Seoul, South Korea.
In the Small Delegation category, CMC competed against some of the best teams from the U.S., including West Point, Yale, Georgetown, and Berkeley.
"For CMC team members, it feels amazing to win, since WorldMUN represents a culmination of our work over the course of the year," says CMC Head Delegate, Nina Kamath '16. "However, in just attending WorldMUN, CMC students learn so much when debating international issues and collaborating to devise new solutions. These experiences in collaboration, debate and diplomacy will last us far beyond our time at CMC as we face some of these same pressing international issues in our future jobs and experiences."
WorldMUN is the most internationally diverse college-level Model UN conference and the largest outside of North America, bringing together 2,500 students from 115 countries. In addition, the conference is a transformational learning experience for students as they work in 100-person committees to debate some of the most pressing international issues of our time. Through lively and informed debate and a unique conference spirit, students learn to reach across cultures and borders with collaboration and diplomacy.
In addition to Kamath, other members on the CMC team included: Fiona Bare '17, Hannah Bottum '17, Michael Grouskay '17, Julian Feeley '16, Griffin Merians '17, Nayantara (Naina) Mullick '17, Sean Sakaguchi '16, Sumaer Sandhu '16, and Teagan Stewart '18.
The 10 CMCers were part of the following committees at WorldMUN:
General Assemblies/ECOSOC
World Conference on Women: Nina Kamath '16 and Fiona Bare '17
Organization of Islamic Cooperation: Teagan Stewart '18 and Sean Sakaguchi '16
Disarmament and International Security Committee: Hannah Bottum '17 and Julian Feeley '16
Crisis Committees
Underground Cabinet of China: Michael Grouskay '17
Global Coalition on HIV/AIDS Pandemic in Botswana: Nayantara (Naina) Mullick '17
Emergency Summit on the European Refugee Crisis: Griffin Merians '17
FIFA Executive Committee, David Gill: Sumaer Sandhu '16
According to Kamath, each committee had one to two topics that members discussed/debated. And each member of CMC served as a "delegate" or "co-delegate" representing a country in one of the committees at WorldMUN. They worked in tandem with approximately 100 to 400 students from around the world to devise solutions to some of the most pressing international issues.
"In these committees, a delegate's goal is to diplomatically work with other countries to devise a solution to an international issue while representing a particular country's position or view," Kamath says. "For instance, in the World Conference on Women, I discussed Women in Corporate/Governance Structures with my partner, Fiona Bare."
The Best Small Delegation designation (teams of fewer than 15 delegates) is primarily based on the percentage of Diplomacy Awards given over the number of delegates who compete as part of a team/delegation. Seven CMCers won Diplomacy Awards, the highest individual accolade bestowed at WorldMUN.
Specifically, Diplomacy Awards are given based on delegates exhibiting the "WorldMUN spirit" according to a diverse criterion of leadership, knowledge of the topic, progression of debate, diplomatic spirit, and creative genius.
"The 'WorldMUN spirit' is based on the idea of genuine diplomacy and cooperation, exhibited by the close, deep relationships that are developed between different members over the course of the week," Kamath says.
Kamath says that to prepare for WorldMUN, the CMC team held weekly practices and attended several domestic conferences, including conferences hosted by the United States Military at West Point (N.Y.), Harvard (in Boston), University of Pennsylvania, UC Berkeley, USC, and UCLA.
"The continued practice definitely helped us to succeed," she says. "But more that that, our philosophy of employing collaborative teamwork, writing quality and debating with compelling arguments and substance helped us embody that 'WorldMUN spirit.' "
In Kamath's committee (World Conference on Women), she worked to develop a solution to address Women in Corporate/Governance Structures. "In our final resolution, we expanded existing legal and quota frameworks that increase women's participation in government, devised mechanisms to support women through training and feedback, and crafted ideas around education and awareness about the topic," she says. "At the close of the weekend, the 20-page resolution we passed was robust in thinking through many facets of the problem."
The challenge in devising the solution, Kamath says, was accurately representing the views of "her country," Burundi, while collaborating with other African Nations, including Sierra Leone and Ethiopia, to prioritize issues within the African region.
"Additionally, we ended up merging our draft resolution with another block of countries — Australia, United Kingdom, and Thailand — to ensure a more global solution and approach," she says. "The process of negotiating and collaborating to devise the final resolution required hard work in diplomacy and cooperation."
And what did CMC's WorldMUN team do after all the hard work and accolades? They were in Rome, after all.
"We had an amazing Italian dinner at a restaurant called Amedeo with pasta and wine," Kamath says. "And before the competition, we all tossed a few coins into the Trevi Fountain, hoping to return to Rome again one day."
Bene!
Contact
Office of Strategic Communications & Marketing
400 N. Claremont Blvd.
Claremont, CA 91711
Phone: (909) 621-8099
Email: publicaffairs@cmc.edu

Media inquiries: David Eastburn
Phone (O): (909) 607-7377
Phone (C): (808) 312-8554
Email: deastburn@cmc.edu