Col. Olsen '96 reflects on Veterans Day, CMC leadership lessons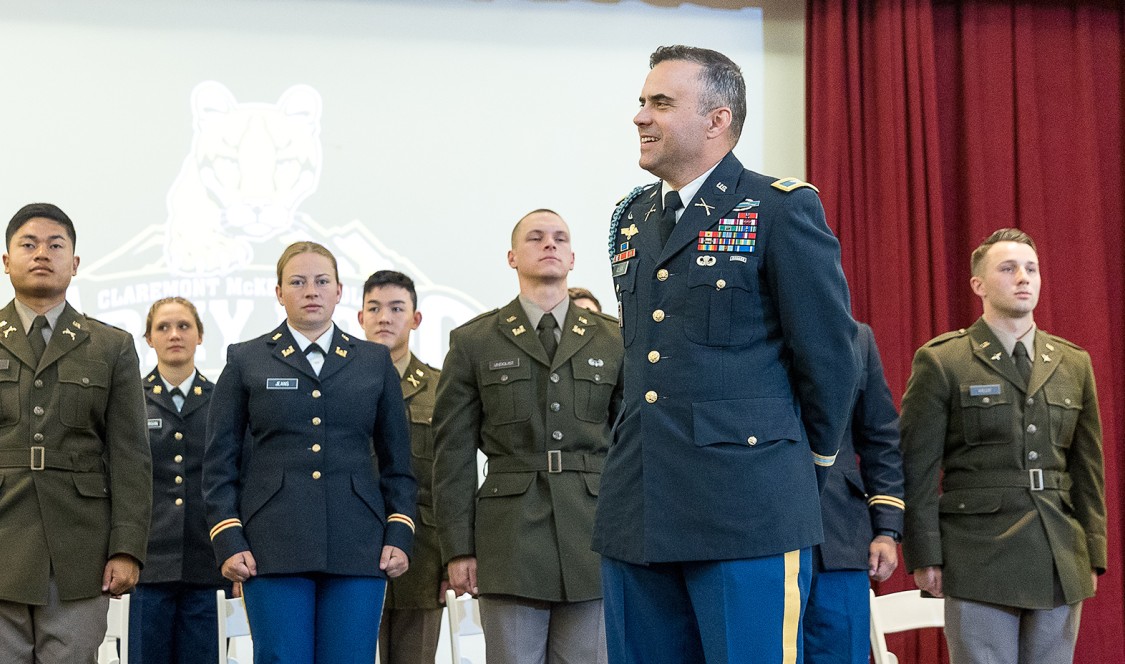 In the spring of 2022, as Army Colonel Mark Olsen '96 stood before the 13 cadets who were moments away from pledging their oath to serve the United States of America, he couldn't help but recall his own commissioning at Claremont McKenna College.
Twenty-six years before, nearly to the day, it was Olsen graduating from the College's ROTC program.
Since then, Olsen, as a brigade commander with U.S. Army Cadet Command, which oversees the nation's ROTC programs, has witnessed many of these ceremonies over the years.
But this one at his alma mater, he said, was incomparable. "The chance to speak at this commissioning, was a career highlight for me as I end my Army service," he said.
And, as Veterans Day approached this year, Col. Olsen, a transfer student to CMC, who had previously enlisted in the Army Reserve and completed initial training, shared that he knew from his first visit to campus that "CMC seemed like a place I could fit in."
"My sense is that CMC has consistently embraced its veterans population and taken pride in the military service of its students and graduates," Olsen said.
Since CMC's founding in 1946, when many of the College's first students, and the College's president George C. Benson, were returning World War II GIs, the College has commissioned officers, educated veterans, and supported the nation's men and women in uniform.
"While there are significantly fewer veterans now when compared to the College's first classes, the College's embrace and support of that community have been strong. From my perspective, it was striking to see that the Trustees chose to meet with the cadets commissioning this last May — and another example of the College's commitment."
For Olsen, "the rigorous education" at CMC was foundational to his career success. "The College's s broad liberal arts curriculum gave me the confidence to explore a wide variety of topics and a willingness to ask critical questions—an essential skill in my military career. Moreover, the rigor that CMC students face in class—from the instructor and from their peers—helped me learn to make an argument, and defend it while also being open to and learning from different perspectives."
At CMC, Olsen majored in History and Russian. He wrote his senior thesis on Napoleon's invasion of Russia. "Part of it became my writing sample when I applied to graduate school," he recalled. "It was great training for a future history graduate student."
In addition to earning an MA in History from Rice University, Olsen holds an MMAS from the School of Advance Military Studies and an MS from the Joint Advanced Warfighting School.
Among his military awards and decorations, Olsen has been honored with the Bronze Star Medal for heroic or meritorious achievement or service (with one oak leaf cluster) the Meritorious Service Medal (with two oak leaf clusters), and the Army Commendation Medal for sustained acts of heroism or meritorious service. (with one oak leaf cluster).
Olsen's presence this spring before the cadets served as a reminder that while the lessons in leadership delivered at CMC are timeless, the world into which they were being commissioned is kinetic, with ever-changing geopolitics and rapid technological advancements in the tools of war.
As an example, Olsen spoke of how he left CMC and, 18 months later, found himself leading a rifle platoon in the hills of eastern Bosnia, a small cog doing its part to maintain the region's peace, however uneasy.
"On that same deployment," he recalled, "I shared a small base, separated only by a small stream and a rickety footbridge, with a contingent of Russian paratroopers who had a prodigious appetite for vodka...
"These situations demanded judgment, tactical competence and good decision-making – significant responsibility to entrust to a young second lieutenant."
Only a few years later, as a captain, Olsen led a battalion task force north into Iraq, navigating off a map printed on PowerPoint slides. When the occupation started, his company was responsible for the security of two large neighborhoods in Baghdad, attempting to navigate an unsure security situation and balance latent sectarian tensions with very limited resources.
"Much will be expected of you from the moment you arrive at your first unit," Olsen told the cadets at the ceremony. "And you will be trained and ready to meet those expectations."
Training was a point Olsen emphasized in his remarks, or as he put it, "advice … an old soldier could give to young ones." He told the cadets it is essential to "master our profession" so they may execute the fundamental skills of their branches in less-than-ideal circumstances, such as at night, in the rain, or on little sleep. Then, they must do the same for the troops under their command.
"Train your unit to the same standard," Olsen said. "The deepest love that you can show the soldiers of any unit you serve in is to ensure that they are trained and ready to meet any challenge they might face."
Although Olsen's speech was nonpartisan, he did underscore to the cadets exactly whom – or what, in this case – they will serve: "This oath is simple and deliberately unconditional, pledging loyalty not to any individual or political party but to the Constitution of the United States – a legal document that symbolically represents every American citizen."
Returning to Claremont for the ceremony also offered Olsen the opportunity to reconnect with his mentor, Gaines Post, Jr., CMC professor emeritus of history, who served as a lieutenant in the U.S. Army in Germany, from 1959-61.
"Gaines, Dane Hanson '97 (a retired Marine Corps officer), and I all had dinner together the same weekend as graduation/commissioning—many war stories were told—it was a great time."
Olsen reflected, "CMC is a tight-knit community whose members look out for each other. For many of us, our time at CMC is central to who we are and a critical component of the success we have had over the course of our professional lives. Given all the opportunities that CMC afforded us, it is important to be involved and give back as we can."
Contact
Office of Strategic Communications & Marketing
400 N. Claremont Blvd.
Claremont, CA 91711
Phone: (909) 621-8099
Email: communications@cmc.edu

Media inquiries: Gilien Silsby
Phone: (213) 500-8673
Email: gsilsby@cmc.edu