Empowering opportunity and achievement
CMC cited as a national leader for building success
A new report from the American Talent Initiative (ATI) praised Claremont McKenna College's work as a national leader in building academic success and opportunity among middle- and lower-income students.
Since the launch of the Student Imperative five years ago, CMC has raised more than $200 million in short- and long-term commitments to support student opportunity and success. The ATI Report noted that CMC more than doubled its percentage of first-generation college students—up from nine percent to 21 percent between 2016-2019. Its share of Pell Grant recipients grew from 12 percent to 20 percent in the same period.
"Consistent with its small size and culture, CMC has developed campus-wide programs that support its increasingly diverse campus community in a personalized way, on the basis of each student's strengths, needs, and connection to college mission," according to the ATI report, "Expanding Opportunity for Lower-Income Students."
Recognized efforts include:
The Kravis Opportunity Fund, established in 2018 through a $25 million gift from Henry '67 and Marie-Josée Kravis, to remove a wide array of financial barriers beyond the cost of attendance. KOF support includes: kick-off funding for high-need students (laptops, bedding, dress clothes); removal of home equity from the financial aid calculation; travel and emergency funding; food support and application fee waivers; insurance coverage; and a first-year summer experience or internship for every student on financial aid—at a stipend level of $5,000 up to $7,300 for those who need summer savings.
The CARE Center (Civility, Access, Resources, and Expression), established in 2015 to encourage and teach the CMC community to develop the skills needed to have difficult conversations and identify with one another across social barriers or ideological difference. CARE is also the major skills training component of CMC's Open Academy, a nationally recognized initiative to help students develop social and intellectual commitments to freedom of expression, viewpoint diversity, and effective dialogue.
CMC's Ten Scholar Communities, established in 2015 to place high-need students in special interest cohorts (global affairs, public policy, interdisciplinary science) while providing academic counseling, career support, alumni mentorship, and first-year summer funding.
"Claremont McKenna's commitment to low-income students under the leadership of President Hiram Chodosh is exemplary," said Dan Porterfield, President and CEO of the Aspen Institute and an American Talent Initiative steering committee member. "At this time more than ever, we need institutions of higher education to re-commit to acting as the engines of mobility and opportunity that our society requires. We're proud that Claremont McKenna is a member of the American Talent Initiative and look to them as an example for all."
Chodosh was also one of four college presidents invited to contribute to an ATI-sponsored panel discussion, "Leading a Comprehensive Strategy," earlier this year. The program was postponed as a result of COVID-19.
A first-generation student from New York City, Mohamad Moslimani '21 knew he wanted to be a CARE Center fellow when he first visited CMC as part of a high school preview program. Now a CARE manager, he is a trusted, frontline resource for his first-generation peers on campus. Moslimani said he is most proud of how he's helped CMC students with social and material support—particularly through academic collaborations with the Center for Writing and Public Discourse, drop-in mental health counseling that removes stigmas and financial barriers, and CARE's textbook rental program, a huge money saver to students.
"Once I came to college, I knew there was only so much I could rely on my family back in New York. I had to learn how to depend on CMC support networks," Moslimani said. "This community—administrators, faculty, the financial aid office, the CARE Center—helped me with everything I needed. Because I was given access to so many resources, now I have to ensure that others have that same access to opportunity."
Talent + Opportunity = Impact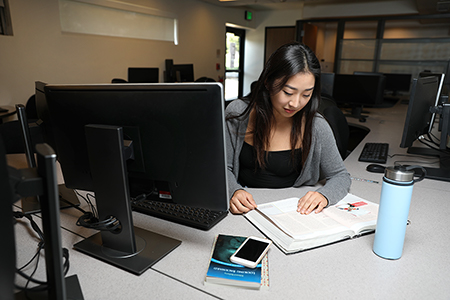 "Growing up, I never noticed financial issues. So, it was a rude awakening when I realized that I would essentially be on my own for college. But I just realized, 'OK, this is something you're going to have to do for yourself. Don't let it stop you from pursuing every opportunity you want.' And I feel like that's true at CMC. My eyes have been opened up to so much here—what the entire world has to offer. I'm a First-Year Guide and a member of 1Gen. I've conducted neuropsychology research on campus and have studied abroad. CMC wants students to be balanced and well-rounded, and I can do that by exploring college life without worrying about extra expenses."
—Pearl Park '21, San Diego (pictured)
"Being the first in my family to go to college meant a great deal to me. It also made me want to maximize my time at CMC by playing soccer, getting the best internships, and going for my masters. I don't ever want to feel like I'm wasting this opportunity. It's why I'm especially grateful for the Robert Day Scholar Community. They paired me with an RDS mentor—Tejas Gala '09 M'13—and this summer I'll be an intern in corporate finance at Apple, where he works. Because of those connections from the CMC community, I know it's not on me to figure everything out, which was often the case in high school. There are people here who will help me focus on and find my best path forward."
—William Birchard '21, Tucson, Ariz.
"I didn't even know about the Kravis Opportunity Fund when I came here. I wasn't thinking about some of the challenges and daily costs that I would encounter. But here, I know I can ask for help, and someone at CMC will get me the answer I need. Having financial support available encourages me to reach for an experience and not have to worry about the cost. It could be an internship in San Francisco, it could be the Appel Fellowship in another country, but instead of worrying, 'How am I going to get there?', CMC is saying, 'money does not have to be a barrier. Come here and you'll get to optimize your experience.'"
—Maureen Tchatchoua '23, Chicago
About the American Talent Initiative
CMC is a member of the American Talent Initiative (ATI), a collaboration of more than 130 public and private institutions—all with graduation rates above 70 percent—united in the common goal of enhancing efforts to recruit, enroll, and support lower-income students. Launched in December 2016, ATI was founded with a national goal of educating 50,000 additional high-achieving, lower-income students at 270 selective colleges and universities by 2025.
—Gilien Silsby
—Thomas Rozwadowski
Contact
Office of Strategic Communications & Marketing
400 N. Claremont Blvd.
Claremont, CA 91711
Phone: (909) 621-8099
Email: communications@cmc.edu

Media inquiries: David Eastburn
Phone (O): (909) 607-7377
Phone (C): (808) 312-8554
Email: deastburn@cmc.edu