To put a Hollywood spin on General Douglas MacArthur's farewell address to Congress: Old TV shows never die, they just fade away into syndication. But in the case of Beverly Hills, 90210 , which ran for 10 seasons on Fox, the fadeout hasn't been permanent. That's because Katherine Spada '08 and Elizabeth Leader '09 have taken it upon themselves to revive it with their podcast "The Blaze with Lizzie and Kat!"
The podcast is available for free on iTunes or your podcast app of choice. It's also streamed online at 90210blaze.tumblr.com. New episodes drop every Monday at midnight Pacific time.
And here's the beauty of the enterprise, the podcast has included "live reads" of a couple 90210 episodes and has featured some of the show's original cast members.
Podcast guests have included series co-stars Carol Potter ("Cindy Walsh"), Matthew Laurance ("Mel Silver"), Douglas Emerson ("Scott Scanlon"), Dana Barron ("Nikki Witt"), Billy Vera ("Duke Weatherill"), and Denise Dowse ("Yvonne Teasley"). "Denise also appeared in the live read with fellow 90210 alum (and current SAG-AFTRA president) Gabrielle Carteris," Lizzie says.
They even performed a live staged reading this month at the Ahrya Fine Arts Theater in Beverly Hills. "A beautiful relic of classic Hollywood," Kat says. "It initially opened as the Wilshire Regina in 1937, and was renovated and reopened by Laemmle Theaters in late 2015." Lizzie says the "non-live" podcasts are usually recorded at offices in Beverly Hills.
Lizzie, who graduated with a degree in International Relations (with an Asian Studies emphasis), and Kat, who had a dual major in Literature and Film Studies, say that booking "guest stars" for the podcast has required ingenuity. "It depends," Kat says. "Sometimes we are introduced via a mutual acquaintance, or are able to reach out directly. Other times, we work through the actors' professional representation."
We were fortunate enough not to need an intermediary when we reached out to Kat and Lizzie with some questions about their podcast.
***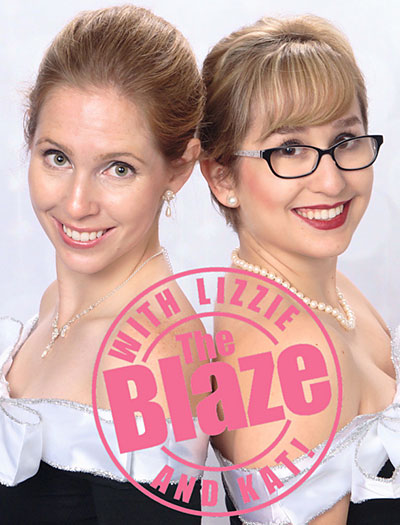 CMC: How did you get the idea for the 90210 podcast?
Kat: Lizzie and I have long been ardent podcast listeners. Following post-college stints in other cities, we both found ourselves back in Los Angeles and decided that producing a podcast would be a great opportunity to reconnect. We decided to host a podcast about Beverly Hills, 90210 because it's one of the first things that brought us together as friends at Claremont McKenna. We'd both watched the series at an inappropriately young age during its original airing (older sisters paved the way for a lot of our pop culture introductions), and when I heard the sound of its "rad" theme song wafting from Lizzie's Berger dorm room, I knew I had to meet her. We bonded over re-watching seasons of the show on her DVDs -- this was before Netflix and binge-watching had really entered the lexicon.
Lizzie: We take our love of Beverly Hills, 90210 —- but also a critical eye developed over our time at CMC and years of working in the entertainment industry -— and break down each episode of the series with a special guest. Since 90210 is such an iconic series -- spanning 10 years and just about every storyline imaginable -- it makes a great springboard for discussions with our guests, ranging from the historical context of when the episodes originally aired, to the universal experiences of adolescence, relationships, fashion, and more.
CMC: You guys did a "live read" at the Ahrya Fine Arts Theater in Beverly Hills of a key 90210 episode that particularly resonates with fans of the show.
Kat: Typically we record in-studio with our guests, but last year we recorded our first "live" episode in front of an audience. We discussed the Beverly Hills, 90210 season two episode "U4EA" with its star Christine Elise -- who played Brandon's drug-using girlfriend in the show -- as well as the series' executive producer Charles Rosin [Charles also contributes a regular segment of behind-the-scenes scoop to each podcast episode]. This summer, as we were approaching the memorable season three episode "Something in the Air," where students descend on the school board chanting the iconic mantra "Donna Martin graduates," we knew we had to give it a "special" treatment. Together with our co-producers for the live show, Sucker Love Productions ["The Unauthorized O.C. Musical," "Cruel Intentions: The Musical"], we recast the episode for a live reading of the episode's shooting script in its entirety.
The cast included Beverly Hills, 90210 veterans like SAG-AFTRA President Gabrielle Carteris and Denise Dowse, as well as actors from Pretty Little Liars, Gossip Girl, and more (full cast information can be found at donnamartingraduates.com). All proceeds from ticket sales benefited two important local organizations: The Geena Davis Institute on Gender in Media, and Jewish Family Service of Los Angeles.
Lizzie: We were delighted to have so many Stags and Athenas in attendance at the live read! In addition to a large contingent of friends/former classmates, CMC Ambassador-at-Large John Faranda was also there. And we couldn't have done it without the support of three awesome current students -- Adam Soll, Lauren D'Souza and Ben Del Vecchio -- who volunteered to work the front of house.
CMC: Word has it you have fans in dozens of countries and that people flew in from Canada and Germany to attend the live show?
Kat: Our largest market is, unsurprisingly, the United States, but the podcast is indeed downloaded in over 85 countries, spanning from Venezuela to Vietnam. After our podcast was mentioned on a radio show in Copenhagen, we developed a sizable listener base in Denmark―and it's now our third largest market! Between our two live shows, we've had audience members who have flown in from Germany, eastern Canada, Chicago, Utah, and Seattle to attend. We love engaging with people from all over the world on our Instagram, Twitter, and Facebook accounts (@90210blaze on all three), and bonding over our shared affinity for this pop culture phenomenon.
CMC: To what do you attribute the groundswell of interest you've gotten from the podcasts?
Lizzie: Kat and I continue to be surprised and gratified by the ways that our affinity for 90210 has connected us with people all around the world. It's a testament to the enduring and universal appeal of the series itself -- and more broadly the ability of pop culture to transcend borders. What made Beverly Hills, 90210 stand out was the show's balance between sensationalism and relatability. The show centered on a group of wealthy and irresistibly good-looking teens in Southern California, a group whose cars were all convertibles and whose parents were often celebrities. Audiences love to get a peek into how the other half lives -- evident in the popularity of later and contemporary shows like Gossip Girl and the Real Housewives franchise. At the end of the day, however, viewers found self-identification in the triumphs and tribulations of the show's central cast, and this resonance was truly the series' touchstone.
Kat: Plus, the underlying narratives told across the series still hold up today! The discussions we've had with guests about standout episodes -- with story lines ranging from race relations to acquaintance rape -- are unfortunately as relevant today as they were in the '90s.
CMC: How many more 90210 podcasts do you have scheduled?
Lizzie: While we don't have any more "live shows" scheduled at this time, "Donna Martin Graduates" is unlikely to be our last. We'll also be appearing on panels at the first annual Comic Con Palm Springs later this month, and ReWind Con in Chicago in November.
Kat: Working together on this podcast has elucidated the fact that Lizzie and I make an incredible creative team. We're constantly brainstorming ideas for other podcasts and media projects we'd love to produce -- with topics ranging from true crime to more kid-friendly fare. You're sure to see (and hear!) much more from us in the future and it won't always revolve around that beloved zip code.
CMC: Did you have any jitters doing your first podcast?
Kat: Lizzie and I can -- and often do -- talk for hours on end, so I felt confident that we would have no problem hosting and conducting interviews for our show. She also does such excellent research before each recording, that I know we're going to have a wonderful conversation on the air each week. We knew less about the technical side of podcasting when we first embarked on this journey, so it's been exciting to learn more about audio equipment and editing software as we go. We recorded our first episodes in October 2014 and the podcast "debuted" in mid-December of that year.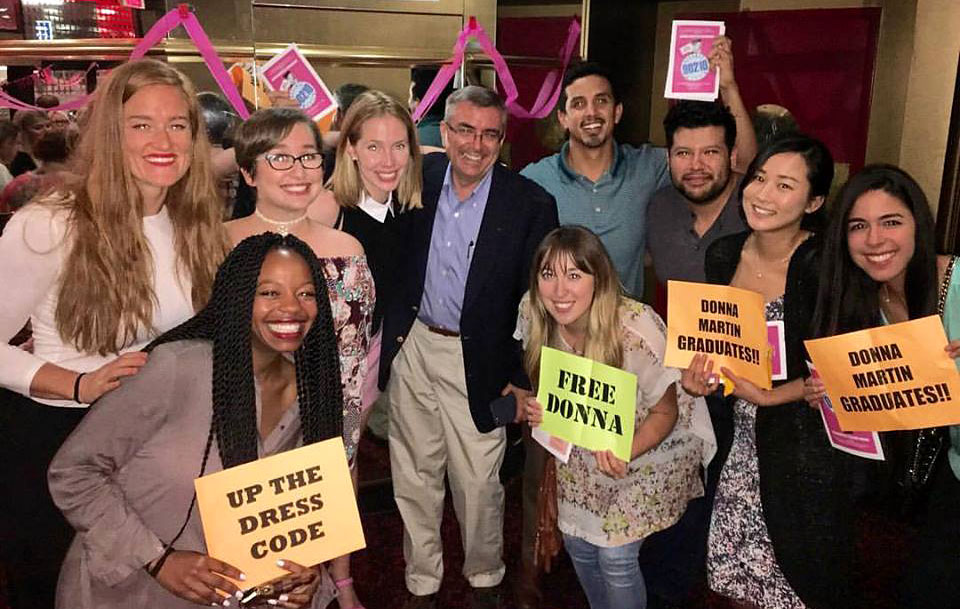 CMC: Give us a brief rundown of what you guys did after graduation and before the podcasts?
Lizzie: Upon graduating, I moved to Washington D.C., where I joined the Council on Foreign Relations as a research associate and provided research support to both the Asia Studies and Middle Eastern Studies departments, as well as the Task Force Program. Since 2013, I have worked as an analyst and producer at Dasym Media in Beverly Hills, a Dutch-owned company that invests and develops entertainment properties for worldwide consumption, with an eye toward China. I was co-executive producer of the Sino-U.S. co-production Skiptrace (in U.S. theaters September 2) -- starring Jackie Chan and Johnny Knoxville -- which has already grossed $130 million in China alone.
Kat: After completing my internship at Universal Pictures, I moved to Sydney where I worked on my creative writing, and then traveled throughout Europe and the United States. Upon returning to L.A., I worked as an executive assistant at Sony Pictures Animation and Columbia Pictures. Ultimately I decided I could better pursue my personal creative work if I made my living in a different field. Now I work for a conservation nonprofit, the Greater Los Angeles Zoo Assn., and have more time to spend on my writing and storytelling.
CMC: Are you able to make a living from the podcast gig, or is it a labor of love?
Kat: It's a total labor of love! We have a sponsor, Greenwich Letterpress, which helps to offset the costs of production and web-hosting, but there is really no revenue involved.
CMC: What are your future plans for the podcast?
Lizzie and Kat: A live taping at the Athenaeum?
You heard it here first!