Erwin Chemerinsky on free speech, hate speech, and campus culture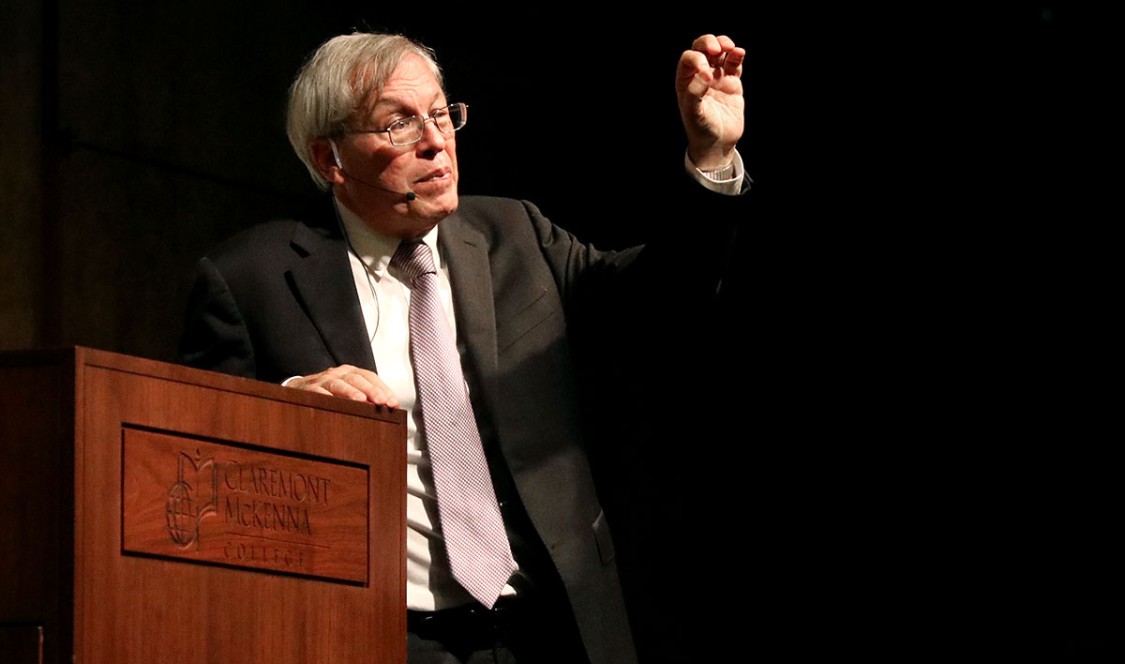 Erwin Chemerinsky, the 13th Dean of Berkeley Law and a First Amendment scholar, spoke at the Marian Miner Cook Athenaeum on Oct. 8. He has been named the most influential person in legal education in the United States by National Jurist Magazine and is the author of more than 10 books including The Case Against the Supreme Court and Free Speech on Campus.
Chemerinsky addressed free speech issues at colleges: Most notably, how distinctions of the law apply to public and private universities, and where interpretations of the law can get complicated with hate speech. He cited a survey by the Pew Research Institute that said 40 percent of college undergraduates thought that campuses should be able to prohibit and punish offensive and racist speech. Chemerinsky stressed that even though students have noble motives in mind, colleges and universities have an obligation to create both a safe learning environment for all students and protect the freedom of expression.
Key points
Free speech: "To me, the core principle (of free speech) is that all ideas and views can be expressed no matter how offensive, even deeply offensive. … The government cannot prohibit speech or create liability for speech on the grounds that it's offensive."
Hate speech: "Hate speech is very hurtful. But most of all, the reason why hate speech is protected in the United States is that it stresses an idea. The Late Justice John Marshall Harlan said 'to censor your words is to censor your ideas. We can't cleanse the English language to please the most squeamish among us.'"
Campus culture: "Colleges and universities can have time, place, and manner restrictions with regard to speech, as long as they leave it open at alternative places for communication. Government can have time, place, and manner restrictions. For colleges and universities, the government can have it to restrict the disruption of campus activities and to protect safety. Colleges and universities have a moral duty towards the safety of the students and faculty."
Speech we detest: "We don't need freedom of speech to protect the speech we like. We need freedom of speech to protect the speech we detest. I am dubious to let the government decide what message to express. Freedom of speech is based on a faith—a faith that we would all be better off in the academic institution, where all our ideas and views will be expressed."
Student perspectives
Opinion v. imposition: "Having an opinion and expressing it is one part of the conversation. Imposing it is another," Kevin Hsu '19 said. His experience at CMC has shown him that students respect varied perspectives and appreciate discrepancies of thought. He agreed with that point of emphasis during Chemerinsky's free speech talk. "I think CMC students hear an opinion and want to discuss the topic further rather than impose their viewpoint," Hsu said.
CMC lessons: As a freshman, Shreya Chatterjee '22 values workshops at the CARE Center that provide an opportunity for students to engage in dialogue that explores personal and community identity, privilege, and difference. Learning how to express opinions and ideas thoughtfully creates a greater willingness to participate in meaningful debate and "put forth an (informed) opinion," she said. This is important for students, especially freshmen, because it gives them an inside perspective of the values CMC upholds regarding diversity of thought and life experience, she said.
Freedom of expression: Matthew Johnson '20 believes that free speech is the best antidote to provocateurs. "To cite an instance that Erwin brought up, just look to UC Berkeley. Less than 60 years ago, Berkeley students were holding demonstrations in favor of free speech, and the expression of radical viewpoints thereafter became a hallmark of Berkeley's culture," Johnson said. "The way to deal with controversial perspectives is to talk, question, and engage in conversation. You should learn from them as much as they might learn from you—and this is the way I wish people engaged with Heather Mac Donald when she came to campus."
–Chahat Kaur '21
Contact
Office of Strategic Communications & Marketing
400 N. Claremont Blvd.
Claremont, CA 91711
Phone: (909) 621-8099
Email: communications@cmc.edu

Media inquiries: Gilien Silsby
Phone: (213) 500-8673
Email: gsilsby@cmc.edu