Exploring democracy as debate with historian Martha S. Jones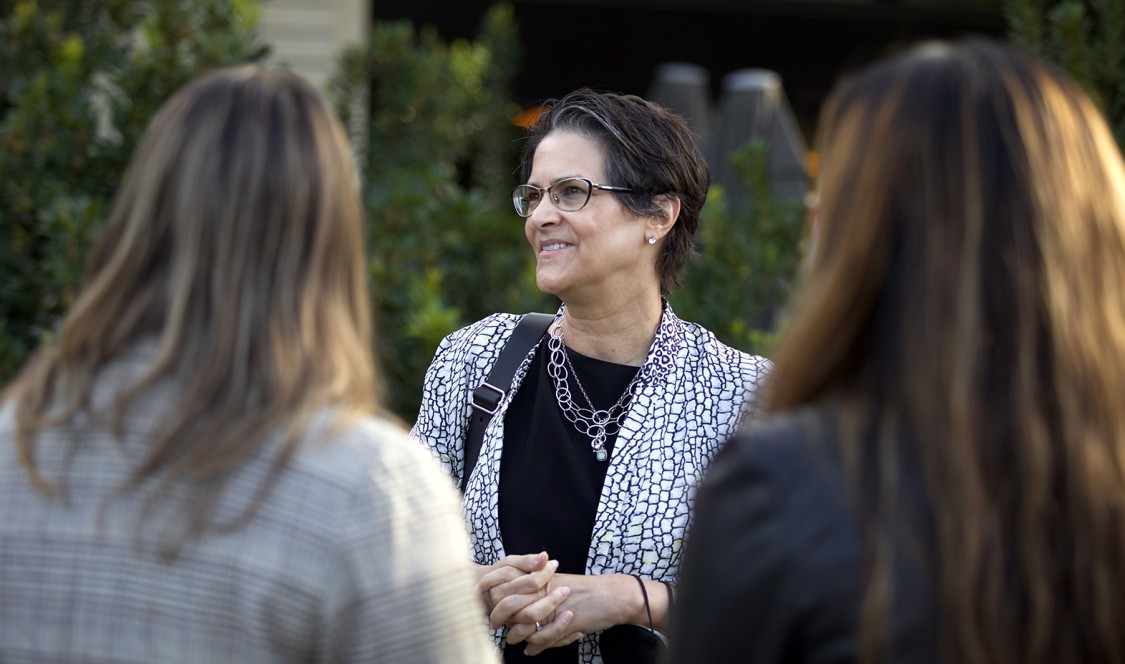 As a historian of American democracy, Martha S. Jones feels her principal task is to explain how our democracy has changed over time. Yet she is often asked to draw on the past to anticipate the future, with such questions as: "What are the lessons from the past that might aid us today as we face the latest chapter in the American struggle over and about democracy?"
"Now, for a long time, this was a question I very deliberately sidestepped, one I politely declined," Jones said at CMC's Athenaeum on April 18. "Historians do not carry a crystal ball, no special means of anticipating that future."
More recently, she has felt the urgency of those inquiries and taken them as a challenge for a new book project, which she used as a basis for her talk as part of CMC's 75th Anniversary Distinguished Speaker series.
A legal and cultural historian whose work examines how Black Americans have shaped the story of American democracy, Jones is a Society of Black Alumni Presidential Professor, professor of history, and a professor at the SNF Agora Institute at The Johns Hopkins University. She holds a PhD in history from Columbia University and a JD from the CUNY School of Law.
Highlighting issues in "Unity and Division," one of the three academic collaboration themes of the 75th Anniversary series, Jones' talk explored "Democracy as a Debate."
"I need to reframe our thinking about democracy less about winning ideals, achieving goals, or effecting progress—though I'm deeply invested in those aims," Jones said before a live and virtual audience. "I want to underscore how I see democracy, how I see this democracy, and that is as a debate, as an ongoing, a perennial, a long and arduous oftentimes debate about those fundamental ideals that have so consumed the Black American politics that I write about."
Jones's highly regarded books include Vanguard: How Black Women Broke Barriers, Won the Vote, and Insisted on Equality for All, selected as one of Time's 100 must-read books for 2020. Her 2018 book, Birthright Citizens: A History of Race and Rights in Antebellum America, won multiple awards: the Organization of American Historians Liberty Legacy Award, the American Historical Association Littleton-Griswold Prize, the American Society for Legal History John Phillip Reid book award, and the Baltimore City Historical Society Scholars Honor.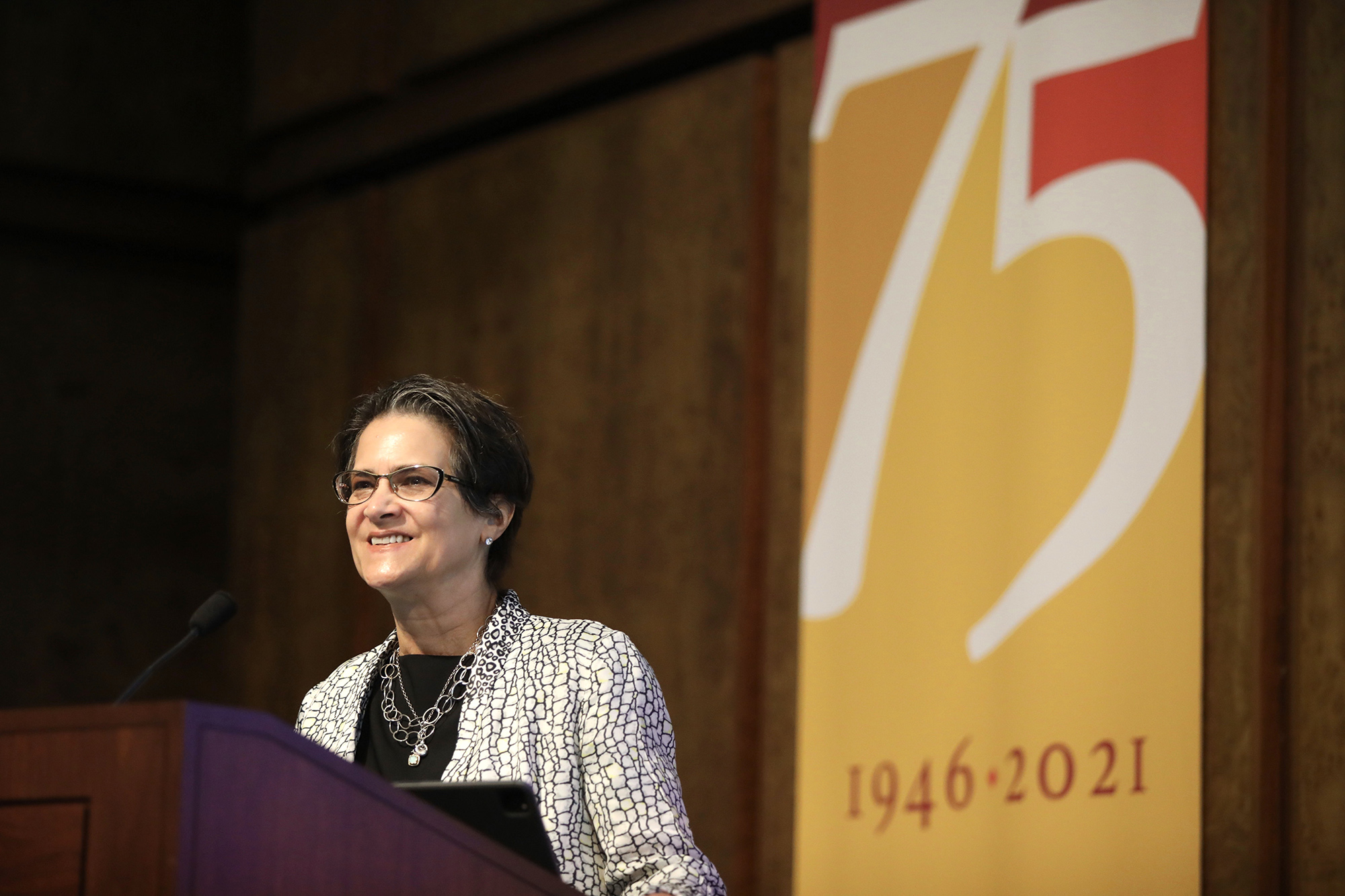 "Democracy and the American way is at its best, at its most potent, a process," Jones said. "It is a coming together, a convening. It is the possibility that we will gather, that we will exchange ideas, that we will discover a sense of what is ethical, even that which is moral. Democracy is the means by which we return again and again to core principles, to enduring symbols, to beleaguered but sweeping ideals.
"Democracy promises that there will be a table, that we will return to that table, and that in our own time, in our own context, have the privilege of grappling with the very fabric of who we are," she added.
That table, Jones explained, has been places like the Forum or the Athenaeum, and for Black Americans, the chapels of historically black colleges, the steps of the Lincoln Memorial, and the barber shop. And debate can be prompted by monuments, memorials, and flags.
To illustrate the idea of how we debate democracy through the symbol of the flag, Jones shared various stories, including the fact that a preserved flag was presented to her family graveside when they buried her father, a Black WWII Navy veteran.
She discussed a visit to the Betsy Ross House in Philadelphia and the uncertainty surrounding the flag's creation. "My time in Philadelphia taught me the flag is indeed a symbol, one that poses a question as old as the nation itself: 'For whom does it wave?'"
She discovered one answer in a "provocative and controversial" 2015 mural, "Freedom School" by Philadelphia artist Parris Stancell, depicting Malcolm X, Ella Baker, Martin Luther King Jr. and Frederick Douglass with an American flag and a quote from Baker: "We who believe in freedom cannot rest."
Jones—an exhibition curator for "Reframing the Color Line" and "Proclaiming Emancipation" at the William L. Clements Library, as well as a consultant for museum, film and video productions with such organizations as the Smithsonian's National Portrait Gallery and PBS American Experience—dove deep into the Stancell mural, also sharing how it elicited many different responses from passersby as she stood admiring it.
During the Q&A, a student question gave Jones the chance to introduce the topic of her book Vanguard and discuss the strengths of Black women activists, such as Stacey Abrams.
"One of the things I learned from them is about political nimbleness," she said, "That it is not enough in this democracy to be a voter or an officeholder or an organizer. That part of the power or the potential power that we have derives from the kind of nimbleness that permits us to pivot and to move and to respond to real conditions. …
"I think that for me is part of how democracy might work for us."
Contact
Office of Strategic Communications & Marketing
400 N. Claremont Blvd.
Claremont, CA 91711
Phone: (909) 621-8099
Email: communications@cmc.edu

Media inquiries: Gilien Silsby
Phone: (213) 500-8673
Email: gsilsby@cmc.edu