Filmmaker Roberto Angotti '84 traces the roots of his 'Italian American Baseball Family'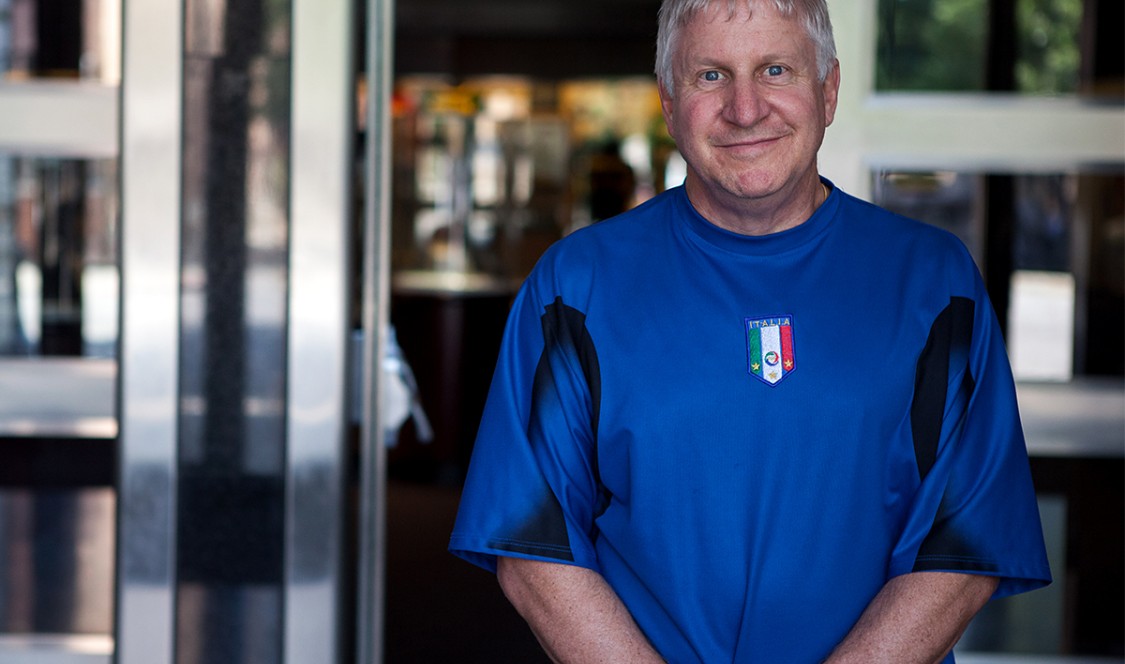 The lights had switched off at Jalisco Stadium when Roberto Angotti '84 finished writing an article about Team Italy's comeback to beat Mexico in the 2017 World Baseball Classic.
"It was 4 a.m.," said Angotti, the English language reporter for Federazione Italiana Baseball e Softball. "The team shuttle had left and I was stranded on the outskirts of Guadalajara, Mexico, without a peso in my pocket."
Angotti hitched a ride to his hotel with Team Venezuela's shuttle in time to work on a film grant proposal.
While covering the 2013 Classic, Angotti met a number of Italian American fans and former players, like Hall of Famer Mike Piazza and Los Angeles Angels manager Mike Scioscia, all connected by their heritage and love of the game. Seeing underdog Team Italy win inspired him to explore the history of Italian American baseball players in a documentary film.
The resulting film, Italian American Baseball Family, won the Russo Brothers Italian American Film Forum Award at the National Italian American Foundation's 42nd Anniversary Gala in Washington, D.C., on November 4.
In the years since he graduated from Claremont McKenna College, Angotti has followed one passion after another as a radio DJ, a sportswriter, and now an award-winning film maker – threads he links back to his time at CMC.
Angotti first grew accustomed to all-nighters as a student, when a job at the Claremont Colleges' KSPC radio turned into an unexpected early career start.
"I would get pizza from Harvey Mudd delivered to the station," Angotti said, "and then I would be on air until 3 in the morning."
As KSPC's program director, Angotti did play-by-play broadcasts for college baseball games and hosted a late-night reggae radio hour. His reggae program attracted a number of listeners, including KNAC Program Director Jimmy "The Saint" Christopher who needed an overnight replacement for DJ Dick Sheppard (Richard Blade).
When Angotti was a sophomore, Christopher asked him to cover a graveyard slot at KNAC. Angotti took the slot for the night. He covered another the next night and it turned into a full-time job by his senior year.
After he graduated, Angotti worked as a radio DJ and on-air personality for over 20 years, hosting "Roberto's Reggae Revolution" at KNAC and then at KROQ.
Originally, Angotti came to CMC for the economics department and access to KSPC, but CMC's interdisciplinary curriculum took him down another path. He was interested in communication, film, music, and history, so he took a film studies class with Michael M. Riley, Emeritus Professor of Film and Literature. Professor Riley encouraged him to connect these interests through documentary filmmaking, Angotti said.
"Professor Riley taught me that filmmaking is a reflection of the self," Angotti said. "You place yourself in your films, whether you realize it or not. That's what I did at CMC and that's what I did in the documentary."
The production of Italian American Baseball Family started with a number of on-camera interviews Angotti conducted with players and managers to accompany his articles. For five years, he said, he was working on the film every time he interviewed an Italian American from the majors.
The film – funded by a $7,500 grant from the Italian Sons and Daughters of America and the National Italian American Foundation – features interviews with prominent baseball figures, including former Los Angeles Dodger manager and executive Tommy Lasorda.
For Angotti, watching Lasorda lead the Dodgers to World Series championships in 1981 and 1988 was moving not just as a Dodger fan, but as an Italian American. He said being able to interview Lasorda for the film was a milestone.
"Tommy Lasorda is the Italian American hero," Angotti said. "I want my next documentary to be about him."
Angotti plans to make a series of Italian American baseball films. He sees his first documentary as a way to educate young Italian Americans and others on the plight of Italian immigrants, using baseball as a focal point.
Italians were once second class citizens in the United States, he said, and invisible in baseball before players like Yankee Hall of Famer Joe DiMaggio rose to prominence in the 1940s.
"Not having an appreciation of your heritage is like an olive tree with no roots," Angotti said. "Baseball is a part of mine."
-Michael Tesauro
Contact
Office of Strategic Communications & Marketing
400 N. Claremont Blvd.
Claremont, CA 91711
Phone: (909) 621-8099
Email: publicaffairs@cmc.edu

Media inquiries: David Eastburn
Phone (O): (909) 607-7377
Phone (C): (808) 312-8554
Email: deastburn@cmc.edu