For these CMC alumni, basketball at San Quentin prison is a game-changer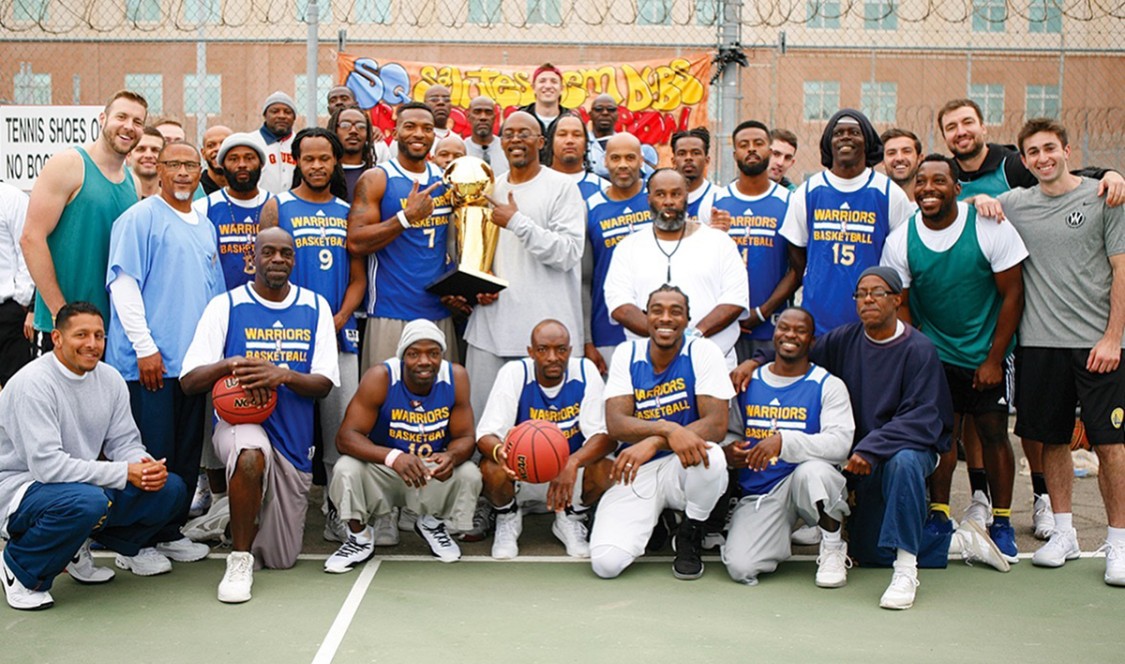 Until the COVID-19 pandemic hit, Stags basketball alumni and other CMCers ventured behind the San Quentin prison gates twice a month, squaring up against the San Quentin Warriors, a league that brings inmates and civilians together via an in-prison community outreach program.
The games are gritty, played on the prison's outdoor asphalt courts, buffeted by strong winds off the San Francisco Bay.
Patrick Lacey '11 joined the league seven years ago at the invitation of fellow CMC alumnus Ben Draa '10, who is a director with the Golden State Warriors. (The NBA team and front office support their San Quentin counterparts, even joining an annual game on the prison's court.)
A remarkable 20 Stag basketball alumni have played at San Quentin, aka "The Q," and several alumni of the men's and women's soccer teams have participated in the prison's soccer program. "These inmates know CMC!" he said.
"Over time, we have grown the Claremont footprint," Lacey recalled recently at an alumni and parent virtual program via Zoom. The program centered on the Emmy-nominated documentary "Q Ball." The virtual conversation was organized by CMC's Office of Alumni and Parent Engagement on August 5, drawing an audience of 90 alumni and families from around the country.
Joined by Tejas Gala '09 M'13 -- whom Lacey introduced to the league-- and "Q Ball" director, writer, and producer Michael Tolajian, Lacey was eager to discuss the film with CMC alumni and parents because he thinks it's important to get to know the inmates of San Quentin.
"It's easy to write off these inmates and ignore their humanity," he said. "This movie gets their stories out to the world."
Produced by NBA all-star and former Golden State Warrior Kevin Durant, "Q Ball," premiered on Fox Sports in 2019 and is nominated for an "Outstanding Long Sports Documentary" Emmy. The film chronicles the team's 2018 season, as star player Harry Smith (nicknamed "The Phenom") approaches parole after serving seven years in prison. For Smith, it's a "Last Dance" of sorts, and he has aspirations of playing professionally once he leaves San Quentin.
Along the way, "Q Ball" also shares the stories of the team's coach and mentor (serving a sentence for second-degree murder), a player serving a 102-year sentence for a crime he committed at age 16; and a three-strikes offender, who landed in San Quentin for 25 years after being arrested for possession of a firearm.
But to Lacey and Gala, these inmates are more than characters in a film. They are friends.
"Before COVID, I saw these guys more than I saw my friends and family," Lacey said, who is a Senior Manager of Global Sales Strategy at Salesforce.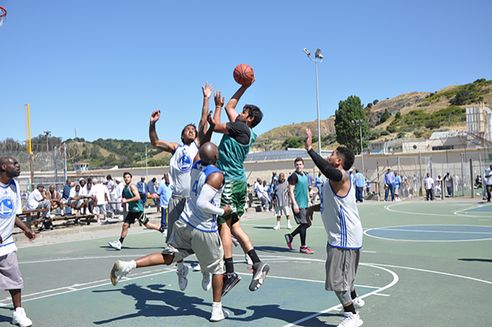 Gala admitted that before his first game at San Quentin, he felt some trepidation. "Once we started playing, everything was placed aside. I've built some very strong relationships with people and changed my perspective," he said. "To see the movie get made and to have the story told to a broader audience was so gratifying because the prison system, and the people in it, are misunderstood."
Some alumni who took part in the Zoom conversation wanted to know how they could help. Lacey suggested reaching out to nonprofit Prison to Employment Connection, which assists San Quentin inmates poised for parole to succeed on the outside.
Other questions were focused on the quality of basketball from a player's point-of-view.
"The cleanest most competitive games I play are at San Quentin," Lacey said. "In prison, they want to win so badly, they play so hard, and they care very much. They will dive on the asphalt for the ball It's really intense, really good basketball, there are no cheap shots. The caliber of basketball is high-quality."
Both Lacey and Gala described how they have served as character witnesses and written letters for incarcerated people up for parole. They have also offered to help once an incarcerated person is released, with career advice and a helping hand.
"Hiring someone or going to bat for someone, going out of your way to make sure you are caring for them, that's another powerful way to support these guys," said Gala, who is a Senior Manager, Corporate Finance & Investor Relations at Apple. "Being part of this program has fundamentally changed my life for the positive."
"Q Ball" is available for streaming on Netflix, or see CMC's virtual program library
—Anne Bergman
Contact
Office of Strategic Communications & Marketing
400 N. Claremont Blvd.
Claremont, CA 91711
Phone: (909) 621-8099
Email: communications@cmc.edu

Media inquiries: Gilien Silsby
Phone: (213) 500-8673
Email: gsilsby@cmc.edu