At the very end of March, two Claremont McKenna alumni and former roommates, Tyler Finn '17 and Cole Mora '17, learned of a grassroots fundraising effort in New York City to find and deliver much-needed respirator masks to hospitals. Less than two weeks later, they have assembled a group of tech-related individuals committed to ensuring the safety of workers on the front lines of the pandemic in Southern California.
A first shipment of 1,000 KN95 masks arrived at Martin Luther King Hospital in South Los Angeles this week. An additional 30,000 masks are due to arrive in L.A. for distribution to other hospitals by April 13, with yet another 30,000 masks expected that same week.
Both CMC grads agree that the willingness of the community to step up and pool resources through their platform, SoCal Tech for SoCal Hospitals, has been amazing. The group includes almost a dozen founders, venture capitalists, CEOs, and nonprofit leaders.
"In one of the most unprecedented, challenging, and scary times in modern history, this group has felt compelled and committed to doing something," said Mora.
From day one, the campaign moved at an amazing speed. Immediately after hearing about A Million Masks for New York City, the alumni learned of a similar and also brand-new grassroots effort in L.A. led by Jiake Liu, CEO of Outer, and Chris Herbert, CEO of Shine, who were raising funds for masks through GoFundMe. They approached them, combined resources, linked networks, created SoCal Tech for SoCal Hospitals and started searching for suppliers willing to sell KN95 masks to nonprofits at a reasonable price. They also looped in a 501c3 nonprofit organization, the Count on Me Family Foundation created by Mora's mother 15 years ago.
The working premise of SoCal Tech for SoCal Hospitals is that healthcare workers desperately need the protection of masks. Providing this equipment will allow them to stay on the COVID-19 front lines and keep them from getting others sick. This, in turn, helps flatten the curve of infections. Mora points out their project is a temporary solution to an acute problem. It will cease operations when the supply chain normalizes.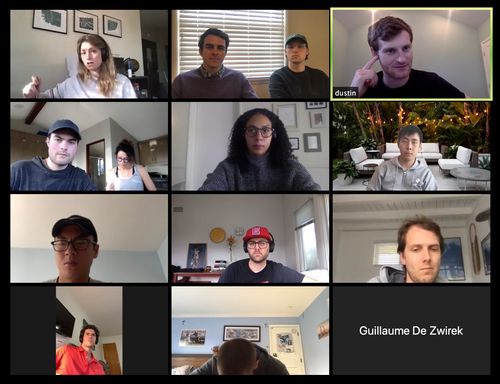 Finn said that it has been "astonishing to see how individuals have stepped up to support SoCal Tech for SoCal Hospitals with open hearts and minds. This is a group with a singular focus on protecting our community's heroes: the frontline healthcare workers risking their lives in the pandemic."
SoCal Tech for SoCal Hospitals raised $60,000 and purchased 30,000 KN95 masks within its first week of existence alone. The equipment is due to arrive in Los Angeles by April 13 and will be allocated to regional hospitals following the advice of medical professionals from UCLA, Children's Hospital Los Angeles and Cedars-Sinai Hospital. Their goal for the next phase is to raise $100,000 and purchase 50,000 additional masks.
Both alumni agree that their education at Claremont McKenna College helped cultivate a desire to act in this crisis.
"CMC positioned us to get involved in an effort like this," Finn said.
"We learned how to strategize, organize, and execute," Mora adds. "But we also learned about the meaning of the work itself. The CMC ethos of learning for the sake of doing was accompanied by learning why we do."
With the coming two to four weeks generally believed to be critical for the region, they hope that the CMC community will spread the word about SoCal Tech for SoCal Hospitals and contribute. "We need as much funding fuel as possible to hit these two to four weeks with purpose," Mora said.
A number of CMC alumni and Trustees have already pitched in, and many others have expressed interest in joining these CMCers in action. Feel free to contact Cole Mora | 770-375-5650 / cole.mora17@gmail.com or Tyler Finn | 650-804-9033 / tylerfinn@factual.com with donation questions or other queries.
- Christina Schweighofer