France Córdova offers leadership toolkit

France Córdova never aspired to lead.
"Especially being the oldest of 12 children, I thought I was done with that. I just thought I'd tuck into some research lab and just go about discovering something," the renowned astrophysicist told CMC students at the Athenaeum on Nov. 4. "What I really wanted to do was to discover nature's truth."
Yet the moment she embraced her passion to pursue astrophysics at a time when biases about women in science prevailed, Córdova—who served as the 14th director of the National Science Foundation (NSF) and as NASA's chief scientist—took her first step toward becoming a leader.
Córdova shared how she prepared for her unconventional career journey, offering a list of essential tools for CMC students in her lecture, "Grand Challenges and Opportunities for Leadership in Science, Policy, and Education." Part of the Athenaeum's 75th Anniversary Distinguished Speaker Series, Córdova's talk also mirrored the necessity and ambition of CMC's conceptual plans for a transformational integrated sciences program and center.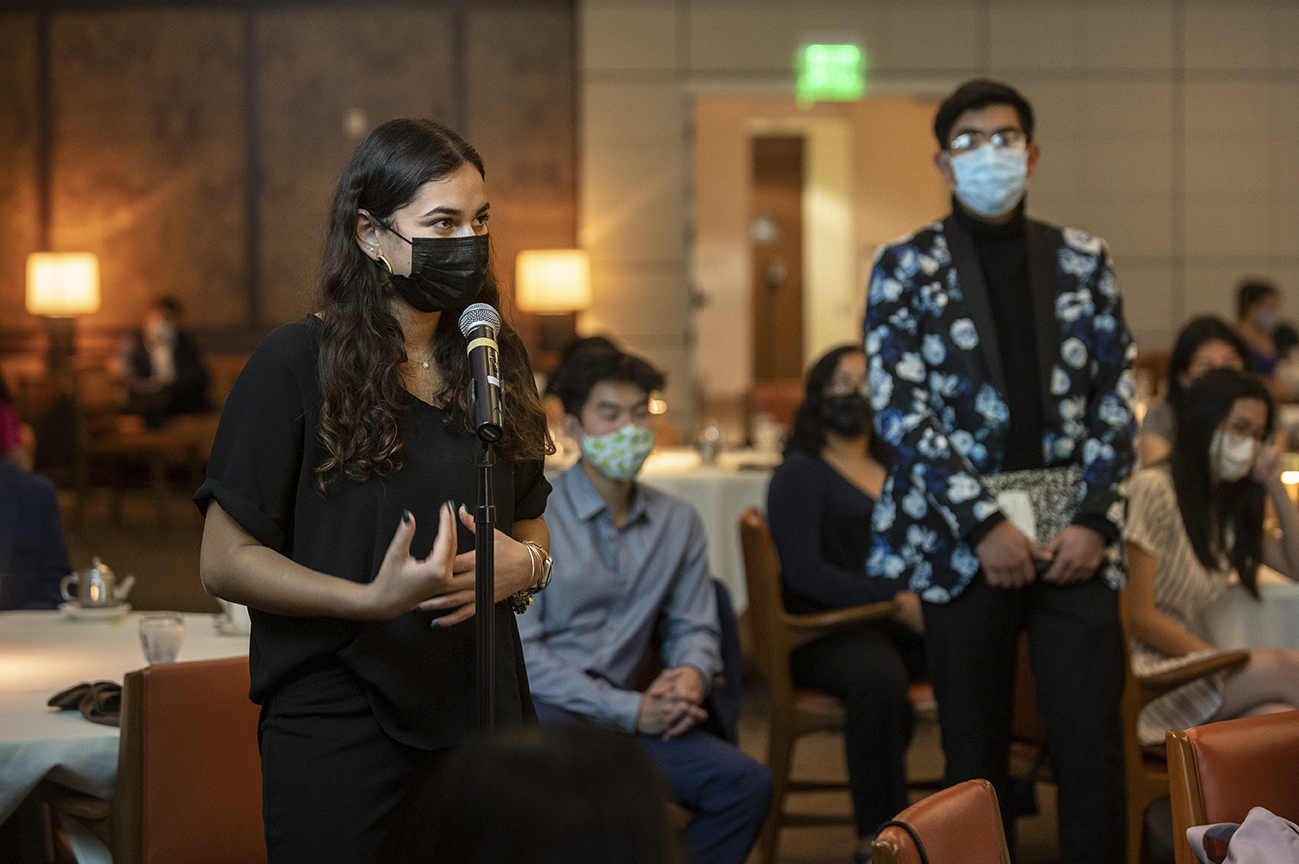 "You represent the promise of leadership that we need to meet the big challenges that we face," Córdova told the audience. Specifically, she enumerated six global challenges that "reinforce the centrality of science": environmental change; the pandemic of the moment; the world's food supply; research security; inequities on all scales, including education; and research ethics, integrity, and trust. The latter three issues are ones she has personally addressed while at the NSF and with a National Academy of Sciences strategic council.
After earning her Ph.D. in physics at Caltech in 1979, Córdova tucked into a research lab, the Los Alamos National Laboratory, where she was deputy group leader in the Earth and space sciences division. Her contributions in multi-spectrum research on X-ray and gamma ray sources and space-borne instrumentation brought her international recognition.
Throughout her career, she said yes to opportunities that put her in leadership positions. In 1993, she became the youngest person and first woman to serve as NASA's chief scientist and was awarded the agency's highest honor, the Distinguished Service Medal. In 2014, she was nominated by President Barack Obama and appointed the 14th director of the NSF. Her roles in education include vice chancellor at UC Santa Barbara, chancellor at UC Riverside, and president of Purdue University.
"There's nothing like being prepared for the journey," said Córdova, who learned the importance of preparedness in her vocation—from mentors like Nobel Prize winner Riccardo Giacconi, the founder of X-ray astronomy—and in her avocations—backpacking and rock climbing. She suggested ten essential tools for responsible leadership.
The first is a flashlight. Córdova said she had written part of her talk using a headlamp while snow was falling outside her tent in the Utah wilderness. But when she recommends a flashlight in this case, she means "the spark that can illuminate your path forward."
A PBS documentary on neutron stars was the "flash of inspiration" that awoke Córdova's buried passion for science. As a young girl, she was enchanted with a picture of the Bohr model of the atom and eagerly searched the World Book Encyclopedia—"the Google for us oldsters"—for science fair project ideas. "But that inspiration that I had when I was in seventh grade had been drowned mostly with biases at that time about women in science," Córdova said.
After earning a degree in English at Stanford, she asked herself, "What do I want to be by the time I'm 30?" Her answer: "I want to be an astrophysicist, and nothing's gonna stop me."
Confidence is another tool that Córdova recommended. "I believe that you can do anything if you know yourself and you know what you want," she said, sharing stories of running her first Boston Marathon in her late 20s despite naysayers and hearing her high school physics teacher say the five girls in the class were taking up seats the boys could fill.
While the most important tool for leadership is "having a sense of self," she said, a sense of humor and good information also made the list. Having advocated her entire career for educational investments in science given its importance to "our daily lives, our health, our economy, and our security," Córdova added another requisite: "Looking closely at things, especially nature … is about making way for the future through discovery."

Contact
Office of Strategic Communications & Marketing
400 N. Claremont Blvd.
Claremont, CA 91711
Phone: (909) 621-8099
Email: communications@cmc.edu

Media inquiries: Gilien Silsby
Phone: (213) 500-8673
Email: gsilsby@cmc.edu