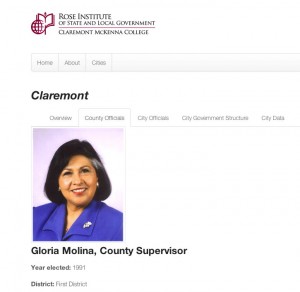 Ah, yes. Looking up key information about the city or county you live in, even information about its leaders and lawmakers, just got easier.
CMC's Rose Institute of State and Local Government has launched its California Almanac, an interactive online almanac of cities, counties, and their governments. The site enables users to type in their zip code to look up individual cities for important economic, demographic, and political information––all compiled, fact-checked, and organized in one place. The "beta" version focuses primarily on certain key Southern California cities, but the Institute plans to update the site over the next year and add several additional cities, to cover all of Southern California.
"The motivation for building this site was to provide a source accessible to a variety of users that seamlessly provides key information on California county and city officials," says Ian O'Grady '15, associate project manager at the Rose.
The Institute has carefully gathered data over the course of a year and sought to visualize useful datasets about California localities and their leaders: elected official contact info, brief bios, salaries; city government size, structure, and spending; and general city data such as population, ethnicity, top employers, and taxable retail sales.
The research was led by Heather Siegel '12 and Marina Giloi '14, who managed a team of Rose Institute research assistants over the course of this past year. The site was developed by former Rose Institute Student Manager, Jacinth Sohi '11. In the upcoming year, Giloi and O'Grady will lead a team to update the site with additional cities.
"The motivation for building the California Almanac site was to provide citizens with an easily accessible resource that compiles key information on California county and city officials," said Alex Bentley '14, Associate Student Manager of the Rose.
The goal of the project is to provide an easy-to-use product that allows Californians to learn more about their communities, and becoming better-informed participants in the political process.