Immigration policy focus of first Dreier Roundtable conference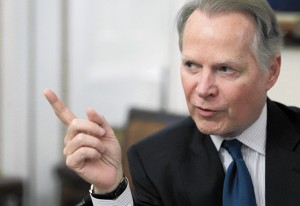 David Dreier
In case you missed it: SEE VIDEO OF ROUNDTABLE PANELS
The Dreier Roundtable will officially launch this Friday at an inaugural conference and luncheon focused on immigration policy. This innovative, bipartisan public forum is a collaboration with the Brookings Institution, the world's premiere think tank. This new public policy initiative at CMC convenes leaders in politics, business, journalism and academia to hold constructive, substantive public discussions about issues that affect the future prosperity of the United States and the world. The Roundtable is named after former congressman and CMC alumnus Rep. David Dreier '75, a distinguished fellow at the Brookings Institution.
The Dreier Roundtable's inaugural luncheon and launch event on Friday Nov. 7 will address the complex issue of immigration reform in the U.S. Just days after the midterm elections of 2014, the panel of experts will examine the strengths and weaknesses of current immigration policy and debate the economic and political aspects of immigration reform.
"The Dreier Roundtable initiative demonstrates how Claremont McKenna is bringing the full spectrum of insightful opinions to our students' world," said Rep. Dreier, honorary chairman of the Dreier Roundtable and chairman of the Annenberg-Dreier Commission at Sunnylands. "It's our hope that by creating a forum and engaging some of the foremost thought leaders on these issues that we'll come to creative solutions to some of our most difficult policy problems."
The inaugural event will feature two panel discussions examining the immigration issue from economic and political perspectives, followed by a roundtable luncheon conference featuring Chairman Dreier and a distinguished panel of leaders.
The speakers for the Nov. 7 roundtable discussion will be:
•

Mike Murphy—one of the GOP's most successful political media experts and previous consultant for nationally prominent candidates such as Mitt Romney, John McCain, Jeb Bush and Arnold Schwarzenegger
• Jacob Goldstein—NPR journalist and contributor to Planet Money, which explores economics, global finance and business topics, as well as producer of stories for Morning Edition, All Things Considered and This American Life

•

Peter Skerry—Professor of political science at Boston College and nonresident senior fellow at the Brookings Institution, he has researched and written about social policy, racial and ethnic politics, and immigration for over 20 years

•

Moderated by William Antholis—Managing director of the Brookings Institution and senior fellow in Governance Studies, he has served in the White House and State Department and has a Ph.D. in politics from Yale University
The Dreier Roundtable is inspired by the career of David Dreier, longtime chairman of the House Rules Committee, 32-year veteran of Congress and recent appointee of Secretary of State John Kerry's Foreign Affairs Policy Board. He is a trustee and alumnus of Claremont McKenna College and distinguished fellow at the Brookings Institution. The Dreier Roundtable is also the new home of the Annenberg-Dreier Commission at Sunnylands, which works to strengthen the free flow of goods, services, capital, information, ideas and people throughout the greater Pacific.
EVENT INFORMATION:
Immigration Policy for the 21st Century
Friday Nov. 7, 2014
Panel on the Economics of Immigration Reform, 8:30-9:45 a.m., Freeberg Forum, Kravis Center
Panel on the Politics of Immigration Reform, 10:00-11:15 a.m., Freeberg Forum, Kravis Center
Luncheon and Roundtable Discussion, 11:30 a.m.-1:00 p.m., Security Pacific Dining Room, Marian Miner Cook Athenaeum. Live stream of this event will be available at www.cmc.edu
More information at http://cmc.edu/news/events/immigration-policy-for-the-21st-century/
# # #
Contact
Office of Strategic Communications & Marketing
400 N. Claremont Blvd.
Claremont, CA 91711
Phone: (909) 621-8099
Email: communications@cmc.edu

Media inquiries: Gilien Silsby
Phone: (213) 500-8673
Email: gsilsby@cmc.edu