John O. Brennan never imagined that, 20 years into his CIA career, he would find himself returning to the yellowed pages of a freshman paper, seeking moral guidance from ancient Greeks.
Yet in the aftermath of 9/11, "it was as if Socrates was speaking to me," he told more than 200 students, alumni, faculty, and friends at the spring 2020 installment of the Res Publica Society Speaker Series at the Westin South Coast Plaza hotel. The February 5 talk was also the inaugural event in the new "Ath on the Road" series, an Athenaeum partnership with the Res Publica Society.
Calling himself "a lifelong liberal arts major who continues to wonder and search for knowledge and wisdom," Brennan described how a preoccupation with moral philosophy influenced his path from entry-level G9 analyst to the directorship of the world's largest intelligence agency.
CMC President Hiram E. Chodosh, in his introductory remarks, explained that the Costa Mesa venue was intended to "open our academy" to alumni, parents, and supporters, bringing them together with current students. He set the stage by noting that leadership sometimes requires choosing from a menu with no good options. Brennan, who served 33 years under six presidents, "can help us understand how best to address these critical, consequential decisions—from surveillance and enhanced interrogation, to covert actions, drone strikes, counterterrorism, cybersecurity, and military intervention," Chodosh said.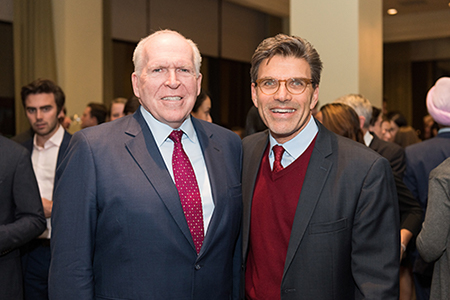 In a preview of Brennan's forthcoming book—a memoir focusing on honor and integrity in public life—the former CIA chief spoke of the "importance of having a North Star to guide" one's conduct. He reflected self-critically on his role as deputy executive director at a time when the agency was tasked with "taking the fight to Al Qaeda." Though Brennan was not in the chain of command responsible for enhanced interrogations or extraordinary renditions, he was morally opposed to them.
Looking back, he regrets not doing "all I think I should have done or could have done in terms of expressing my opposition or outrage. I focused on my job and turned my head away. It's one of the things I have to live with," he said.
A decade later, he was responsible for making recommendations to President Barack Obama on lethal action against terrorists operating outside Iraq and Afghanistan. Brennan found himself, again, returning to his liberal arts roots, thumbing through Augustine and Aquinas, trying to discern "under what circumstance it is appropriate to take life to save lives."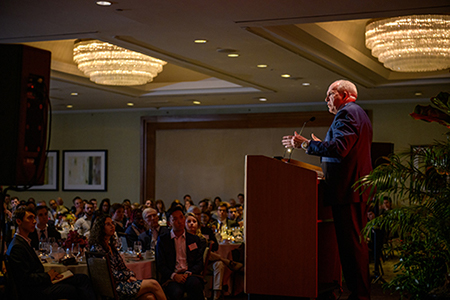 In the subsequent Q&A session, a student asked about the proper response when a high-level public official realizes he or she has made a mistake.
Acknowledge it and make restitution, Brennan replied bluntly.
The former CIA director has embraced brutal honesty since stepping down in 2017.
"Some of you may have noticed," he said, "that I have not exactly ridden off quietly into the sunset. I do speak out, and it has come with some costs. But this country stands for something."
He closed by urging students to "believe in America" and "at some point in your life, think about public service."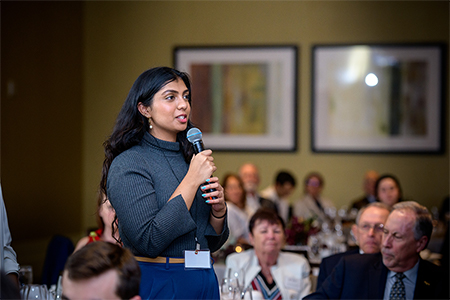 Time allowed only a few questions after dinner, but Brennan had mingled freely during a pre-talk reception. A dozen students surrounded him as Avnika Gupta '22, a computer science and economics major from Singapore, asked what news sources he trusts. Brennan recommended reading broadly from both right- and left-leaning media. But for balanced news coverage, he endorsed the Financial Times, PBS and The Economist.
Earlier in the day, Brennan had spent several hours interacting with students on campus. They packed the Keck Center Library, peppering Brennan with probing questions about the latest trends in international relations, public affairs, diplomacy, and global security. In a second session, they soaked up Brennan's insider advice on careers in intelligence and counterterrorism.
"You have some of the most intellectually curious and knowledgeable students I have had the pleasure to meet in my university visits—truly impressive," Brennan later commented.
Before leaving for his Costa Mesa talk, Brennan also recorded a podcast with the student-run "Free Food for Thought."
About a hundred students followed him to the Westin South Coast Plaza ballroom on motor coaches arranged by the College.
Jeremy Lahr '22 dashed directly from an afternoon class to catch a departing bus.
"I go to the Ath often," said the Bay Area native, a math major, "and I'm very glad to be here." He was eager to hear Brennan's view on the ethics of extrajudicial killings.
Nicole Alonso '23 was excited by the off-campus venue.
"When I heard about the 'Ath on the Road' talks, I thought it was a great way to network and learn more about things I had never been exposed to," said the first-year from New Jersey pursuing majors in computer science and economics.
The lecture was well attended by alumni, including "pacesetter" Henry Poy '50, P '90, GP '21, a member of CMC's inaugural class, who will celebrate his 70th reunion on April 24. In anticipation of their 50th reunion, Sam Ranetta '70 of Costa Mesa and John How '70 of Healdsburg, Calif., also came out to hear Brennan's talk. Before dinner, they reminisced about pickup basketball games from a half-century ago with literature professor Ricardo Quinones P'88.
Retired Orange County school administrator Dave Hatton '71, P '00 said he appreciated CMC's reaching out to alumni with the new 'Ath on the Road' format. "I'm really pleased this event is being held here," said the Irvine resident. "It's a 10-minute drive for me."
—Diane Krieger