By Jackson Umberger '16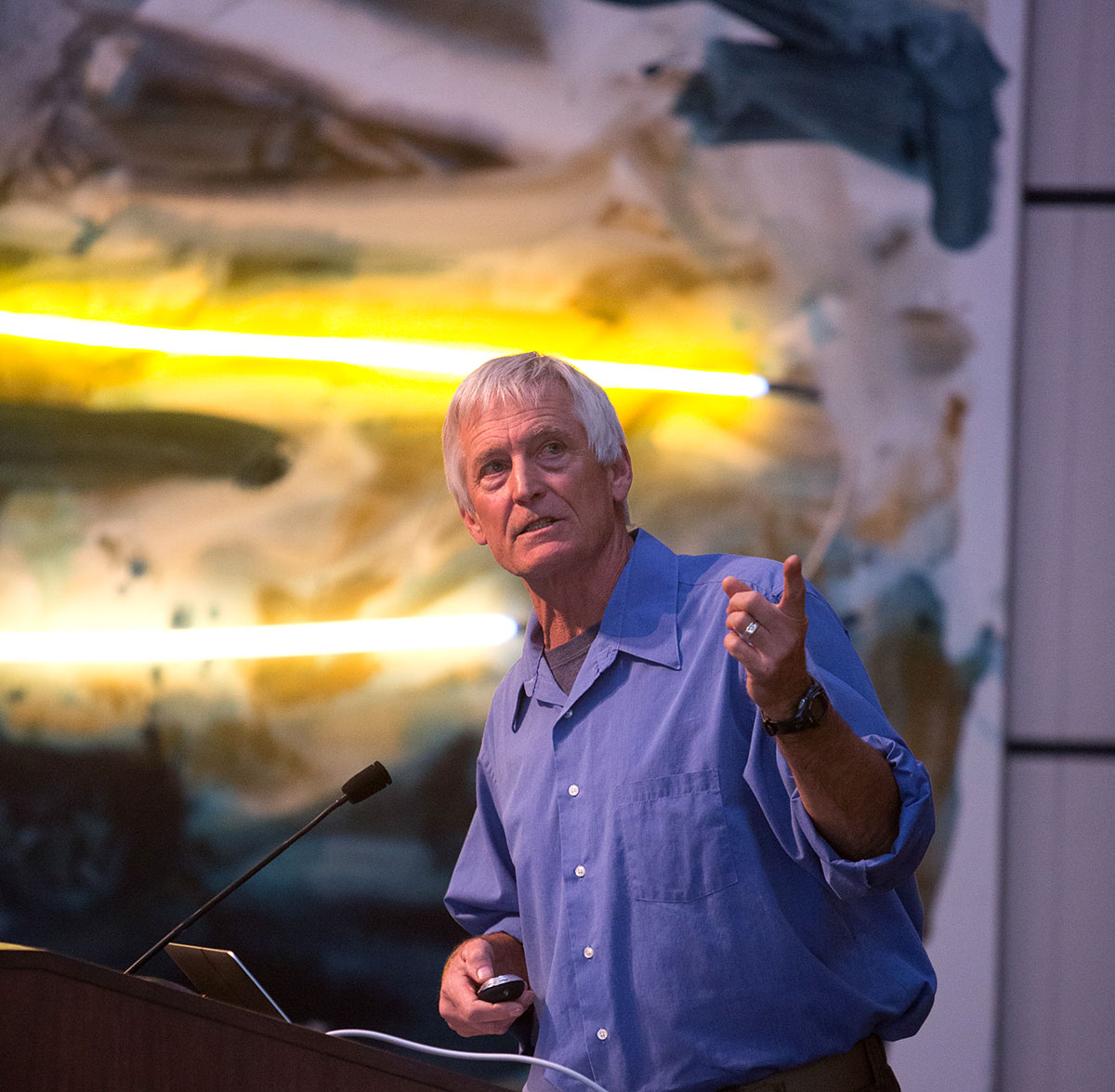 Michael Graber, the eight time Emmy award winning outdoor cinematographer and CMC class of 1974, returned to campus last Friday as the keynote speaker for the Second Annual Green Careers Conference.
Graber shared several stories from his journey from the Stags football field all the way up the summit of Mt. Everest. Along the way he has climbed untouched walls in Alaska, explored triple canopy rainforests in the Amazon, dug himself out of a snow buried tent on Everest, and spent time in an Afghani refugee camp during the war in Afghanistan in the '80s.
The diversity of his travels was not only limited to the geographical locations, but extended to his travel companions. Graber shared group photos which included the familiar faces of Jon Krakauer, author of Into Thin Air, Rose Marcario, CEO of Patagonia, and Don Burgess, cinematographer of "Forrest Gump" and several other critically acclaimed films.
Graber not only depicted incredible anecdotes from his world travels, but also shared stories from his time at CMC that we, as students, can all relate to. As a student athlete, Graber described the hectic, in-season schedule that leaves little room for anything more that practice and studying. As a North Quad resident, he attributed his high elevation, cliff-sleeping ability to the countless hours he spent sleeping in a hammock half way up the Boswell trees.
As an explorer, Graber escaped CMC's academic rigor with many "soul searching" trips to the summit of Mt. Baldy. And finally, as a student, Graber described the invaluable benefits that come with the unique, small community atmosphere of CMC. Specifically, he recalled taking advantage of the opportunities to build relationships with professors by venturing out on backcountry skiing and climbing trips with his math professor.
While Graber inspired many "awes" from the crowd with stories of his dramatic outdoor adventures, he also roused several laughs. He portrayed the career of a cameraman as having four major stages, "Stage 1: Who is Michael Graber? Stage 2: Bring me Michael Graber! Stage 3: Bring me a young Michael Graber! And finally, Stage 4: Who is Michael Graber?" Another crowd favorite came when he pointed to an image of him smiling on the edge of an icy cliff and said, "confidence is what you experience before the facts."
Graber concluded the talk on a more serious note by offering us all some valuable career advice. "Your passions -- never underestimate them, because they lead to careers. And especially if you have dreams. Your dreams can lead to careers... Life is going to try to beat the imagination out of you, but like Lewis Carroll said, 'imagination is your best weapon against reality.' So don't ever let anyone discount what you dream to do or what you imagine you can do, because I think that is where greatness comes from."