A Justice League of Their Own
Human rights activism comes naturally to Larissa Peltola '18. She practically cut her teeth in the Los Angeles offices of Amnesty International, where her mother was a pioneering program director. "I grew up in those offices," says the CMC alumna. "It was my playground."
So it makes sense that Peltola should be the linchpin to the Justice League, an initiative in the Mgrublian Center for Human Rights that has grown exponentially in the present moment—as young people search for impactful ways to usher in a more just society. Now in its third year, the Justice League task force has enlisted 18 students, and candidate applications are steadily rising.
"Students want to do something about what's happening in their neighborhoods, whether it's the plight of detainees, increasing outbursts of antisemitism, or police brutality," explains Mgrublian Center Director Wendy Lower, a distinguished Holocaust historian. "We have to respond to what's unfolding in the present day—things we find offensive here at home."
Justice Leaguers (the pun on the DC Comics superheroes is very much intended) work closely with Los Angeles human rights litigator Nazareth M. Haysbert. His Venice-based firm, Haysbert | Moultrie LLP, has been trailblazing a new model for human rights-centered private practice—powered, in part, by Mgrublian-based student researchers.
Peltola is herself a full-time legal researcher in the Haysbert firm, where she supervises the Justice Leaguers, along with the firm's five undergraduate interns, three of whom are CMC students Shreya Chatterjee '22, Torben Deese '22, and Miriam Farah '23.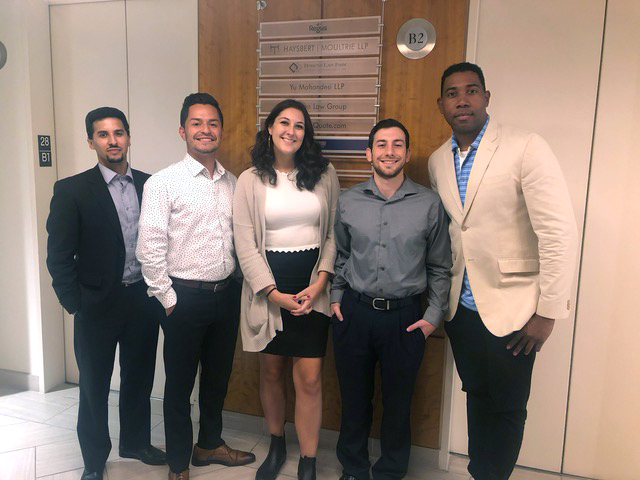 While the interns assist with the firm's three-dozen active domestic and international human rights cases, the Justice League assembles the facts Haysbert needs to determine if there's a plausible cause of action for contingency law suits his firm wants to bring.
Even before the pandemic, most of the work was handled remotely. The Justice League mines data from arrest records and police body cameras, creates spreadsheets to identify patterns of abuse, compiles lists of witnesses, and sleuths around archival resources. About half of Haysbert's caseload involves civil litigation on behalf of terrorism victims and their families, seeking civil damages from the frozen assets of terror organizations like Al Qaeda, Boko Haram, and ISIS. The other half of cases focuses on police brutality, immigration and deportations, fair labor practices, housing for the homeless, sexual misconduct, and other domestic human rights issues.  
It was Peltola who made the connection between the Mgrublian Center and Haysbert, whom she knew through her mother's large network of human rights colleagues. It was also Peltola who brought her mother, Bonnie Abaunza, into the Mgrublian Center's orbit, where she remains an active board member.
Blue Helmet Baby
"I've been very passionate about human rights ever since I was a kid," says Peltola. "Each day after school, I went to work at Amnesty International, like some scrawny intern." From answering phones, sorting mail, and getting coffee, she moved on to petition drives and public information campaigns. By middle school, she was interviewing Nobel Peace laureates like Mikhail Gorbachev and his Holiness the Dalai Lama for a website promoting teen engagement with human-rights issues.
When applying for college, Peltola said, "the reason I chose CMC over Georgetown and UCLA was because of the Mgrublian Center. Very few colleges in this country tackle human rights specifically—not just offering a few classes but really delving into research and advocacy."
From the moment she arrived on campus, Peltola planted herself at the Mgrublian Center—first as an eager volunteer, then as a research fellow documenting the widespread but little-studied pattern of rape as a weapon of war. That independent project grew into her prize-winning senior thesis, running over 200 pages. Peltola graduated in 2018 with dual degrees in international relations and history; she also completed the Human Rights, Holocaust and Genocide Studies sequence offered through the Mgrublian Center, where she remained a research assistant her last two years at CMC.
She spent the following year on a Fulbright in Debrecen, Hungary, working with the region's marginalized Roma population while also teaching college-level courses in speech and debate and the history of American protest movements at the city's respected university.
Hero Mom
The grandchild of Ecuadoran and Nicaraguan immigrants, Peltola grew up in Westwood, raised by her single mom and widowed grandfather, a former professional soccer player who moonlighted as a factory worker. From a tender age, Peltola knew she wanted to follow in her mother's footsteps as a human rights change-agent.
Bonnie Abaunza had taken a pay cut in 2001 to work for Amnesty International, leaving a lucrative career in Hollywood to pioneer the "celebrity engagement" model as founding director of the Artists for Amnesty ambassadors program. Today, her consulting practice, the Abaunza Group, designs social impact campaigns for films and documentaries, such as When They See Us for Netflix.
"My mom has always been my hero, challenging me to be the best person I could be," Peltola says.
Like her mom, Peltola wants to pioneer new ways to address human rights violations.
"I have no desire to go to law school," she said, with a laugh. Nevertheless, for the past year she has worked in the Haysbert firm to gain the legal know-how she'll need to implement change through a non-legal approach.
A PhD may be in Peltola's future. This fall, she enters the human rights studies master's program at Columbia University. She's applied for jobs with the U.S. State Department. Her long-term goal: to advocate for victims of rape and gender-based violence in armed conflict through an interdisciplinary approach combining legal, psychological and physical support and protections.
"Right now, there's very little mention in international law of rape and sexual violence," Peltola says. "It's not a recognized offense, which I think is astounding and, quite frankly, horrifying. These crimes usually fall under overarching terms like 'cruel and unusual punishment,' 'inhumane practices,' 'crimes of war,' or 'ethnic cleansing.' I would love to change the laws to support these women."
— Diane Krieger
Contact
Office of Strategic Communications & Marketing
400 N. Claremont Blvd.
Claremont, CA 91711
Phone: (909) 621-8099
Email: publicaffairs@cmc.edu

Media inquiries: David Eastburn
Phone (O): (909) 607-7377
Phone (C): (808) 312-8554
Email: deastburn@cmc.edu