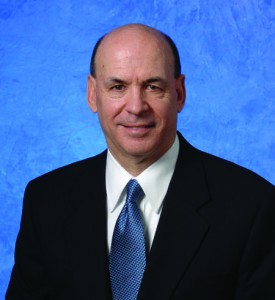 Kansas City Royals fans witnessed an event on Sept. 30 that hadn't happened in their city in nearly 30 years: Their beloved Royals made an appearance in the Major League Baseball playoffs. Not only did the Royals make the playoffs and host the American League Wild Card Game, they defeated the Oakland Athletics 9-8 in a 12-inning, win-or-go-home, instant classic.
Over 40,000 enthusiastic Royals fans packed Kauffman Stadium for the home playoff game, with millions more glued to their big screen in homes, bars and restaurants around Kansas City and the rest of the country.
Dean Taylor '73, a Claremont McKenna College alumnus and former baseball player for Claremont under former head coach Bill Arce, was one of the fortunate individuals to witness in person, the Royals' big playoff game. But Taylor wasn't in the stadium as a fan, he was there cheering for the Royals in a different role: as the team's Vice President of Baseball Operations and Assistant General Manager.
The Royals then went on to shock the Los Angeles Angels of Anaheim, who owned the best regular-season record in the majors, sweeping their best-of-five division series. The Royals face the Baltimore Orioles in the American League Championship Series.
Taylor has served in his current role with Kansas City since 2006. As Assistant G.M., Taylor is one of the main individuals in the team's front office, responsible for assembling the talented group of players on the 2014 team that has put Kansas City back in the postseason for the first time since winning the World Series in 1985.
While many in the Kansas City organization are seeing their first playoff action as a member of the Royals staff, not Taylor. He began his career in a Major League Baseball front office with the Royals in 1981 and worked for the team from 1981-89, a prosperous stretch for the Royals that saw the team make three postseason appearances ('81, '84, '85) and win the World Series over St. Louis in 1985. Taylor has 39 years of experience in professional baseball and has also spent time with the Los Angeles Dodgers, Cincinnati Reds, Atlanta Braves and Milwaukee Brewers, in a variety of management roles.