Kravis Opportunity Fund empowers student success, expands financial aid

Last year, Liam Brennan-Burke '21 cold-emailed SafeBoda, a Ugandan motorcycle ride hailing app similar to Uber, to ask if they hired interns. It turns out they did—usually MBA candidates from Harvard and The Wharton School. But SafeBoda was willing to take a chance on Brennan-Burke because he had his own funding.
Internships are increasingly important to high-achieving college students, but many offer little or no pay, an obstacle for those with financial need. For Brennan-Burke, an Economics and International Relations dual major from Rochester, N.Y., the SafeBoda internship fit his desire to pursue a career using technology in international development. Thanks to the Kravis Opportunity Fund, a $25 million gift from Trustee Henry R. Kravis '67 and the Marie-Josee and Henry R. Kravis Foundation, he was able to secure an important career stepping stone.
The Kravis Opportunity Fund elevates the Student Imperative, CMC's commitment to enroll the most exceptional student leaders regardless of their ability to pay. The gift provided 63 rising sophomores on financial aid with internship support last summer (a minimum target of $5,000, and as much as $7,300 per student). Going forward, it will fund a summer internship or experience for every rising sophomore on financial aid.
"There was no way I could have done this kind of internship without help from CMC," Brennan-Burke said. "I didn't have the personal funds to make it possible."
Immediate Impact
Along with supporting internships, the fund expands financial aid more broadly for students. It increases capacity for CMC's Scholar Community program and relieves the calculation of home equity in financial aid in order to attract more middle-class families.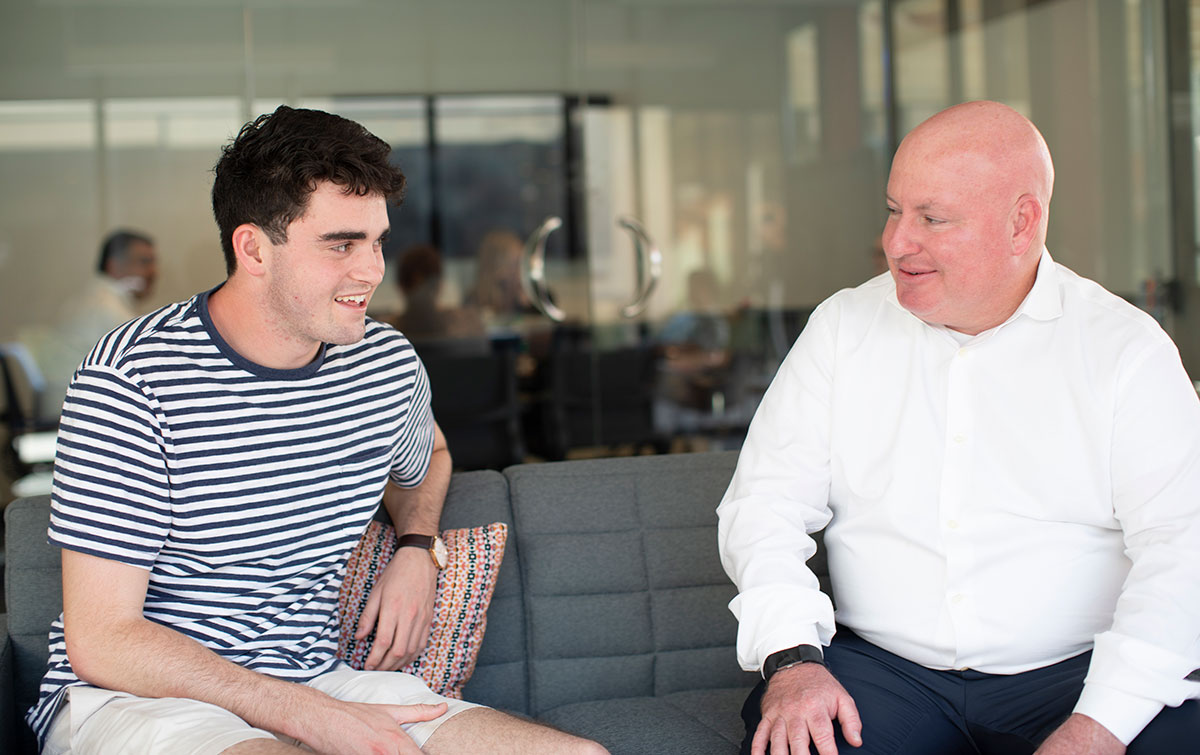 Other areas of support beyond tuition include: health insurance, travel, counseling and advice, and general start-of-college costs ("kickoff funds" for textbooks, bedding, clothing, and technology). It further strengthens sponsored internship and experience funding for all students and helps with expenses for networking trips, research conferences, and other career engagement events through the Student Opportunity Fund.
"There is so much more to the college experience than what you learn in a classroom, and it is a real honor for Marie-Josee and me to help promising students to be able to take full advantage of all that Claremont McKenna has to offer," Kravis said. Additionally, "by expanding and elevating opportunities for student leadership and success beyond funding tuition and fees," said President Hiram E. Chodosh, "the Kravis Opportunity Fund levels the playing field for those whose families have fewer resources to take full advantage of the CMC experience."
The impact is immediate. With a summer of resume-building under his belt, Brennan-Burke is brimming with confidence.
He has already noticed the difference in his classes. Forget textbook examples. He can talk about helping SafeBoda grow from 4,000 to 45,000 rides per day during his three months there. He also managed 15 interns being groomed for full-time work in information technology and logistics.
"Doing this internship heading into my sophomore year is such a catalyst for the next three years of continued growth," Brennan-Burke said. "It's so unique to have a school willing to invest this kind of money, time, and effort into its students—who can then come back to campus and invest what they've learned back in the CMC community."
Investing in Student Futures
For Guillermo Santos '22, support from the Kravis Opportunity Fund has provided peace of mind for the first time in his academic career. Santos was one of 34 freshmen who received $1,000 in kickoff funds to use for each semester. He used his money to pay for textbooks and registration fees, make a Target run for school supplies, and return home to El Paso, Texas, for fall break. The rest is being saved in an emergency fund.
Santos said he arrived to campus with $30 in his pocket. His father, a factory worker and truck driver, and stay-at-home mother supported Santos and his two younger siblings on a shoestring budget. Paying for college or putting money into an account for daily living expenses simply wasn't an option for them, Santos said.
"El Paso is a humble community," he said. "People work two or three jobs to make ends meet. Kids drop out of soccer when they're teenagers because they have to get a job and help their family. You start to realize those things at an early age."
Santos is the first person in his family to go to college in the U.S. His hard work in high school landed him a nationally prestigious Gates Scholarship. Coupled with the Kravis Opportunity Fund, he can keep his focus on classroom work and making professional strides at CMC. Case in point: Santos already has a six-week summer internship lined up with Deloitte in Los Angeles. He'd like to major in Philosophy, Politics, and Economics, with a goal of one day running for political office.
"I worked so hard to get here, and what CMC is telling me is that I can learn for the sake of learning. It's a new feeling," Santos said. "Especially in an environment like this, with people who have a history of excellence and performing well, it's truly inspiring to be here.
"It's been such a relief to let go of the mental toll that comes with worrying about finances. I always say, having money is not everything, but not having it is."
A Sense Of Belonging
Likewise, Synaida Maiche '22 is beginning to see her CMC journey take shape. When she arrived from Kakamega, Kenya, in the fall, Maiche met with Susan Layden, Associate Dean of Students for Academic Success, to craft a budget and determine preliminary needs. Most of the fall money she spent went toward textbooks.
For her Welcome Orientation Adventure (WOA) trip, Maiche also didn't have proper clothes for outdoor use at Camp Ronald McDonald. So Layden and Conor Fritz, Associate Dean of Admission, drove her to an outlet mall outside Claremont to buy better shoes and heavier socks.
Identifying personal gaps is important to Layden. By building trust and comfort through Kravis Opportunity Fund, students can feel a sense of belonging on campus and "start to excel without barriers," she said. Or as Maiche put it when she first met and received a hug from Layden, "I knew there was someone looking out for me at college."
"Coming to a new place, a new geographic region even, some of these students have never thought about what they will need or what they will be asked to do at CMC," Layden said. "We're not a substitute family for them, but we are people on campus they can count on."
Feeling settled into her new life at CMC has allowed Maiche to focus on what is in front of her. Her academic goals center on interdisciplinary science. She wants to conduct research with DNA and gene replacement. But because CMC has also challenged her to think about innovation and "the bigger picture of life" through the liberal arts, her dream is to start an NGO to promote economic empowerment for women in Kenya.
"I am driven to achieve something great here," Maiche said. "Even if what I'm doing right now at CMC makes me miss my family and miss my home, I know that I'm in a position to build my life in a different way. Because others have helped me, I can be what I want to be."
—Thomas Rozwadowski
Contact
Office of Public Affairs and Communications
400 N. Claremont Blvd.
Claremont, CA 91711
Phone: (909) 621-8099
Email: publicaffairs@cmc.edu

Media inquiries: Gilien Silsby
Phone: (213) 500-8673
Email: gsilsby@cmc.edu