Leading us to CMCs 75th anniversary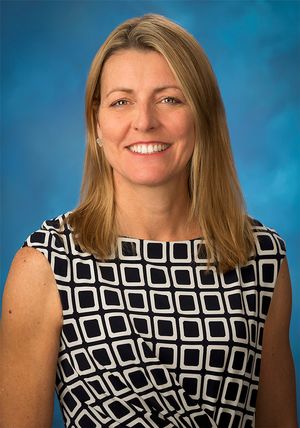 Susan Matteson King '85 P'18 arrived on campus the year that CMC changed its name from Claremont Men's College to Claremont McKenna College, a reflection of the college's newfound co-ed status. As a student, she recalls spotting Donald McKenna on campus, hearing the sound of celebratory bagpipes, and striving to meet the College's high academic benchmarks. When King embarked on an investment banking career in New York, she also remembers being confident in her ability to take on new challenges because of her experiences at CMC.
Her personal experience is just one of many voices that mark the historic CMC experience—one that King wants all members of the community to share during this special 75th Anniversary year, which officially begins July 1.
Founded in 1946, the College has come a long way since its early days, evolving with the times, while holding true to a foundational 75-year tradition of responsible leadership. Since April 17, the College has been marking these significant moments during our Countdown to the 75th, revisiting the birth of the Athenaeum and our research institutes, as well as milestones such as the transition from an all-male college to one that welcomes women students.
Throughout this year, King has been central to the planning of 75th activities as the anniversary committee chair, helping to design programming that appeals to alumni of all ages. Now, as our anniversary approaches, we've asked King to share with us her perspective and a sneak peek at what lies ahead.
Can you describe the excitement around the Countdown among alumni?
I'm hearing great feedback about the overall countdown experience, particularly around the pre-reunion events to celebrate classes that couldn't return to campus in 2019 and 2020, as well as the virtual programs that celebrated iconic aspects of CMC, such as the Athenaeum, the Pioneers, and the Stark Presidency.
In addition, we have seen huge demand for CMC and CMS items in the CMC Supply Shop. New limited-edition items will be available starting July 1.
Is there a memory or story from the Countdown that resonated with you personally?
I have really enjoyed the archival exhibition created by our first CMC archivist, Sean Stanley. There are a total of 13 exhibitions planned for the 75th anniversary. The topic of the first exhibition was the 25 years preceding the founding. It offered great photos and documents that changed my perception of the history of the College's founding. The next exhibition launches on July 1. It highlights the first 10 years of CMC. I saw some aerial photos of the campus in the late 40s and early 50s. There were parking issues even then!
I also really enjoyed the Office of Alumni and Parent Engagement's panel discussion around co-education. I'm looking forward to upcoming exhibitions that will focus on co-education and the Pioneers, Athletics, Dorm Life, as well as ROTC and Veterans.
With the official launch of the 75th anniversary celebration fast approaching on July 1, what can you tell us about the plans for the summer and early fall?
Over the summer, the Office of Alumni and Parent Engagement will be managing New Student Parties with alumni and parent volunteers to offer in-person opportunities for incoming freshmen and sophomores to meet each other! When students return to campus in the fall, ImpactCMC will have other new programs and ideas. And we will soon announce a very special live-streamed event scheduled for October 2.
When we last touched base, you mentioned that there was some "super top-secret stuff" coming our way, such as a slate of exciting speakers. Are you at liberty to elaborate?
We have some exciting events planned, but you'll just have to watch out for when we announce them. For now, I can reveal that in addition to an in-person ImpactCMC weekend, we are looking at ongoing programming that permits in-person and virtual participation with current faculty and research institute speakers, and we are trying to lure retired faculty back for certain programs. We are extending alumni weekend an extra day over Memorial Day weekend May 26-29, 2022 to incorporate special 75th events, music and more.
Stay updated through the new 75th Anniversary website, also launching July 1!
Contact
Office of Public Affairs and Communications
400 N. Claremont Blvd.
Claremont, CA 91711
Phone: (909) 621-8099
Email: publicaffairs@cmc.edu

Media inquiries: Gilien Silsby
Phone: (213) 500-8673
Email: gsilsby@cmc.edu