The annual celebration of Donald McKenna's birthday, the Tartan Snack, will be held Friday, Oct. 10, from 10:30 to 11:30 p.m. in Collins Dining Hall.

A linguistic scholar, savvy entrepreneur, and benevolent philanthropist, Donald McKenna played a significant role in the establishment of Claremont Men's College in 1946. As one of the first trustees, McKenna initiated support for the third member of the Claremont Colleges. He remained a generous contributor to the College for the rest of his life. The College was renamed Claremont McKenna College in 1981 to honor McKenna's role in its founding.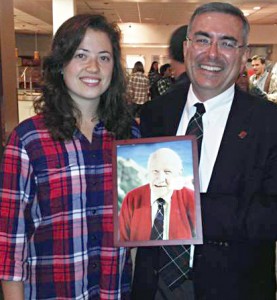 Last year's Scotland trip winner, Austin Hill '14, with John P. Faranda '79, Vice President of Alumni and Parent Relations.
Following a long-established tradition, current students are encouraged to wear tartan to the snack, which will feature a birthday cake as well as the customary snack fare. Those attendees wearing tartan will be entered in a drawing to win a trip to Scotland, the homeland of Donald McKenna.
All CMC students are welcome to attend; no meal plan is required. The event is being held by the CMC Alumni Association and the Student Alumni Relations Council.
Questions about the event should be directed to Darrin Roberts, Assistant Director of Alumni Relations, at 909-621-8806 or darrin.roberts@cmc.edu.