Two months ago, Jesse Chang '08 didn't know a thing about protective masks. A tech entrepreneur spearheading Stanley X, the innovation division of Stanley Black & Decker, Chang was on the lookout for promising startups in digital manufacturing.
But when he learned that his brother, a resident working in a California ICU unit, was spraying down his N95 masks with Lysol to reuse them, Chang's antennae went up.
"It got me thinking," said Chang, who majored in economics and international relations. How hard could it be to 3D-print a face mask? And why stop with just one for his brother? By piggybacking on the advanced Face ID system built into newer iPhones, Chang envisioned a seamless supply chain of form-fitting face masks custom-printed for every frontline healthcare worker in America.
Within days, Chang had pulled together an all-volunteer team of Silicon Valley talent to form the nonprofit, My Mask Movement.
Originally from Granada Hills, and now based in Palo Alto, Chang has worked in the industrial 3D-printing space since 2014, when he co-founded MDAR, a laser scanning startup based on novel neuromorphic camera technology. At the time, he was a student in Northwestern University's joint JD-MBA program. Later, as head of 3D content for Amazon, Chang led a massive effort to archive in augmented reality the millions of products the e-commerce juggernaut sells.
The idea behind My Mask is simple: Take your picture. Upload the 3D file to My Mask's website. Wait a few days for your precision-fitted mask to arrive in the mail. It took the development team—led by My Mask co-founder Cole Hershkowitz, a product architect with L.A.-based software maker Vynyl—just five weeks to build out the mobile app. The software activates the depth-sensing cameras responsible for unlocking newer iPhones (X and up) to precision-scan the user's nose, cheeks, mouth, jawline, and chin. It then generates an uploadable 3D blueprint for a one-of-a-kind-mask. Users can choose from a range of open-source frame templates, including a respirator mask that has gained FDA approval for emergency use during the pandemic.
Made from biocompatible material, the masks are built to withstand up to 60 passes through a rigorous disinfection process. Only the filter that lays inside the mouthpiece needs to be replaced regularly. Users can insert any off-the-shelf brand. Currently, the top choice among hospitals is a two-ply spun polypropylene fabric called Halyard h600, but that may change as more is learned about the virus' lifecycle.
"There are two parts to the medical mask problem: fit and filter. We solve the fit problem, and there are smart people working on the filter problem," Chang said. By being "filter agnostic," he added, "we're enabling freedom of choice and flexibility."
A hundred printed My Mask prototypes are already in circulation, and 100 more are in the pipeline. In late April a small group of clinicians started beta-testing the frames in clinical settings. Early adopters include San Francisco-based anesthesiologist Michael K. Fujinaka '07, an old CMC friend of Chang's, and Michael Kayatta '06, a thoracic surgeon practicing in Clearwater, Fla.
Stanford oral surgeon Stanley Liu was part of the core team that started My Mask, as was Montreal-based maxillofacial surgeon René Caissie. About 40 academic researchers are also involved with the organization, including Oliver Cossairt, the Northwestern computer scientist who developed the app's patented photometric sensing technology for precision facial scanning.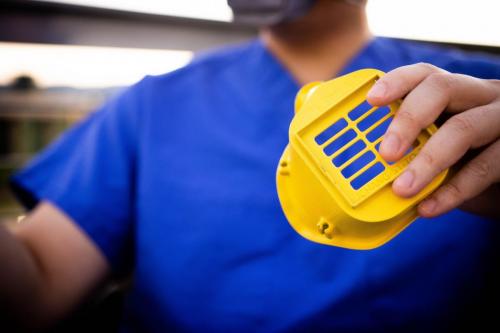 Custom-printing clearly brings major advantages to medical masks, Chang said. For starters, the gold standard N95 comes in only a few sizes, and even the right size usually feels uncomfortable.
"It applies pressure unevenly to a small number of points on your face, which is why you see doctors at the end of a shift come away with facial ulcers. A form-fitting mask distributes pressure evenly across the face, improving comfort," Chang said.
An ill-fitting respirator mask can also be dangerous, creating a false sense of security. "Think about putting a baby or an elderly person in a standard-sized mask," Chang said. "It's not airtight at all."
PPE made by PPE
Sheltering in place at his parents' Diamond Bar home, My Mask co-founder and CMC sophomore Jefferson Chang '22 easily spends 60 to 80 hours a week on the fledgling nonprofit. He has done this while carrying a full course load remotely.
In a weird twist of fate, this PPE (philosophy, politics, and economics) major is now elbow-deep in the global scramble for more and better PPE (personal protective equipment).
The interdisciplinary program is a boon in uncertain times, he said. "It has taught me how to draw connections or correlations between anything. PPE just stimulates the mind for intellectual conversations with your peers. You're never really satisfied."
As My Mask chief-of-staff, Jefferson oversees all legal, financial, administrative, and operational matters, including the hiring and onboarding of student interns. That includes classmates Sarah Chen '22 and Arielle Lui '22—the latter a COVID-19 survivor determined to "take the fight back to the virus."
Both Chen and Lui are also PPE majors, as was Shamil Hargovan '10, a key corporate partner for My Mask. He is the founder and CEO of Wiivv, a Seattle- and Vancouver-based startup that makes 3D-printed sandals and insoles based on foot scans customers generate with their smart phones.
What Hargovan brings to the My Mask operation is large-scale industrial 3D fabrication capabilities and expertise in direct-to-consumer distribution. The plan is to make My Mask available to all consumers in the near future.
"Being able to make a lot of these—that's where Wiivv comes in," said Hargovan, who previously worked for Hewlett Packard, the leading manufacturer of commercial-grade multi jet fusion (MJF) 3D printers needed to output them. The same machines that print one-of-a-kind insoles can just as easily print one-of-a-kind mask frames. The key is mass customization—finding the sweet spot at the intersection of standardized and personalized components. "Goldilocks manufacturing" is how Hargovan described it in a recent New York Times article.
My Mask orders are transmitted to a decentralized fleet of MJFs operated by Wiivv and a handful of other corporate partners. A single printing facility in My Mask's "pop up" network can crank out nearly 1,000 custom masks a day. There's no reason a hospital couldn't set up its own MJF printer and wash its hands of dodgy overseas suppliers once and for all.
"We're shifting away from the tyranny of a centralized supply chain," Jesse said. "Everything is 100-percent digitally made in the U.S."
Mentoring it forward
While they share a last name, Jefferson Chang and Jesse Chang are not blood relations. The two connected through a CMC Facebook group, intrigued by their close aliases: JChang08 and JChang22.
"I think of Jefferson as the newer and improved version of me," Jesse said, with a laugh. On a more serious note, he added, "I trust him as myself. He shadows me everywhere."
The older Chang is consciously mentoring the younger one, just as he was mentored a decade ago by CMC venture capitalist Mike Sekits '88, who gave Jesse his first private equity internship, and by Autodesk executive Rob McIntosh '96, who first introduced him to the world of 3D printing.
"I felt like I should pay it forward," Jesse said.
By early May, the My Mask website was up and running, thanks to computer science majors Yulei "Max" Guo '22 and Cindy Duong '21—both student interns. Soon after, the nonprofit began taking orders from frontline healthcare workers. "The masks aren't sold," Jesse noted. "They're donated."
Each kit—comprised of the 3D-printed custom frame, straps, bracket, and instruction manual—costs about $50 to manufacture and ship. The My Mask team is chasing corporate sponsors to cover those expenses. Overhead is minimal, as everyone works pro-bono or is an unpaid intern. When direct-to-consumer orders are enabled, Jesse anticipates producing those at cost.
"I didn't start this to maybe someday make some money. This is a unique time for us—as a generation and as a people—to actually write history. There's also this shared sense of civic duty we gained at CMC," Jesse said.
The long-term goal for My Mask Movement is an ambitious one: "to make these masks available to every man, woman, and child." Last week, the team started batch-printing 100 orders for healthcare workers in Kenya.
Meanwhile the development team is working with Northwestern's Cossairt to untether the app from late model iPhones and revamp the 3D scanning software so it can run on Androids, tablets, laptops, or any other digital device with a camera.
"That would be a huge breakout for us," Jesse said, "and we're doing a lot of research."
But for now, the main focus is on masking up frontline medical workers like his brother.
"We are ready to go. We've established this supply chain," Jesse said. "Now, it's just a matter of getting the word out and raising money."
To sign up with My Mask Movement as a beta-tester, click here.
—Diane Krieger