New CMCers begin their journeys

The long-anticipated moment finally arrived, as new students—many with help from their families—moved onto campus, took part in engaging Orientation activities, and simply got to know each other.
As they arrived, these new CMCers were greeted with warm smiles and encouragement from student leaders and staff members, as they headed to their residence halls, where boxes were unpacked, furniture assembled, pillows fluffed, and CMC pennants proudly displayed.
Soon it would be time for a final lunch together, photo opportunities with the Stag and Athena mascots, a formal send-off from CMC leadership in Roberts Pavilion, and, finally, the hugs goodbye.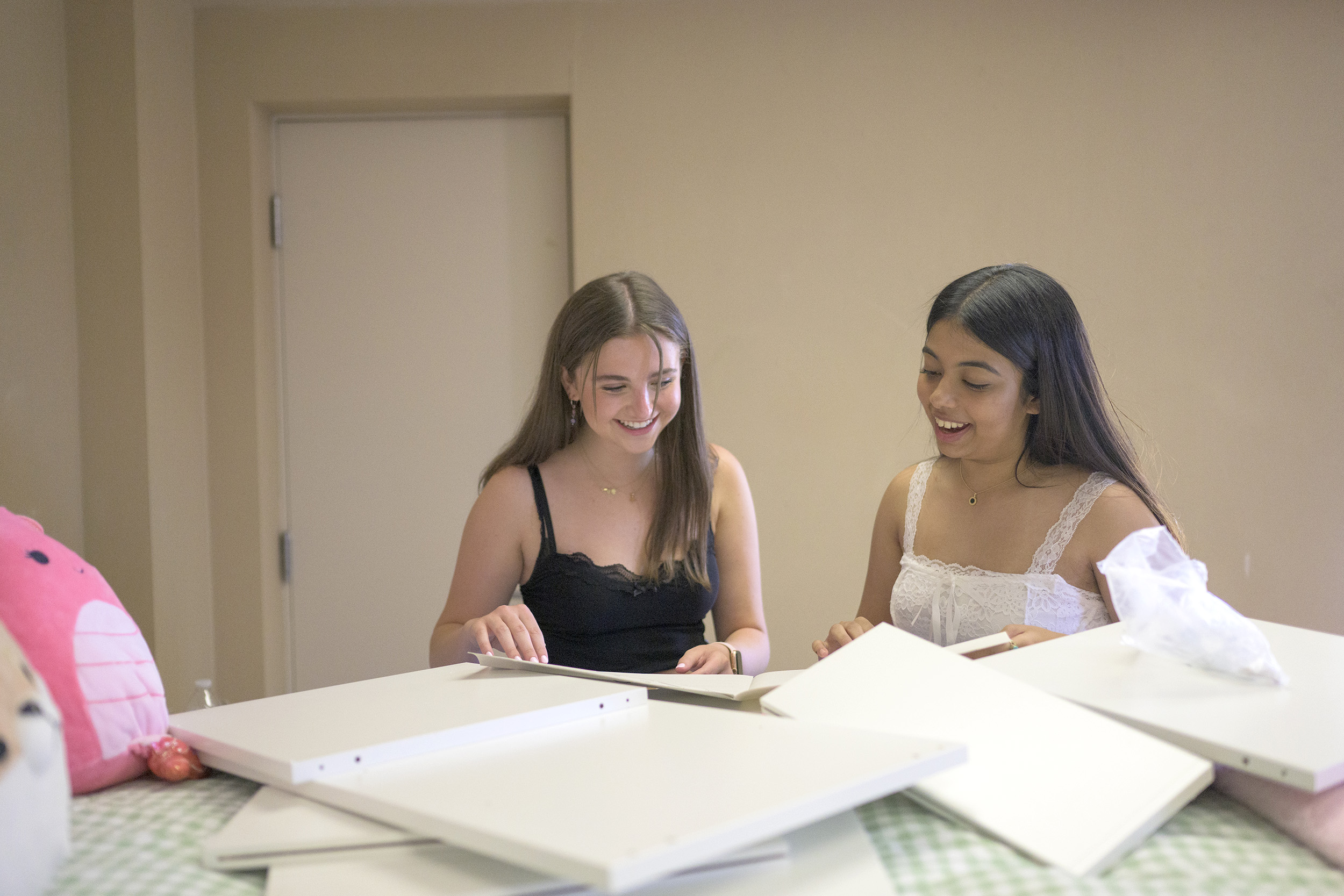 Throughout the day, families heard the message: "Your children are in good hands." And they took it to heart.
"I feel like I am leaving my daughter with another family," said Anu Jacob P'26, who traveled from India to help her daughter Kiara '26 move into her residence hall. "It's overwhelming how much love is all around here."
Move-in Day and Orientation activities are labors of love, with the entire CMC community pitching in, from RAs to parent volunteers and CMC's administration. Here are some moments we captured to illustrate the day:
Friendly and welcoming
As Aileen Zheng '23 made her way to Auen Hall, where she is a Resident Assistant (RA), she reflected on what compelled her to become an RA. "My first year at CMC, I moved in a day early, and I found the RAs to be so friendly and welcoming," she said. "I knew then that I wanted to eventually become a resource just like them. I'm looking forward to getting to know the younger students."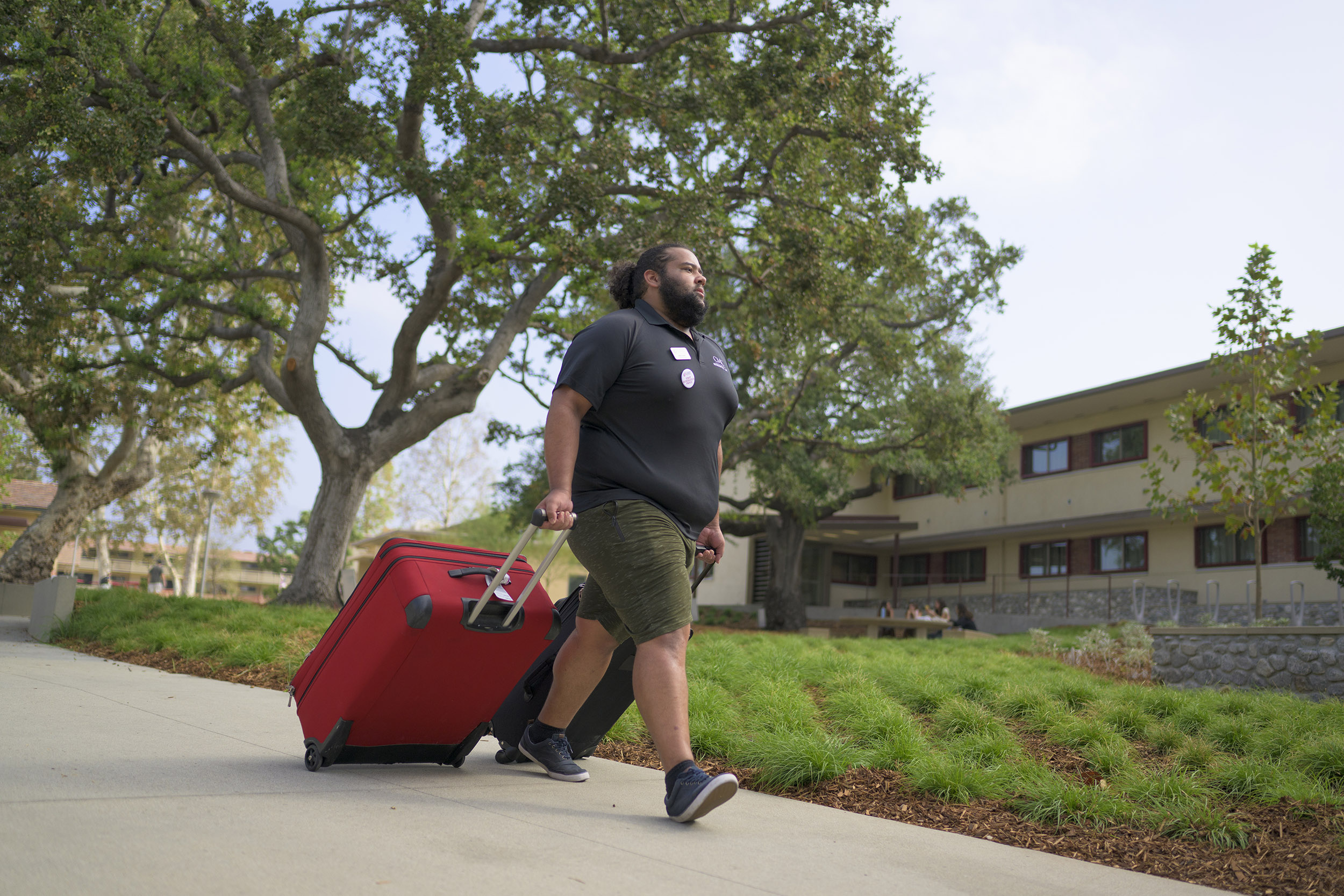 In addition to serving as a resource for new students, the RAs at CMC are trained to be mentors, selected for their ability to connect with students from a wide range of backgrounds.
"We need folks who are going to be able to build relationships with students," said Jennifer Guyett, senior assistant dean of students for residential life and student engagement.
In addition, Guyett said she seeks out students like Zheng—an International Relations and History major, who spent fall 2021 in CMC's Silicon Valley Program, and spring 2022 studying abroad in Nice—to serve as RAs.
"We really want them to have experience with what it means to be a student at CMC," she said. "Just because there are so many opportunities with internships, with institutes, with study abroad—with everything that happens here. We want them to then come back and be able to share those experiences with students."
Family time
Some students moving into the residence halls enlisted help from moms, dads, and even siblings.
"I'm in charge of the checklist," said Monica Taylor P'26. She reported that moving David Taylor '26 into his residence hall went smoothly, given that David's father, as well as his older and younger siblings, were also pitching in.
David, who is from La Habra, Calif., chose CMC because the College is "so strong in government and economics. I thought it would be a great place to apply," he said. "And then I visited, and I liked the calm, quiet feel, and the small scale."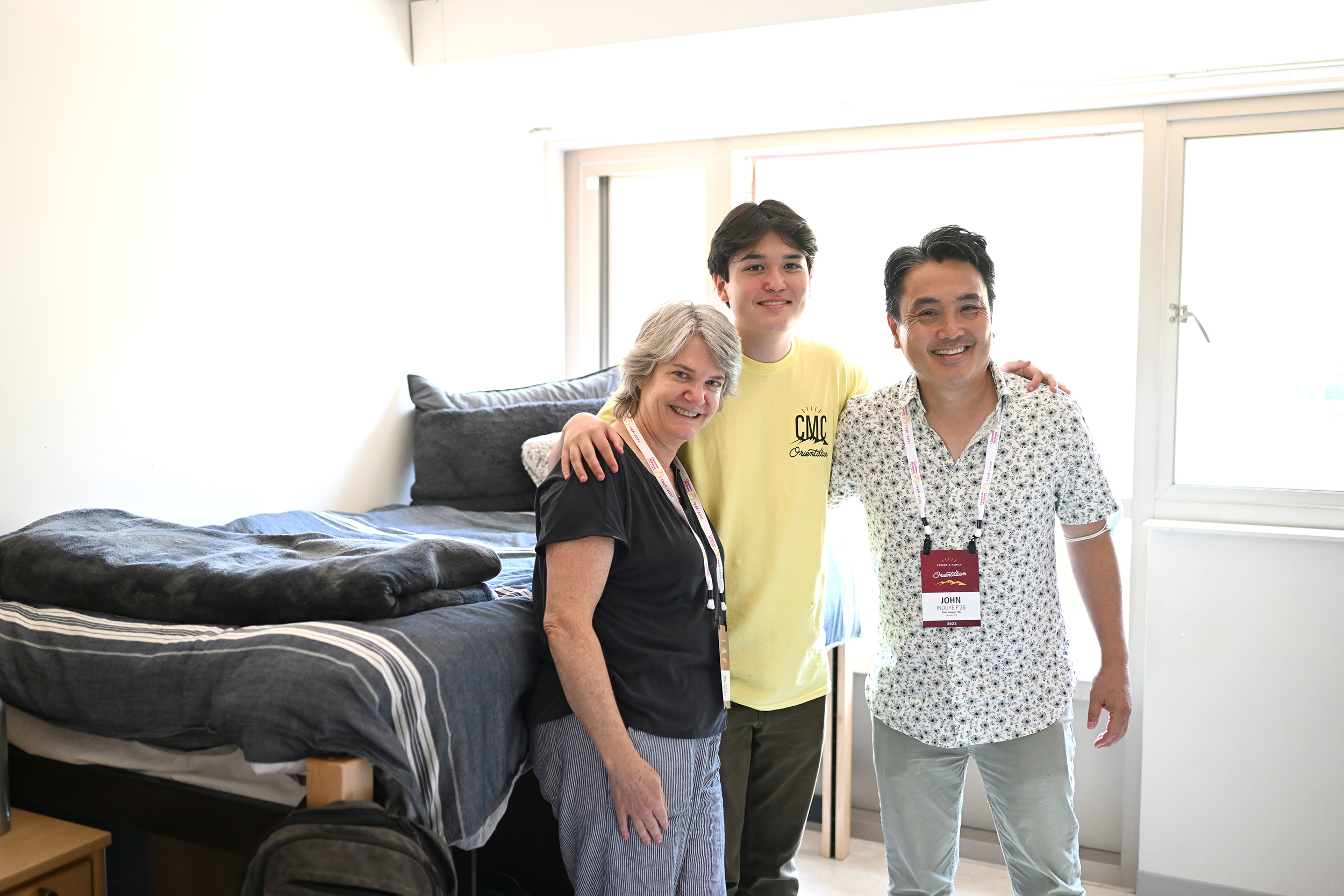 As Tom Inouye '26 settled into his residence hall, he shared, "My room already feels super cozy." "Everyone at CMC has been so helpful," added his dad, John '26, who traveled with Tom's mother, Amy P'26 from Orinda, Calif. to assist with move-in.
"It only took us 30 minutes to unpack, and now in 30 minutes he gets to kick us out," said William Bollwerk P'26, whose son, Charlie '26 joins the CMS swim team roster this fall. Gazing out of Charlie's residence hall window, William shared how much he enjoys the view of the mountains and CMC's new campus landscaping.
Tim Lee '26, whose mother sported a "Proud of my Stag" tote bag, said how much he appreciated the assistance he received as he moved into his residence hall. "I'm very excited to be here and thankful to the sophomores, juniors, and seniors who helped us today, It was very heartwarming," he said with a smile.
A worthwhile journey for many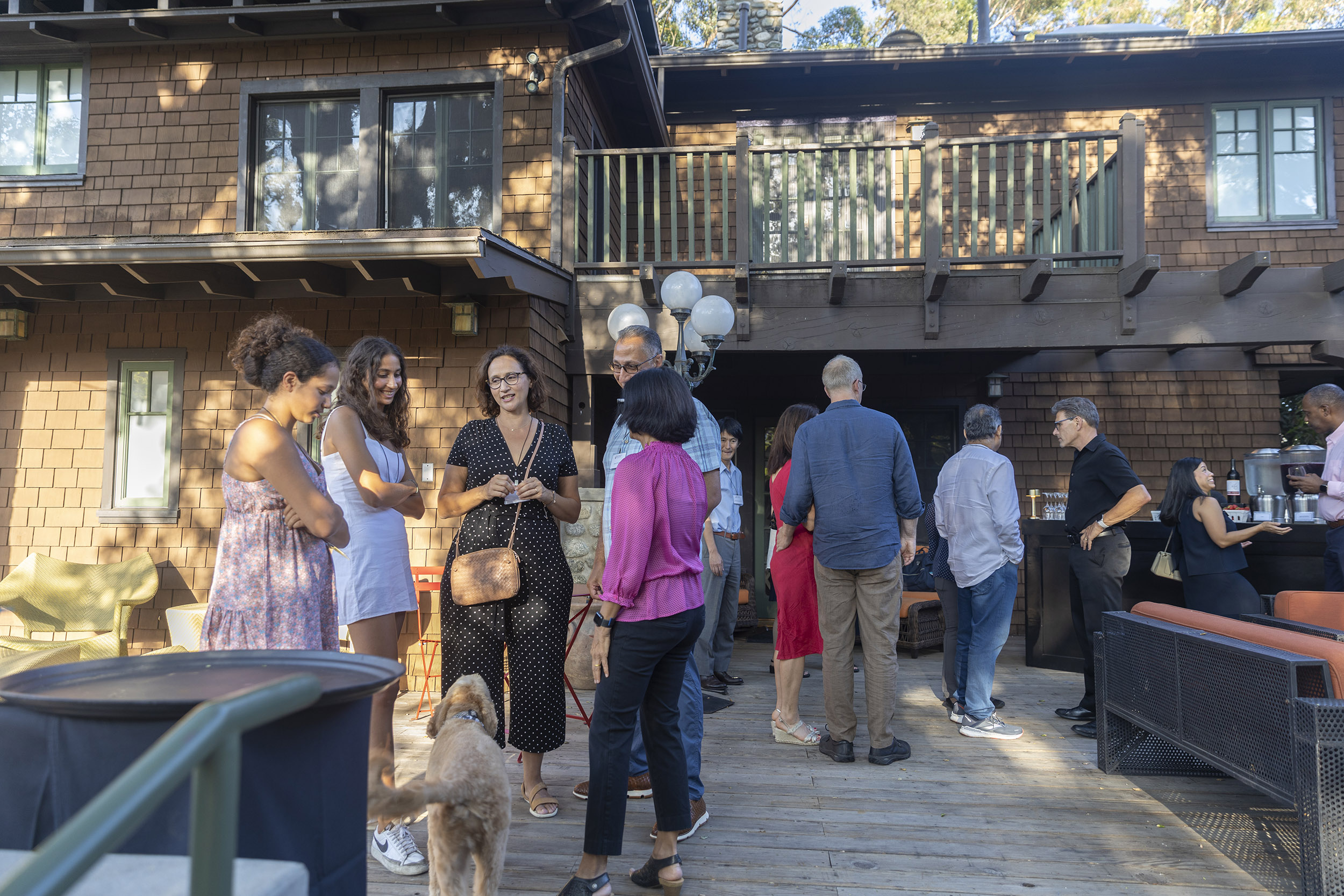 CMC President Hiram Chodosh and his wife Priya Junnar welcomed parents of new international students to their home near campus for a reception on Friday, August 19, an annual tradition. The parents had come long distances—most under the challenging circumstances of today's air travel on their journeys to Claremont. They hail from Japan, India, South Africa, Thailand, the Arab Emirates, and Indonesia, among other locales and Chodosh warmly welcomed them.
"We are so thankful to you for your commitment, and to you and your amazing children for coming so far," he said, "and we want you to feel at home."
Niniek Rahardja of Thailand, who had dropped her first-year Justin son off earlier in the day, said they were both already feeling connected. Of move-in, she relayed: "All the seniors who were waiting were cheering and helping us carry everything in—it was amazing. Then they spent time sharing their experiences here—it made us feel so comfortable. I know Justin is in good hands."
During the reception, Rahardja chatted animatedly with other parents of new international students and with Taivna Mills, assistant dean for International Student Services and Academic Success, who is focused on aiding international students as they transition to their academic and co-curricular experiences at CMC, as well as life in California.
Where students launch their dreams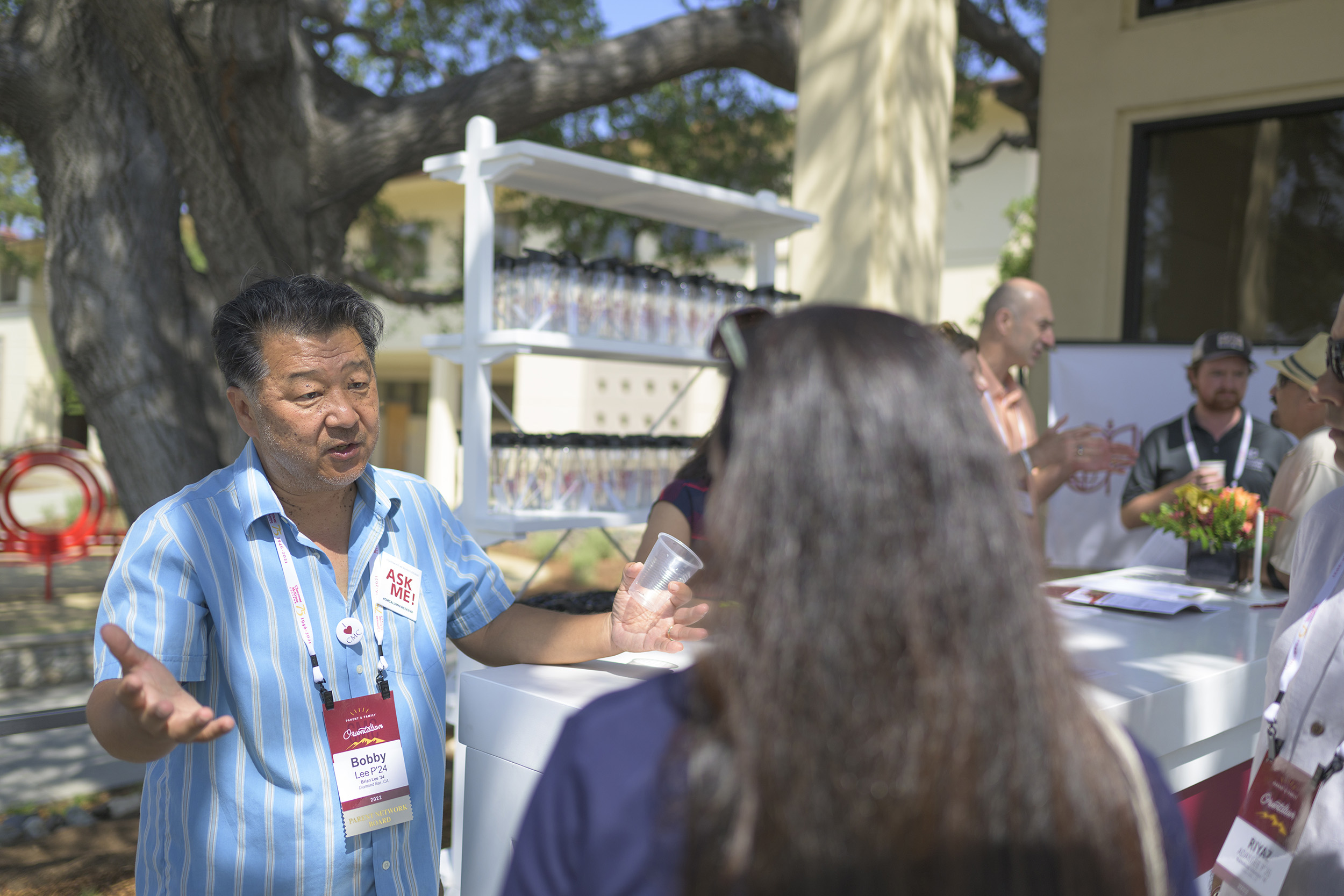 In the Hub, Rob Poy '90 P'21 took a quick break from sharing information about volunteering with the Parent Network with eager families. "It really is like family here," he said.
Poy ought to know. His father, Henry '50 P'90 GP'21, graduated in the first-ever four-year class at CMC. And, Poy met his future wife, Becky (Butler) '88 in the Ducey gymnasium when they were both students at CMC. Their daughter, Annie '21 is also an alumna.
"I really appreciate being here today, watching students launch their dreams, whether it's through academics, sports, clubs, or 5C activities," he said, adding that parents he spoke to seemed especially interested in the programming at the Marian Miner Cook Athenaeum.
A rewarding job
In addition to Resident Assistants, First-Year Guides (FYGs) also assist new students with their adjustment to college life (residential, social, and academic). First-Year Guides lead new students through all Orientation activities, including the Welcome Orientation Adventure (WOA) trips. They also offer assistance to students throughout their first year.
First-Year Programs Interns, Maryum Khwaja '24 and Jennifer Granados '23 spent their summers helping Assistant Dean of Student Engagement MaryKate Jacobs to plan and oversee Orientation and WOA activities, as well as train the FYGs themselves.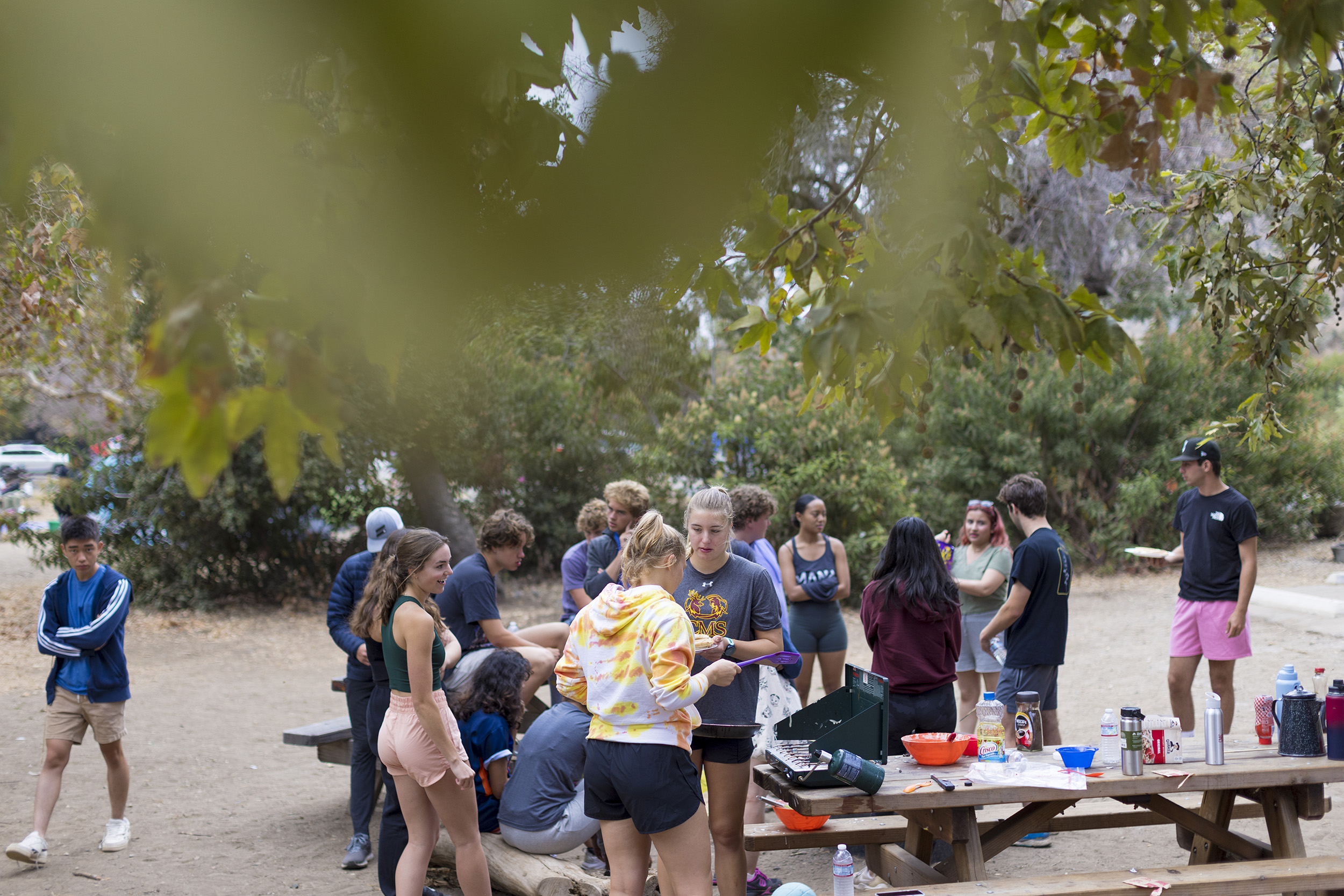 This job "is one of the most time-consuming, yet rewarding jobs I've ever had," said Khwaja, a government and legal studies major. "It allows me the chance to connect with the first-years and have a direct impact on their experience and transition into CMC."
Together, she and Granados planned this year's WOA, with FYGs leading new CMCers to campsites, including Point Mugu and Leo Carrillo State Parks along the Malibu coast, as well as San Clemente and San Onofre in Orange County, and to the mountain locale of Running Springs. WOA trips serve as an introduction to the CMC lifestyle, and are designed to promote a sense of community and belonging, as well as self-awareness and self-confidence.
Granados, a computer science major, tapped into her own previous experience as a FYG last year, to plan the activities, a process she described as "as challenging, but creative."
"At the end of the day, it's all worth it knowing that we are providing a fun and memorable experience for the first years," she said.
Cheering on CMCers
As they entered the doors of Roberts Pavilion for the day's capstone ceremony, new CMCers and their families were greeted with enthusiastic whoops, cheers, and celebratory songs, led by CMC sophomores, juniors, and seniors.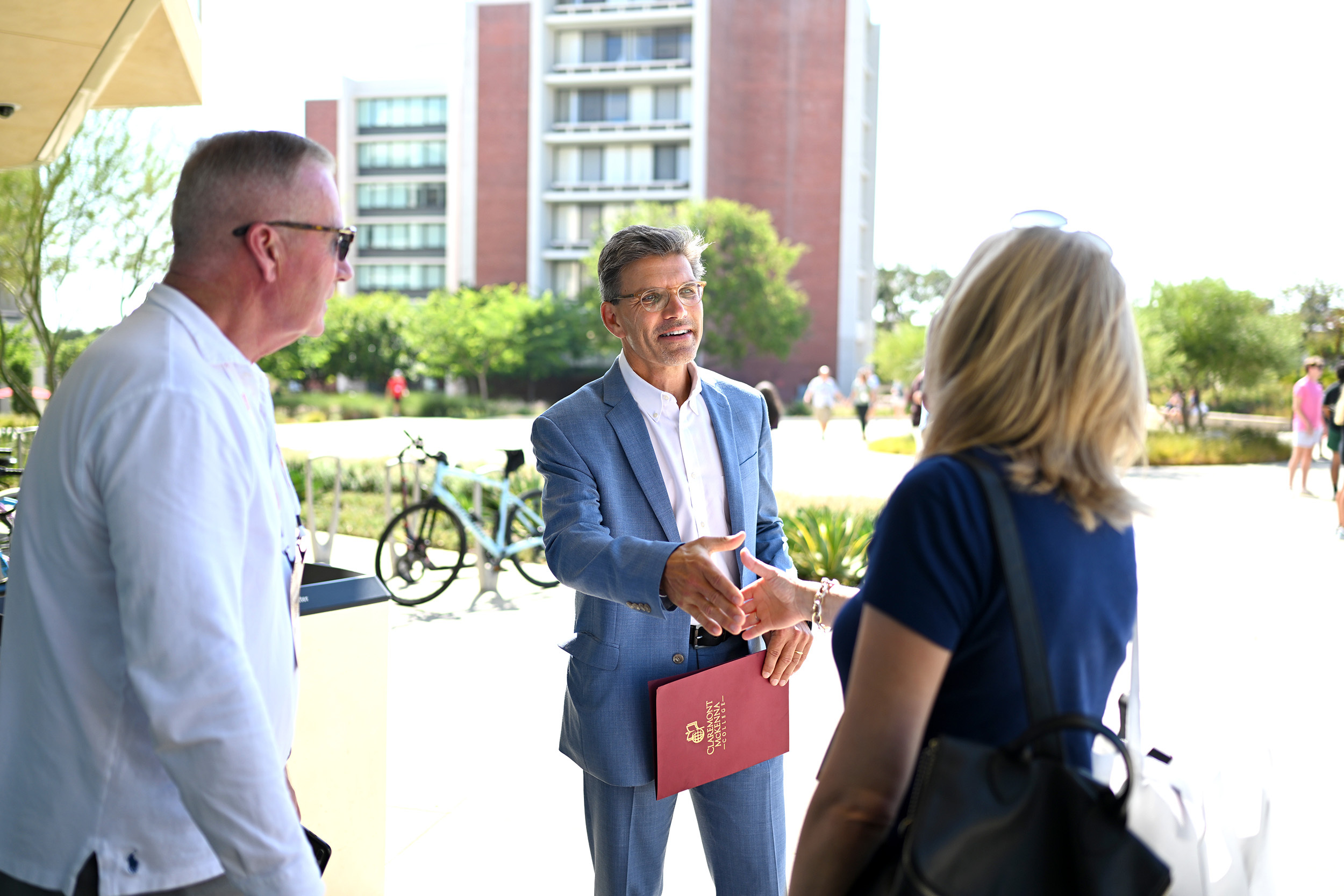 And inside, the celebration continued, as CMC leadership formally welcomed students and their families.
"You belong here," said Dianna "DT" Graves '98, associate vice president and dean of students. While acknowledging that rigorous scholarship takes commitment, Graves reminded the new CMCers that "we're here to lift you up. This is your journey. But we're going to be here with you the whole way."
President Chodosh answered his thematic question: "why are we here," concluding: To learn, together, to lead, to succeed in the contributions we want to make. We step up. We ask questions. We support one another. We learn from our experience. No pandemic, no politic, no prejudice, no pretense can stop us." He concluded, "that is why we are so moved, so fortunate, so fired up to have you join us here today."
Contact
Office of Strategic Communications & Marketing
400 N. Claremont Blvd.
Claremont, CA 91711
Phone: (909) 621-8099
Email: communications@cmc.edu

Media inquiries: Gilien Silsby
Phone: (213) 500-8673
Email: gsilsby@cmc.edu