New Yorker editor and author David Remnick announced as 2016 Commencement speaker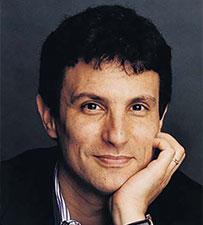 Pulitzer Prize-winning author David Remnick, editor of The New Yorker and host of the award-winning magazine's new radio show and podcast, will deliver the 2016 Commencement address at Claremont McKenna College's 69th Annual Commencement Ceremony on Saturday, May 14, 2016.
"David Remnick is one of the leading literary figures of our time. He puts the word to work," observes Claremont McKenna College President Hiram Chodosh. "From his insightful portraits of political leaders to empathic accounts of suffering, he combines brave honesty, sharp wit, and polished humor to lead us deeper into the human condition."
"Speaking on behalf of the graduating seniors of the Class of 2016, I am very pleased that our Commencement Speaker is David Remnick, a man known for his impeccable intellectual credentials as an editor and author," said Kathryn Chakmak '16, senior class president. "Mr. Remnick's accomplishments throughout his career, beginning with his own college years, will be an inspiration to us all."
Chakmak also announced that the Senior Class has selected Varun Puri as the Senior Class Speaker for Commencement. Puri, an economics major who was born and raised in New Delhi, India, is a Robert Day Scholar and a tech enthusiast who will be joining Google's product marketing team after graduation. He has debated for the Claremont Colleges since his freshman year and has been a member of the Mock Trial Team, the Claremont Consulting Group, an Admission Tour Guide, and part of the Asia Pacific Mentoring Program.
"Having a speaker of the stature of David Remnick deliver the Commencement keynote and Varun represent the Senior Class will make this an exciting and memorable graduation ceremony," added Chakmak.
Commencement Speaker Remnick graduated from Princeton University in 1981, and rather than busing tables during his college years, worked as a stringer for a local newspaper, taking on obits and whatever stories were offered. "My addiction came early," he has said of his love for the craft, "and I learned from it."
Two big breaks would lead to his career as a distinguished journalist and prolific expert on Russia: an internship at the Washington Post in 1982 (resulting in his "unbelievably lucky" hiring as staff writer), and the newspaper's job posting in 1987 for a foreign correspondent in Russia. By then, his interest in the Soviet Union was clearly evident, having studied the Russian language in high school and college. He jokes he landed the job because "Russia is really cold; nobody wanted to be there," and describes the next four years of his writing career as "the most exalted, least violent, most positive years in the history of the Russian empire."
Those years would also be the inspiration for his book, Lenin's Tomb: The Last Days of the Soviet Empire (Vintage, 1994), winner of the Pulitzer Prize for nonfiction, and a George Polk Award for excellence in journalism. While writing the book, Remnick joined The New Yorker in 1992 as a staff writer and contributed a number of articles, including pieces on Bill Clinton, Katharine Graham, and Ralph Ellison. Remnick was named editor-in-chief of The New Yorker in 1998. The American magazine, published 47 times annually and one of the last-standing venues for long-form commentary and investigative reporting, has since received nearly 150 nominations for National Magazine Awards, and has won 37.
Although he doesn't tweet himself, the self-professed "ruthlessly efficient" editor has also expanded the award-winning publication's digital reach, with an expanded website, app, social media strategy, and now radio show and podcast, "The New Yorker Radio Hour."
In addition to Lenin's Tomb, he is the author of five other books: Resurrection: The Struggle for a New Russia; King of the World (a biography of Muhammed Ali); The Bridge (a biography of President Obama); and The Devil Problem and Reporting, collections of his New Yorker magazine pieces. He has contributed to The New York Review of Books, Vanity Fair, Esquire, and The New Republic. He has been a Visiting Fellow at the Council on Foreign Relations and has taught at Princeton, where he earned his bachelor's degree, and at Columbia University.
The 2 p.m. ceremony will be live-streamed at cmc.edu and cmc.edu/livestream.
Contact
Office of Strategic Communications & Marketing
400 N. Claremont Blvd.
Claremont, CA 91711
Phone: (909) 621-8099
Email: publicaffairs@cmc.edu

Media inquiries: David Eastburn
Phone (O): (909) 607-7377
Phone (C): (808) 312-8554
Email: deastburn@cmc.edu