In the wake of recent worldwide demonstrations in support of racial justice, Nyree Gray has been fielding myriad questions from friends, neighbors, and members of the CMC community seeking solutions. "What should I be doing?" they ask her. "What does it mean to be more inclusive?"
Fortunately, as the College's associate vice president for diversity and inclusion and chief civil rights officer, Gray has answers.
For nearly six years, Gray has overseen and managed the College's civil rights-related policies, education and training programs, and direct work with students, staff, and faculty in relation to diversity and inclusion.
Gray, a lawyer with a background in civil rights law, shared some of her insights via a presentation and Q&A with a Zoom audience of CMC alumni, parents, and staff held just before the Independence Day holiday weekend. Titled "In the Midst of this Moment, What Happens Now?" Gray's talk was part of a series of virtual-based intellectual exchanges organized by the CMC Alumni and Parent Engagement office.
She began by acknowledging that "We are experiencing a defining moment in history. I'm seeing changes in how we're talking about race." Gray also compared the Black Lives Matter movement to the events of 1992, when Los Angeles erupted into civil unrest after a jury acquitted four white LAPD officers charged with using excessive force on Black motorist Rodney King. The incident was captured on video and widely viewed, similar to the killing of George Floyd by a white Minnesota police officer during an arrest. Floyd's death sparked protests not just in the U.S., but around the world.
"In 1992, we were talking about one incident. We struggled around that moment, it passed and we returned to our daily lives," Gray said. "Eventually the news cycle shifted to something else. Experiencing this particular moment as a Black woman in my mid 40s, I'm noticing that we haven't moved on as we have in the past. What does that mean?"
Also different now, Gray noted, is the wide spectrum of people she saw protesting racial injustice. "I've seen all ages, generations, cultures, and backgrounds trying to send a message of equality," she said. "People can't turn away."
Within the CMC setting, Gray said she's seeing students demand an opportunity to engage and learn more about people who have backgrounds different than their own. She's also seeing a shift in people wanting to bring their own identities into the spaces where they exist, such as the classroom or the workplace.
"What people seem to be feeling in this moment is how to engage. They feel compelled to do something," she said.
For people new to the conversation about race, Gray suggested they consider that "being of a certain race comes with certain privileges." When people ask her what actions they should be taking, Gray said that she advises they start with self-reflection. "Ask yourself, 'Do I have a diverse group of friends? If tomorrow I had to invite five people from different racial backgrounds to dinner, would I be able to?'"
She also suggested people ask themselves if they have ever adjusted their behavior due to their perceptions of another person's race or gender. For instance, "Did I change direction on the sidewalk to avoid someone? Or cross the street?"
Taking on structural racism, she said, is hard because "we've grown accustomed to it." To counter structural racism takes an intentional effort. "We can do things every day," Gray said. "For instance, are you taking action in your own job? When you are in meetings with decision makers and you look around and everyone all looks like you, what does that mean if everyone looks the same and there's not a lot of variance? Are there ways people are not getting attribution for their ideas?"
If we each become aware and take action, "we'll begin to see the benefit of having a diverse group of people working together to solve a problem," Gray said.
Gray then discussed the CMC Presidential Initiative on Anti-Racism and the Black Experience in America. To lead the first phase of the Initiative this summer, CMC President Hiram Chodosh has selected Gray and Matthew Bibbens, vice president for administration and planning, general counsel, and secretary; Dianna Graves, assistant vice president and dean of students; and Professor Shana Levin, associate dean of the faculty.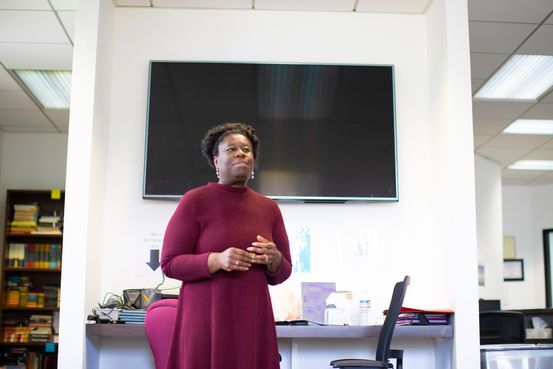 By June 2021, the Initiative will develop a long-term structural, integrated educational response to racism, inequality, and inequity.
According to Gray, part of CMC's effort is determining which action steps the College will take, whether in areas of community education, staff, student and faculty recruitment, or equitable department policies.
"As we move forward, I'll be looking for alumni to get involved with helping build the Initiative," Gray said while enouraging interested alumni to contact her. "If you have ideas, suggestions, or perspectives to share, we're looking for those too."
Several alumni asked follow-up questions, including Camilo Cuellar '09, who was curious about the specific action items CMC would be taking in the areas of hiring diversity, as well as research centered on the Black experience.
"I've had my eye on that since I've come into my office," said Gray, who plans to ramp up recruitment by introducing faculty and students to campus culture early so they can see how many opportunities are available to learn, grow, and mentor others.
"I plan to utilize the faculty who do research in this area and who are already doing the work to move forward the Initiative," Gray said. "I want to highlight and center their voices as we integrate this across curriculum and across departments."
To get involved with the Initiative or offer feedback, please email change@cmc.edu.
The complete presentation and question-answer session is archived here.
Suggested reading and viewing material
At the request of the Q&A participants, Nyree Gray offered the following suggestions:
"The New Jim Crow: Mass Incarceration in the Age of Colorblindness" by Michelle Alexander
"How to Be an Antiracist" by Ibram X. Kendi
"13th" a documentary film by director Ava DuVernay
—Anne Bergman