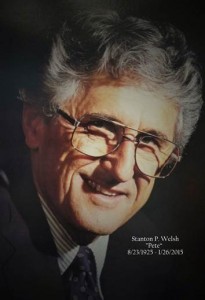 Stanton Parks Welsh '50 P'81, a graduate of CMC's inaugural class, died from age-related causes on January 26. He was 89.
"Pete" Welsh was a graduate of the first four-year class at CMC called the "Pacesetters" and was instrumental in keeping the group organized, connected and as a locus for fundraising over the ensuing decades. He helped establish the Pacesetters Memorial Fund during the group's 35th Reunion in 1985 and was a generous donor.
In a CMC Magazine story from 2007, Welsh, who was born in 1925 in Binghamton, NY, credited CMC with transforming him from a mediocre high school student into a cum laude graduate with a degree in political economy.
A storied CMC athlete, Welsh received the first Alumni Athlete Award in 1950 for basketball, track & field and football. He was also the first inductee into the Claremont-Mudd-Scripps Athletics Hall of Fame in 1989.
"Pete was a vital part of CMC," said Jack L. Stark who served as the third president of the College from 1970-1999 and actually once worked under Welsh. "He was known by all alumni and the Board as a terrific guy and as the best athlete in the history of this institution with records that lasted well into my presidency. (Welsh held the school's long-jump record – 23 ft. 2 ½ in. – for an incredible 57 years.)"
"Pete was one of a kind. He performed an incredible amount of work on behalf of the alumni of CMC, and also was the greatest athlete in CMC history," said member of the CMC Alumni Association Board and former Trustee, Gene Wolver '51.
"He was such a pivotal role model for me at CMC," added John Faranda '79, Vice President for Alumni and Parent Relations at CMC, "that it is difficult to imagine not having him here with us."
According to Welsh's son Henry '81, his father spent virtually his whole working life at CMC, joining the staff in 1955 as the Alumni Secretary, Assistant to President George C.S. Benson and Director of Development.
Over the years, Welsh served on the Board of Trustees, the Board of the Benjamin Z. Gould Family Center for Humanistic Studies, the Board of Directors of the CMC Alumni Association, as president of the Los Angeles Chapter, and in various capacities on a myriad of committees, task forces and commissions.
In 1975, Welsh became the Vice President for College Relations, a position he held until his retirement from CMC; he was granted Emeritus status in 1992.
Welsh received the Jack L. Stark Distinguished Service Award and the Eugene L. Wolver, Jr. Lifetime Service Award from the Alumni Association. In 1991, Welsh received an honorary Doctor of Humane Letters degree from CMC.
"I knew Pete and his wife Nancy before they were married," said Robert Emett '50, a 40-year Board of Trustees member who graduated with Welsh from CMC in that first class. "In addition to being an outstanding CMC athlete, Pete was all-conference in all three sports and was a nationally ranked tennis player. He could do anything."
Welsh's wife of 63 years, Nancy, passed away in 2011. In addition to his son Henry, he is survived by five other sons; Stanton III, Fred, Steve, John and Doug.
Donations in Welsh's memory may be made to the Pacesetter's Memorial Fund with checks payable to Claremont McKenna College c/o 400 North Claremont Boulevard, Claremont, CA 91711 or by credit card online at: http://www.cmc.edu/giving/.
##