Release courtesy of the Southern California Intercollegiate Athletic Conference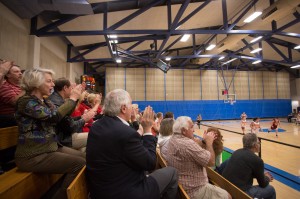 President Gann cheering on the Athenas
The Southern California Intercollegiate Athletic Conference has named Claremont McKenna President Pamela Brooks Gann as the admirable recipient of the 2013 SCIAC Distinguished Service Award.
The conference will formally present the award to President Gann during the SCIAC Annual Awards Banquet on May 30, 2013.
"Pamela Gann has been an outstanding representative of intercollegiate athletics for the SCIAC and Division III," commented Lorin Huffman, Executive Director of the SCIAC. "It will be an honor to recognize her publicly and provide those who have benefited from her work the opportunity to share in the celebration."
Widely respected among her peers, Gann served on numerous SCIAC and NCAA committees, including the NCAA Division III Presidents Council. During her time on the Council, Division III debated the merits of growth and potential subdivision and she led the development of White Papers on the major topics of consideration at that time.
During Gann's tenure as Chair of the SCIAC Presidents Council, she served on the membership committee and oversaw the conference's decision to expand by adding Chapman University. Additionally President Gann oversaw the establishment of the Executive Committee structure, which includes a President, Faculty Athletic Representative, Athletic Administrator, and Executive Director for conference management. Pamela Gann's commitment to the Conference and the quality of experience for SCIAC student-athletes has been a great gift to the SCIAC.
Gann will step down as President of Claremont McKenna College on June 30, 2013, and will take a year-long sabbatical before returning to CMC to teach legal studies.
The SCIAC Distinguished Service Award was established in 1985 and is presented annually to those individuals who have made outstanding contributions and rendered such meritorious service to intercollegiate athletics at their institutions and to the Southern California Intercollegiate Athletic Conference. Eligible candidates include conference and institutional representatives who have retired or resigned from athletics administration. Nominations are submitted by members of the Faculty Athletic Committee.
The Southern California Intercollegiate Athletic Conference was formed in 1915 and is composed of nine small private colleges and universities in the Southern California area. The Conference, whose fundamental principle is to encourage the highest ideals of amateur sports in an environment of high academic standards, and it's member institutions are affiliated with NCAA Division III. Its current members are: California Institute of Technology, California Lutheran University, Chapman University, Claremont-Mudd-Scripps Colleges, University of La Verne, Occidental College, Pomona-Pitzer Colleges, University of Redlands, and Whittier College. Information about the SCIAC may be found at http://www.thesciac.org.