Priya Junnar to be interim director for the Athenaeum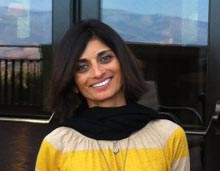 Priya Junnar will lead the Marian Miner Cook Athenaeum for the 2014-15 season. She replaces long-time Athenaeum director Bonnie Snortum, who retired this year.
Jeff Huang, vice president for student affairs, admission and financial aid announced the appointment on August 27, stating: "As we continue the search for a permanent Director in the coming academic year, it was important to find a uniquely capable person to assist us in an interim role. One member of our community came immediately to mind: Priya Junnar."
Citing Junnar's educational background, work experience, and wide-ranging intellectual interests, Huang said she was ideal to lead the Athenaeum this year.
Professor Lisa Cody, Chair of the Athenaeum Advisory Committee, and Bonnie Snortum, reviewed candidates for the position with Huang.
Junnar's academic background includes an MBA from Case Western Reserve, a Master's in International Relations from Yale, and a Bachelor's degree from UC Berkeley. She has worked in university communications at two different institutions, has traveled widely, and has a keen interest in the issues of the day nationally and internationally. She also has college-aged children and cares deeply about the intellectual and cultural lives of young people.
Junnar joins a dedicated group of professionals working at the Athenaeum. David Edwards, Dave Skinner, and Lydia Aguiar have together completed over 60 years of service to The Claremont Colleges, according to Huang. Bonnie Snortum scheduled 95% of the fall semester's speaker schedule and will be returning to CMC on an advisory, part-time basis to assist Junnar with the transition.
"In the coming year, I will work with the Athenaeum Advisory Committee, which will be Chaired by Professor Hilary Appel, to search for the permanent Director, using what we learned this past semester and seeking the very best person we can find," said Huang in the announcement.

Contact
Office of Public Affairs and Communications
400 N. Claremont Blvd.
Claremont, CA 91711
Phone: (909) 621-8099
Email: publicaffairs@cmc.edu

Media inquiries: Gilien Silsby
Phone: (213) 500-8673
Email: gsilsby@cmc.edu