A record-breaking Family Weekend 2022

Family Favorites
Enjoy our special photo gallery from a packed Family Weekend 2022.
CMC hosted more than 1,000 guests to campus for a record-breaking Family Weekend 2022—two days full of sunshine, joy, and intellectual rigor.
In other words, it was the quintessential CMC experience.
After a two-year hiatus due to the pandemic, students introduced best friends and roommates to their families, challenged each other to competitive 75th Anniversary-themed Cornhole matches, and enjoyed spontaneous moments filled with song and dance outdoors across campus—all with families in tow, some from as far away as 12,000 miles.
"Wow, I can't even absorb the moment—that it's been two years since we, as a family, have been together in-person, in Claremont," President Hiram Chodosh said at the open of his Town Hall meeting.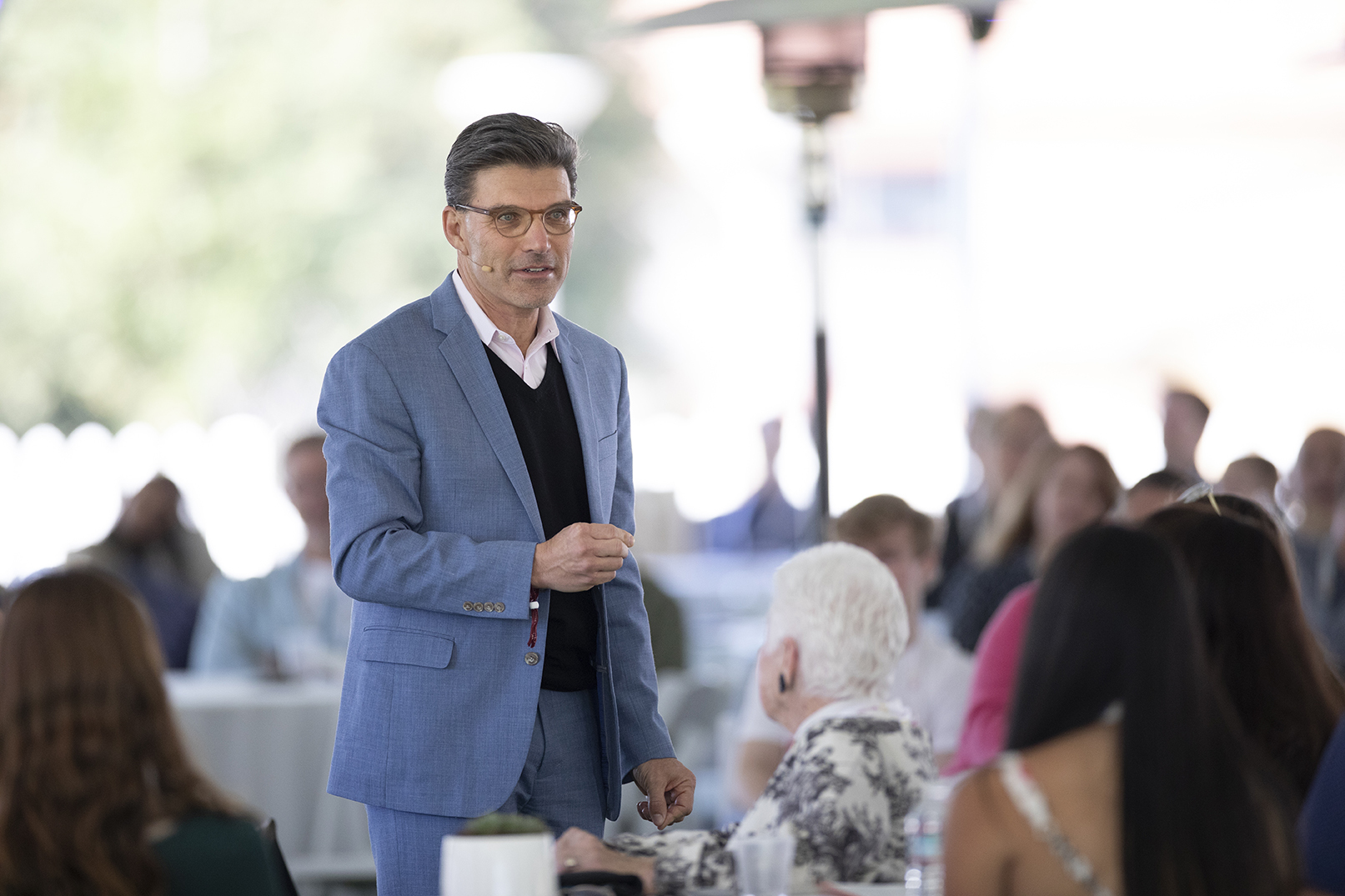 "One of our goals today is to create a shared learning experience for all of us, to collect the wisdom and experience from the entire community," he continued. As Chodosh reviewed CMC's achievements and aspirations, he asked guests to exchange their own ideas and pose their own questions, as if the Town Hall were a "College for alumni and parents."
Chodosh prompted the audience to engage in a "test of our expectations" and concluded by urging everyone to "remember the future" before offering a preview of the College's exciting plans for the recently-announced Robert Day Sciences Center, home to CMC's new integrated sciences program.
Similarly, Prof. Ran Libeskind-Hadas, the founding chair of CMC's integrated sciences program, used his weekend presentation to share curricular updates influencing the College's bright future.
He explained why computing and data science were essential to the CMC liberal arts experience, making the case that it is "an equally vital part of modern education as English composition." In developing the integrated sciences curriculum, Libeskind-Hadas also promised that all CMC students will learn to ask big questions of the world and explore dynamic intersections between science and core CMC strengths like government, economics, the humanities, and the social sciences.
"This will be a game-changer in the overall intellectual and professional development of our students," he said.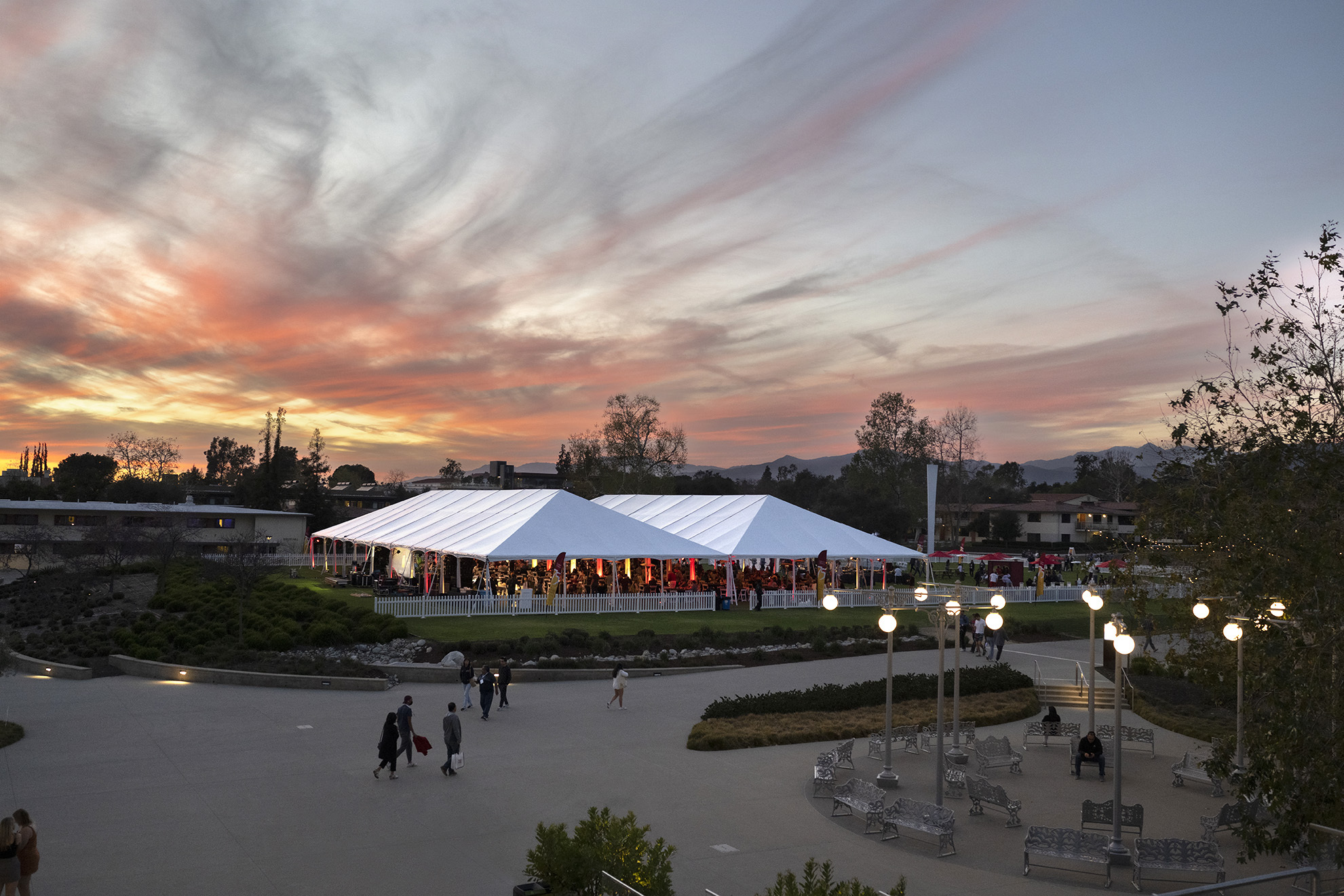 Throughout the weekend, guests had similar, vigorous opportunities to explore academic and social life at CMC, whether attending faculty presentations by professors Angela Vossmeyer and Adam Jones or a casual Donuts with the Dean of Students Office session. In addition, families attended the "Parent-Student Career Discovery Hour," an interactive career workshop co-led by Kristin Mannion P'22 and Kristi Mitchell P'23 and co-hosted with the Soll Center for Student Opportunity.
During the Éxito en CMC (Success at CMC) presentation, families learned more about the resources available for their students. Eduardo Hernandez '25 and his parents joined the presentation, which was entirely in Spanish and reflected the diversity of opportunities for CMC students, from interacting with faculty, to College Programming Board activities, and support groups such as 1Gen.
A first-generation college student who grew up in Los Angeles, Hernandez works as a tour guide in the office of Admission and was delighted to show his folks around. "I really wanted my parents to get a feel for campus," he said.
"I feel connected to CMC," said his mother, Martha Santos P'25. "It's a small campus and such a friendly community. But the best part is Eduardo knows that he's where he wants to be."
For LaTasha Young P'18 P'24, Family Weekend was a chance to see her son, Caleb '24. Even though he is a sophomore, she said Caleb feels more like a new student given that his first year was virtual.
"CMC has done a really good job of keeping parents engaged during the pandemic," LaTasha said. "It was so helpful to get my questions answered."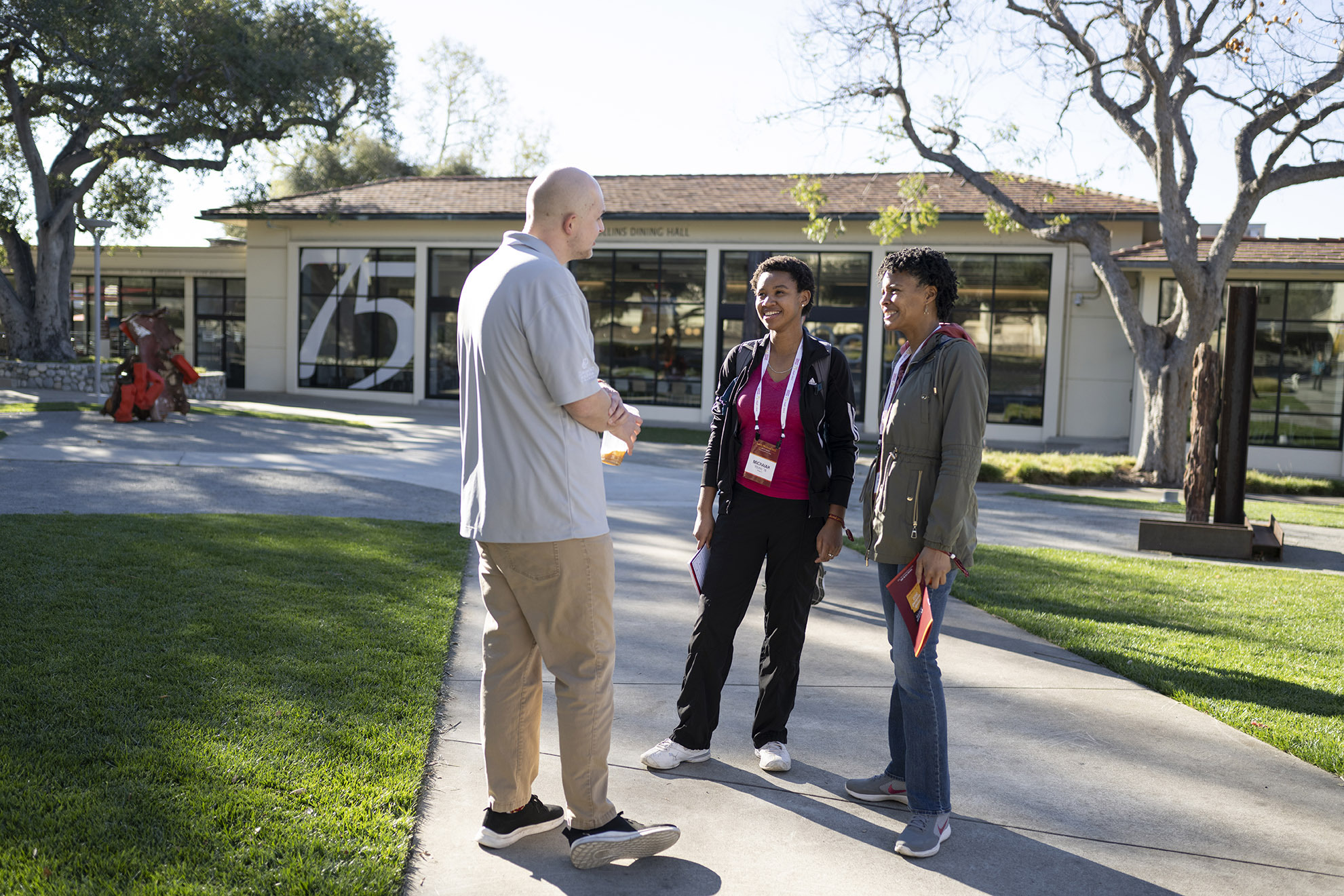 She acknowledged with a smile that "It feels great to be back" to campus. LaTasha traveled from Chicago for the weekend with daughter, Michaiah Young '18, who herself enjoyed a mini-reunion with CMC friends. Upon returning to campus, she was especially proud that Michaiah was part of a team of students who helped to establish the CARE Center, which is now supporting and having a positive impact on current students like Caleb.
And, just as students were overjoyed to finally meet each other in-person when campus reopened in the fall, LaTasha said parents were experiencing the same range of emotions.
"We first met each other (as a parent group) on Zoom, so to now see each other in-person feels so different," she said. "It's really exciting!"
Additional highlights from the weekend included the presentation of the Jil Stark '58 GP'11 Parent Volunteer Award to Sherie Bernardez P'22, CMS Athletics events (including Stags and Athena basketball games), a Sunday morning hike at Claremont Hills Wilderness Park, and a wine tasting during sunset on Parents Field.
Contact
Office of Strategic Communications & Marketing
400 N. Claremont Blvd.
Claremont, CA 91711
Phone: (909) 621-8099
Email: communications@cmc.edu

Media inquiries: Gilien Silsby
Phone: (213) 500-8673
Email: gsilsby@cmc.edu