Rose Institute adds, elevates board members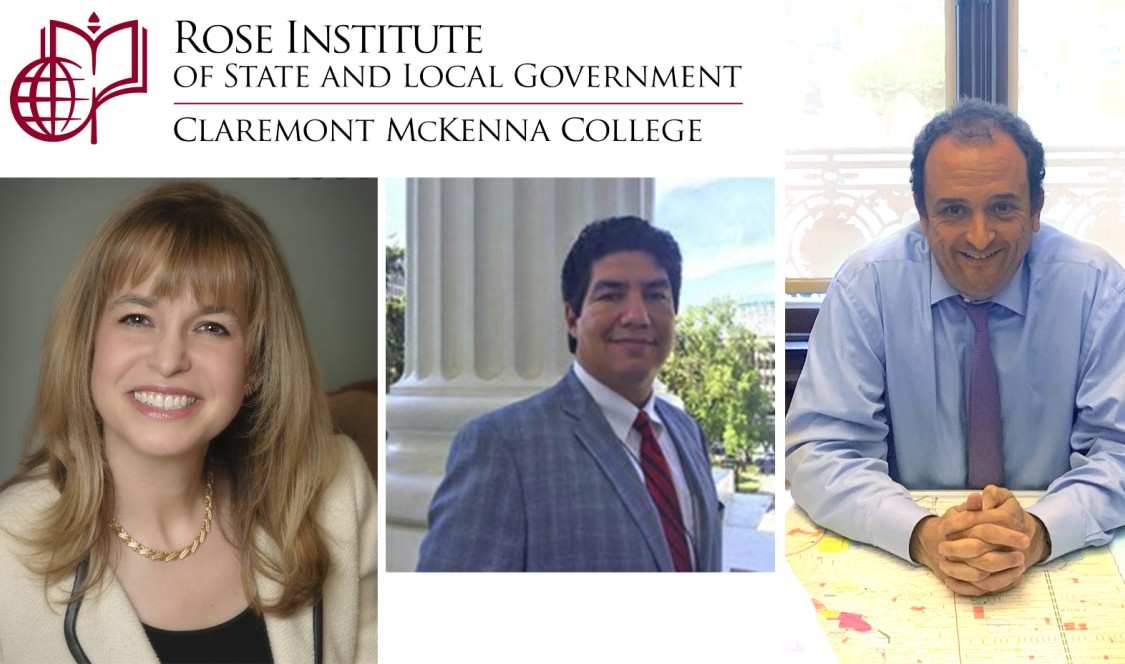 The Rose Institute for State and Local Government, housed at Claremont McKenna College and one of the nation's leading academic centers focused on the study of state and local government, has added an impressive array of new board members in addition to elevating two current members to leadership positions.
The Institute's Board of Governors, which includes state and local government officials, consultants, election lawyers, and business leaders, provides strategic advice to and works closely with faculty and students of the Rose. Many of its members are alumni, and all offer their deep and rich expertise and experience to Rose research students as they develop their capacity to become leaders in state and local government and other sectors.
The newly strengthened board consists of three new members and recognizes two promotions:
Deborah (Koster) Gonzalez '85 P'14 and Jessica (O'Hare) Witt '00, current board members, have both been elevated to vice chair roles. Gonzalez, an attorney, is the director of government affairs for the Public Policy Institute of California (PPIC). Prior to her work with PPIC, Gonzalez served for 26 years as a key staff member in the California Legislature. Witt serves as the director of government and community relations for Orange County. An innovative government relations professional, she has experience with local, federal, and state levels of government, and worked at the Institute in her student days, serving as Student Manager her senior year.
Sean Elsbernd '97, who also worked at the Institute during his CMC years and has served as chief of staff to San Francisco Mayor London Breed since 2018, joins as a new board member. Previously, he was Sen. Dianne Feinstein's state director after serving several terms on the San Francisco Board of Supervisors. He has a JD from Hastings College of Law.
Eric Figueroa '92 P '21 commences his term as a new board member. He has served as city manager of the City of Martinez, Calif., since 2019. Earlier, Figueroa served as the assistant city manager of the City of San Ramon for nearly five years and worked previously for the League of California Cities as a Regional Director.
Lisa Minshew Pitney '89, vice president of government relations for the Walt Disney Company, rounds out the new additions to the board. She has worked at Disney since 1996 and is also active in a wide range of civic and industry boards in the greater Los Angeles area. Pitney earned her Master of Public Policy degree from the John F. Kennedy School of Government at Harvard University. Her husband John J. Pitney, Jr., is CMC's Roy P. Crocker Professor of Politics.
Ryder Todd Smith '96, chair of the Institute's Board of Governors said that the board, as it's now comprised, provides a rich resource for the Rose Institute.
"We're so fortunate to have so much talent and experience upon which to draw, with so much of it coming from our own alumni," he said. "That these alumni choose to share their time and valuable insights with our Institute is of enormous benefit to our board, our students, and faculty."
Rose Institute Director Ken Miller echoes the sentiment.
"This intersection between theory and practice reflects CMC's pragmatic approach to a liberal arts education," he said. "The board continues to add new members with diverse backgrounds and viewpoints to enrich the Institute's student experience and policy analysis."
Contact
Office of Public Affairs and Communications
400 N. Claremont Blvd.
Claremont, CA 91711
Phone: (909) 621-8099
Email: publicaffairs@cmc.edu

Media inquiries: Gilien Silsby
Phone: (213) 500-8673
Email: gsilsby@cmc.edu