Rose Institute receives Ronald C. Moe '59 collection

Grace Tyler Moe was steadfast about where she wanted to house the complete writings of her late husband Dr. Ronald C. Moe '59, a nationally renowned political science expert and analyst.
"Claremont, Claremont, and Claremont," she said.
Now, thanks to Grace's recent donation, the Ronald C. Moe Collection, including published writings and unpublished notes, will reside at CMC's Rose Institute of State and Local Government.
"I know he would be delighted," she said. "Ron enjoyed his undergraduate days at the College, both academically and personally. He frequently recalled his time there throughout his life, and whenever possible attended his class of '59 reunions. He also maintained life-long friendships with many of his classmates."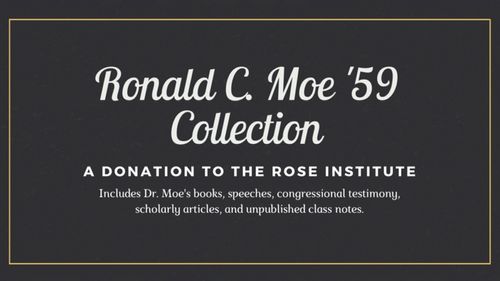 Dr. Moe provided high-level policy analysis to members and committees of U.S. Congress, as well as senior congressional staff. He also authored more than 300 reports and confidential memoranda.
"Ron Moe was an accomplished alumnus of CMC who contributed a great deal to our understanding of American government and public administration," said Prof. Andrew Busch, former director of the Rose Institute. "As a long-time analyst for the Congressional Research Service, he exemplified CMC's ideal of public service. It was an honor to receive his collection at the Rose Institute."
A native of San Diego, Dr. Moe graduated from what was then Claremont Men's College, earning a bachelor's degree in 1959. He proceeded to earn a master's degree and doctorate from Columbia University in 1961 and 1968, respectively.
After service in the U.S. Army Reserve as an intelligence officer, university-level teaching, and three years with the Executive Office of the President, Dr. Moe joined the Congressional Research Service (CRS) within the Library of Congress in 1973 as an analyst in American government. He was ultimately promoted to specialist in government organization and management at the senior level.
Dr. Moe retired from the CRS in 2002, but continued to provide advice and mentoring to newly appointed staff members until 2008. He was a member of the Cosmos Club of Washington, D.C., a Fellow of the National Academy of Public Administration, and the author or editor of eight books and more than 50 articles for scholarly publications.
Many of Dr. Moe's reports for the Congressional Research Service can be found online at everycrsreport.com and FAS.org/sgp/crs/. The donation of Dr. Moe's other writings includes his books, speeches, congressional testimony, scholarly articles, and unpublished class notes. Topics of these writings include a proposed Office of Federal Management, reinventing government, voter participation, government corporations, and government-sponsored enterprises, presidential management, the Electoral College, and public administration more generally. Dr. Moe's books and other publications have been made available to Rose Institute students and other interested parties as part of the Leroy Hardy Memorial Library in and adjacent to Kravis Center Room 437. Dr. Moe's speeches and class notes are stored in the Institute.
After retirement, Dr. Moe pursued his personal interest in imperial Russian history and authored Prelude to the Revolution: The Murder of Rasputin, also available in the collection. He passed away in 2011.
Researchers interested in items in the collection should contact Marionette Moore at mmoore@cmc.edu to make arrangements for viewing.

Contact
Office of Public Affairs and Communications
400 N. Claremont Blvd.
Claremont, CA 91711
Phone: (909) 621-8099
Email: publicaffairs@cmc.edu

Media inquiries: Gilien Silsby
Phone: (213) 500-8673
Email: gsilsby@cmc.edu