Season ends for CMS women's volleyball with tough five-set loss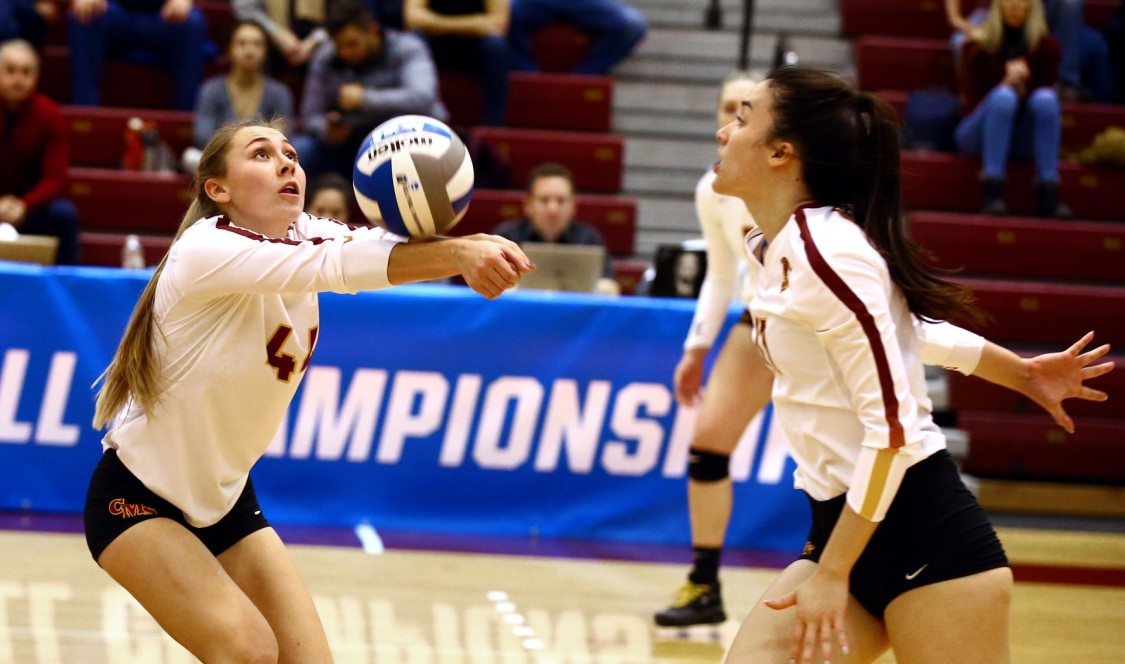 The No. 5 Claremont-Mudd-Scripps volleyball team battled No. 4 Carthage in an evenly-matched NCAA Second Round contest, but came up short in the fifth set as the Athenas saw their 2019 season come to a close with a 3-2 defeat on Saturday afternoon.

Set scores were 21-25, 25-22, 28-26, 14-25, 15-7 in favor of Carthage, which moves on to face Chicago in the regional finals tomorrow. Senior Amanda Walker had a career-high 24 kills in the losing effort for CMS, which concludes its campaign with a 27-4 record. Senior Phoebe Madsen had eight kills, 28 assists and 20 digs, and senior libero Sarah Tritschler had 31 digs. Carthage was led by Megan Behrendt with 18 kills.

The match swung in the third set after the teams split the first two, with Carthage able to come away with the 28-26 win for a 2-1 lead. The Athenas trailed 21-17 but used three straight points to get back within 21-20, and then tied the score on a kill from Jackie Jones to make it 23-23. A Walker kill fought off a set point and tied it 24-24, and a block from Jones and junior Melanie Moore gave CMS a set point. Haley Horner had a block from Carthage to tie it 25-25, and a kill from Walker put CMS ahead 26-25, but Horner had a kill to tie it and the Lady Reds earned the next two points to a 2-1 lead.

CMS responded with its best set of the match, hitting .412 to roll to a 25-14 win to tie the score at 2-2. With the score tied 7-7, CMS used a 10-1 run to take a big lead at 17-8 with Walker contributing three kills and a block during the run. Two straight kills from Moore made it a 21-12 lead, and Madsen and junior Regan Dinovitz combined on a block to seal the 25-14 win to send the match to a decisive fifth set.

The Athenas fell in a quick 2-0 hole in the fifth and never tied it. Walker had kills to close the Carthage lead to 3-2 and 4-3, and after the Lady Reds went ahead 8-4, CMS earned two points on a kill from junior Lucila Grinspan and a Carthage attack error to make the score 8-6. The Lady Reds, though, went on a 6-0 run to effectively end the CMS hopes, as Behrendt had two kills and two blocks in the spurt. Madsen had a kill to close to 14-7, but Behrendt finished it with a kill to give Carthage the 3-2 win.

The loss ends the careers of the senior class, who were a big part of a national championship in 2017 and hoped to get there again this fall, but a tough regional with three of the top five teams in the nation in it proved to be too tough a road. Madsen graduates with two AVCA West Region Player of the Year honors, Walker finishes with at least one AVCA All-America honors, Tritschler graduates with two AVCA All-West Region selections, and Lina Aluzri capped off her career with a double-digit effort in digs against Carthage with 11.
- Jeremy Kniffin
Contact
Office of Strategic Communications & Marketing
400 N. Claremont Blvd.
Claremont, CA 91711
Phone: (909) 621-8099
Email: communications@cmc.edu

Media inquiries: Gilien Silsby
Phone: (213) 500-8673
Email: gsilsby@cmc.edu