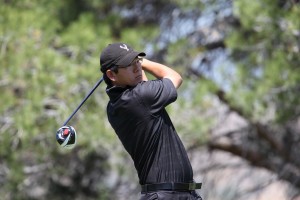 DESTIN, Fla. – Junior Claremont-Mudd-Scripps men's golfer Bradley Shigezawa won the individual 2013 NCAA Division III Men's Golf National Championship on Friday, May 17, with a four-round score of 2-under par at the at The Raven Golf Club at Sandestin Golf and Beach Resort. The Stags finished in fifth place overall with a four-day score of 1194, just one place behind the program's best finish at the NCAA Championships which was a fourth place finish in 2012. This is the second time in program history that a CMS men's golfer has won the Division III Individual National Championship, the other time being in 2010 when Tain Lee was the individual medalist.
Shigezawa trailed after the first two rounds but captured the lead on the third day with a 2-under score of 69 which was his low score during the week. He then shot a 1-over, 72 on the final day to secure the win. Buddy Hallman of team champion Texas-Tyler finished four strokes behind Shigezawa for second place. Over the four days, Shigezawa had a total of 13 birdies and one eagle as he put together rounds of 72, 70, 69 and 72.
The second highest score for CMS came from freshman Kethan Reddy who remained in the top-10 for the first two rounds and ended in a tie for 32nd overall with a score of 300. Reddy's best round of the week came in the second round as he shot a 3-under 68, a low for all CMS golfers.
Sophomore Ben Ho (311) and junior Jordan Stein (311) tied for 59th while Patrick Fujieki (314) finished in 68th to round out the field of CMS golfers.
For his efforts, Shigezawa has been selected as a first team All-American.
NCAA Championships Final Results Read Story on NCAA.com Championships Video Recap
Become a fan of CMS Athletics on Facebook: AthleticsCMS Follows CMS Athletics on Twitter: @AthleticsCMS