Brad Shigezawa '14 i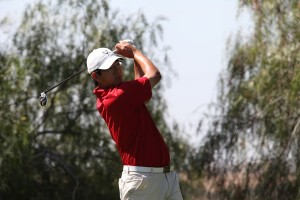 s one of five student athletes named as the 2013 Jack Nicklaus Award recipients as the GCAA Collegiate Players of the Year.
The Nicklaus Award recognizes the top players at the Division I, II, II, NAIA and NJCAA levels. The last CMS men's golfer to earn the award was Tain Lee in 2010.
Shigezawa capped an outstanding junior season at CMS by winning the individual title at the Division III NCAA Championships by four shots with a score of 283 (-2). Shigezawa played in nine tournaments this year—two in the fall and seven in the spring—winning five and finishing second in two others. He was the top Division III finisher in eight of the nine. Over his final six tournaments, five of which he won, Shigezawa shot eight under par over 15 rounds. A PING First Team All-American this season, he was also named the SCIAC Player of the Year.
"For him (Shigezawa) to be an All-American golfer and the top golfer in the SCIAC and Division III is amazing," says head coach Bim Jollymour. "What makes Brad really special is his work ethic."
The Nicklaus Award isn't the only honor Shigezawa's received this year. He was named SCIAC Male Athlete of the Week twice and is featured in the June 10 issue of Sports Illustrated's venerable "Faces in the Crowd" column which goes out on newsstands on Monday, June 10. Shigezawa is the second CMS athlete to be featured in Faces in the Crowd this spring, the other being Athena softball pitcher Hayley Schultz.
Unfortunately, Shigezawa lives in Hawaii and couldn't make it to the Nicklaus Award ceremony in Dublin, Ohio, near Nicklaus' hometown of Columbus.
Nicklaus personally recognizes the recipients during the final round of the Memorial Tournament presented by Nationwide Insurance at Muirfield Village Golf Club in Dublin.
"It was a great honor to be selected for the Nicklaus player of the year award," Shigezawa says. "I am proud to have been selected for such a prestigious award.
"I have a lot of respect for Jack Nicklaus as both an athlete and a person," Shigezawa continues. "Jack is obviously the most decorated golfer to date, and he has done so much for the game of golf. Although I am a little too young to have seen Jack play in his prime, his triumphs and legacy still carry on to this day and will continue to do so for as long as golf is played. As for who my current day golfing idols are Tiger Woods, need I say more!"
Shigezawa says that he started swinging the golf club at age two in the backyard of the man who introduced him to the game – his grandfather.
"Golf is one of those sports where no matter how talented you are, you need to continuously put in the time and effort into your practice sessions to see positive results," Shigezawa says. "At the Division III level and especially at a great academic school like CMC, it takes effort to set aside enough time each week to work on your golf game"
According to Shigezawa, balancing golf and academics wasn't exactly a hole-in-one. "Coming from a Division 1 background where mandatory practice time is set from 1:00 p.m. until dark Monday through Friday and your school schedule is set around that, it was a challenge for me to learn to work out an effective practice schedule once I arrived at Claremont," he says. "Since our class schedule isn't tailored around our golf schedule, it's really up to you to put in enough time on your own time each week to improve your game."
Shigezawa's practice regimen includes trying to get to the course after classes on weekdays. "Around 1:00 p.m. and I try to stay till dark," he says. "However, since I'm a biology major, I usually have a couple evening or afternoon labs each week so it makes practicing on those days tough. On the weekends there are no excuses and I'm out practicing a long as I can."
But make no mistake, golf and good grades aren't the only motivating factors in Shigezawa's life. "Call me shallow," he says, "but the prospect of owning fast cars someday motivates me to be successful in life. I currently own a 2009 Subaru WRX, which I've been working on and modifying for the past few years. It's turning out to be quite the project and I am pretty happy with where the car is thus far. However, I am not quite done with the build just yet."
Right now Shigazawa doesn't want to impose any limits on his game. "I believe that if I continue to improve and work hard on my game, there's no telling where my golfing career could take me," he says.