Students passed statues on tables on the patio and through the cramped living room. They examined the magnets on the refrigerator and the plates on the counter. The house looked exactly as it did for viewers through their television or laptop, only bigger.
The magic of lighting makes it look real, explained Lauren Iungerich '96, as she led CMC students on a tour of the set of her Netflix show, On My Block.
Following the tour, Iungerich spoke about her own journey from campus to becoming a successful showrunner. She also led a panel discussion featuring members of her production team.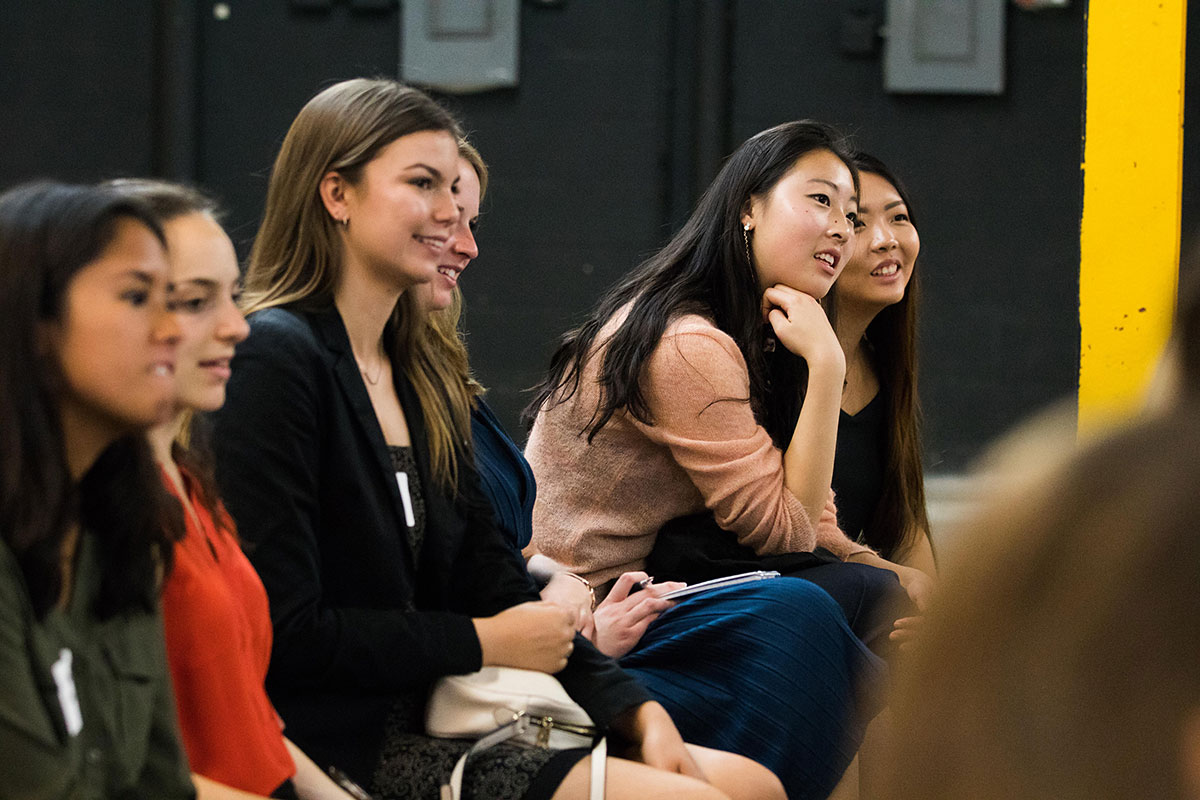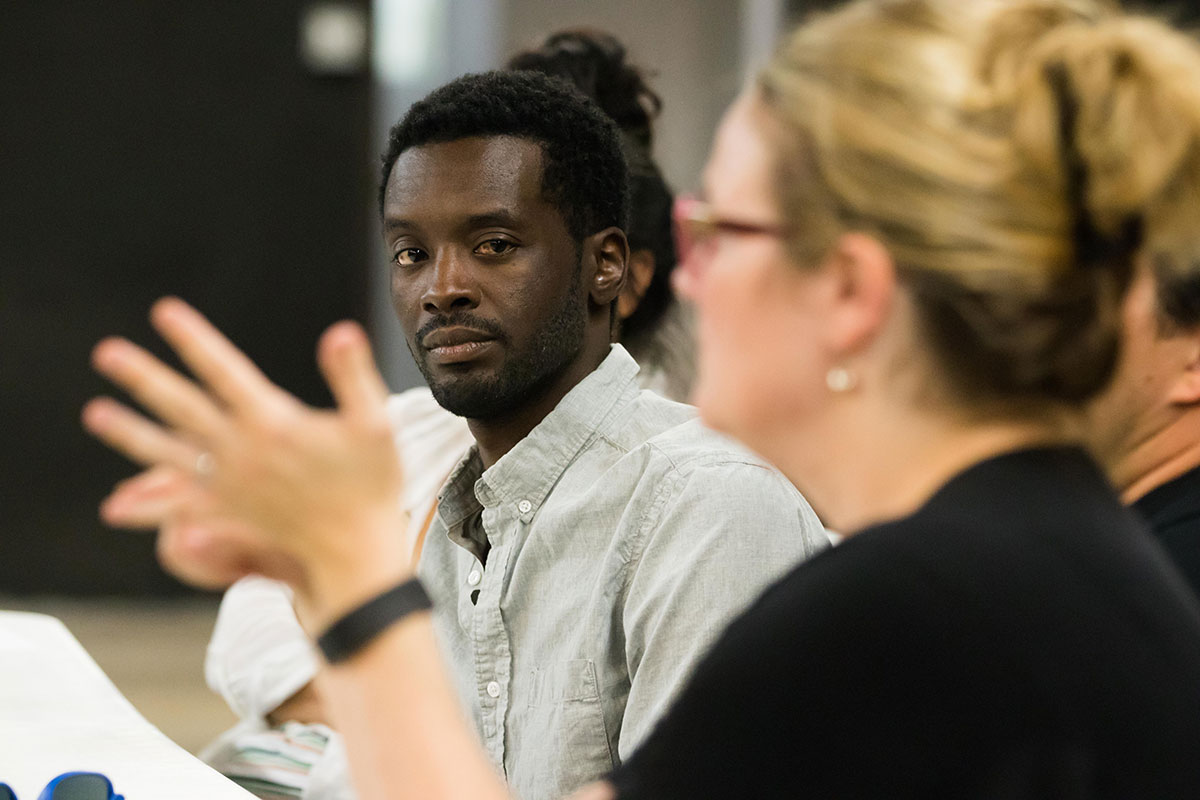 And it was only the first stop on CMC's Networking Trek to Los Angeles.
The three-day event, sponsored by CMC's Career Services office, introduced students to alumni working in a range of jobs in creative and entertainment industries. Students visited Sony Pictures, Walt Disney Company, Paramount Pictures, Warner Brothers, as well as an ad agency and a startup representing artists. That same weekend, another group was meeting with alumni in consulting in San Francisco.
The excursions were two of 10 treks planned in cities around the country this academic year for sophomores and juniors. Each trip focuses on a specific area of interest such as financial services, healthcare/science, government/law, technology, non-profits, and education. About 20 students are invited to participate in each outing.
"Most of the students who attend these treks are seeking validation that what they think they want to do out of college is in fact what they're interested in," said Michelle Chamberlain, Associate Vice President for Advancement and Dean of Student Opportunities. "Meeting with alumni or recruiters is a great way for students to narrow down their options and gain a clearer picture of what the real working world is like by visiting the companies."
Behind the scenes
Iungerich's strong creative voice is the secret to On the Block, as well as her previous hit show, Awkward. Long before she became a successful showrunner, Iungerich said the belief that she had something distinct to offer kept her motivated through the "hustle and grind" of her early career.
At CMC, Iungerich had attended the Washington Program and interned with CNN and PBS NewsHour before deciding that journalism was not for her. She later worked as an intern for a film production company and after graduating, got a job reading scripts. All the while she was writing on the side.
"I knew I had a great sense of storytelling," she said. "Even when I was banging my head against the wall, I had faith in that." Three years later, she sold her first script.
Awkward, which ran on MTV between 2011 and 2016, revolved around a teenage girl in Palos Verdes, California—Iungerich's hometown. Creative differences with network executives led her to leave the show after three seasons. It was a painful time, she told students, but things turned around when someone sent her links to hundreds of videos of young fans recreating scenes from Awkward's Season 3 finale—her last episode. Iungerich noticed that the majority of those passionate fans were people of color.
"I had the idea right then for On My Block," Iungerich said. "I would bring my voice to a show whose characters are underrepresented on television. To focus on heroes who are not white."
Iungerich partnered with two other writer/producers—one who is Mexican American and grew up in Compton—to create the series. The show also has one of, if not the most, inclusive crews in television, as well as a writing team comprising mostly of African American and Latinx writers, Iungerich said. Men and women are also equally represented among department heads and key crew.
A role for everyone
Though at times Iungerich felt she didn't fit in on campus—as most of her peers were interested in banking and government—she said her CMC education has boosted her career.
"At CMC, I got such a good sense of business," she said. "My acumen helped me become a successful creative. I knew how to market myself and how to make something at a price that would work for a network. Now I run a multimillion-dollar business. This is my set, and at the end of the day I am in charge. I have the final say."
Iungerich stressed to students that television, and creative industries as a whole, need a lot more than actors and directors. Other stops throughout L.A. further brought that message home to students.
Emily Pugh '21 signed up for the trip because she is interested in journalism and sees "creative industries as another way to bring about social change." Touring movie studios and nabbing a great swag bag from Walt Disney were highlights, but she most appreciated meeting CMC alumni holding a broad range of jobs.
"We met executives as well as creatives, and alumni in so many different roles that it opened up my ideas about the industry," Pugh said.
Elton Smole '21, a Philosophy and Public Affairs major who is interested in visual arts, loved seeing historic movie sets, such as the sound stage where The Godfather was filmed. Above all, he was inspired by his conversations with recruiters, executives, and CMC alumni who had carved a successful path for themselves in the entertainment industry.
"For me, this experience solidified the idea of making a name in Hollywood in the future," Smole said.
Whether their names are in lights or not, Iungerich offered valuable closing advice for any CMC student choosing a career path.
"Don't see yourself as better than anyone else," she said. "Entitlement is a big problem in our society now, but people want to work with people who help others. So always give back."
—Susan Price