Andrew Choi '21 is a biochemistry/economics double major who's also into applied mathematics. He spent the summer in a Cedars-Sinai research lab testing a little-known gene while trying out one of many career paths he is considering.
After her second year at CMC, Vicky Flores Najas '20 knew she was drawn to the world of finance. Back-to-back internships at AXA Investment Managers and Bain & Co. helped her delve into different specialties to find the best fit.
Choi and Flores Najas are two of 344 CMC students who immersed themselves in internships this summer, funded by an ambitious $1.3-million program to provide hands-on learning outside the classroom.
"I'm grateful that the school would support me in this way. It shows how much care they take of their students," said Choi, who worked on a team seeking a cure for a rare neurological disorder.
Choi landed the Cedars-Sinai internship after his freshman year, joining seniors and graduate students from Duke, Harvard, and UCLA. CMC expressly encourages freshmen and sophomores to pursue real-world experiences so that they can shape their coursework, and hopefully discover lifelong passions, said Evan Wollen, assistant director of CMC's Sponsored Internships & Experiences Program.
"If we can get students a really incredible experience in their first or second year, they will be able to market themselves after their junior year and springboard into employment after they graduate," he said. Case in point: Four CMC students interned at Goldman Sachs in New York City this summer, and now as seniors returning to campus, will have jobs waiting for them after graduation.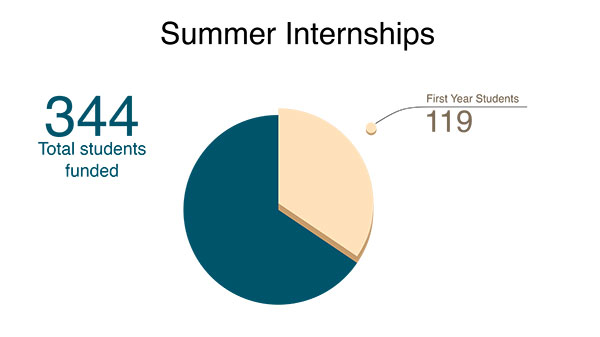 ​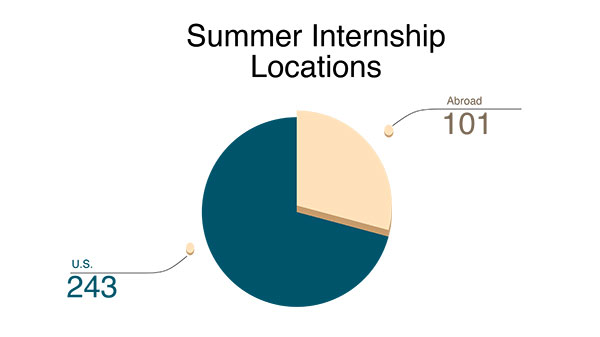 Wollen said students often find their own internship opportunities, craft a budget that might include airfare, lodging, and meals, then submit it to the program for review. This year, Washington, D.C. and the Bay Area were the most popular internship destinations. About 100 students also ventured abroad for projects as varied as restructuring a transit safety program with a ride-hail startup in Uganda to working on investment strategies with JP Morgan Asia in both Hong Kong and Singapore.
For Flores Najas, it was important to pack a lot into her short summer window. She spent the first part of her summer training with Girls Who Invest, a nonprofit that works toward gender diversity in the asset management industry. The training began at the University of Pennsylvania's Wharton School, where Flores Najas studied finance and ethics. She was then placed with AXA Investment Managers in the Bay Area to put her knowledge to work.
"With the rise of Big Data, I was fortunate to be part of the data visualization team," said Flores Najas, one of CMC's Robert Day Scholars. The college, she said, supported her internship by covering housing costs in an area known for sky-high rents.
After the cross-country training with Girls Who Invest, Flores Najas remained in the Bay Area for a second internship, the selective Building Entrepreneurial Leaders Program sponsored by the management consulting firm Bain & Co.
The two internships allowed her to test the waters of both consulting and asset management to narrow her career choices.
Choi, meanwhile, has long aspired to work in healthcare, and his internship at Cedars-Sinai's Regenerative Medicine Institute helped bring focus to this goal. In the lab of Dr. Tyler Pierson, who is studying mutations of an inherited gene that can lead to a neuropsychological disorder, his clinical work has been "hands-on, every single time," Choi said. It was a stark difference compared to healthcare internships he pursued in high school, which were mostly observational.
Most notably at Cedars-Sinai, Choi worked with stem cells from children exhibiting symptoms that include enlarged foreheads, speech impairment, and slow intellectual progression—all signs of the disorder associated with the gene.
"It's saddening, but we remain hopeful with all the advanced genetic technologies," said Choi, who developed a deep interest in pediatric neurology because of the internship. "I'm motivated to continue this research."
This fall, he will get that chance: Choi's internship led to an offer of a part-time paid position as the team continues the search for a cure.
—Mary Braswell