Summer Research Program provides foundational experiences with faculty
Just a week after her lab wrapped up with CMC's Summer Research Program, Jennifer Feitosa was feeling wistful about a routine that combined valuable work with genuine camaraderie amid an isolating pandemic.
"I genuinely missed the daily connections with my students," said Feitosa, assistant professor of psychology and director of the METRICS lab. "Obviously, the research we did together is core to what I do, and I'm very passionate about it. But to spend a summer with amazing students and watch them develop their own personal interests—to see that blossom in them—it is hands down one of the most rewarding things a professor can experience."
Feitosa worked with six students—Katherine Almendarez '22, Amanda Avery '22, Leyna Hong '23, Teslin Ishee '22, Adrienne Kafka '21, and Lilian Rangel '21—as part of this summer's research program, which launched last year as a way to give up to 15 CMC students in the social and mathematical sciences and humanities a way to conduct on-campus research alongside a faculty mentor.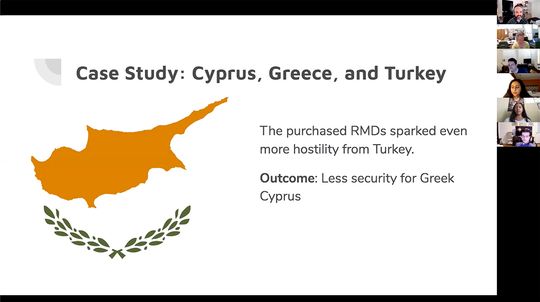 With campus life upended since mid-March due to COVID-19, this year's program presented "obvious challenges to students and faculty advisors," program director and mathematics professor Mark Huber said of recreating the SRP virtually. "Both sides were up to the task. Personally, my student and I liked to meet once per day for about an hour to go over her (and my) work and plan out what to try for the next day. I imagine every collaboration was different, but as a whole, we accomplished the task of the SRP to not just have students do research, but to have students actively engaged in research."
At first, Feitosa wondered how she would build rapport with six students and lab manager, Alicia Davis, who did not know each other outside of a typical campus lab environment. But as part of the METRICS lab's emphasis on team dynamics and diversity, she quickly discovered that it was an ideal opportunity to "practice what we preach" and apply thoughtful strategies to cultivate team trust in a virtual environment. The team grew close by sharing parts of their identities with one another—including career trajectories and family dynamics—and they broke up long research stretches with yoga. "Knowing more about each other really did help us feel connected," Feitosa said.
On the research side, Feitosa and her students spent the summer exploring a very in-the-moment topic—the interplay between COVID-19 and racial dynamics in the workplace. Their group worked on an article, "Pandemic Meet Race: An Added Layer of Complexity," that is currently under review for an Industrial-Organizational Psychology journal. "I told them from the beginning, 'I would like you to lead this as a team, to figure out authorship order,'' Feitosa said. "They came up with a great outline; Ally and I only gave them examples and high-level feedback along the way. Their intellectual contribution and leadership came through, providing a really great learning experience for them at this stage of their academic careers."
Anna Green '21, a government major, also focused her summer research on a recent issue that has dominated the news: Confederate monuments. From her home in Fairfield, Conn., Green began digging into fundamental questions surrounding the topic: Who built and paid for them? What was their intended purpose? What should we do now? Her work was informed by senior thesis preparation with government professors Jack Pitney and Emily Pears.
"I didn't know, at the time when I started thinking about this topic, how much it would explode over the summer," Green said. "What was initially intended to be predominantly an exploration of journal articles and advanced degree theses turned into a current events-centric piece wherein, every day, I was getting carried away, staying up-to-date on the most recent developments in this area. It was incredibly exciting and helped to fuel my interest in the topic. I finished my project with far more questions than I had at the beginning."
As she continues with work on her thesis in the fall, Green said her summer research experience also reminded her how interconnected different disciplines are. The variety of classes she's taken at CMC, combined with the faculty relationships she's formed, helped her think through a dense topic.
"It translates so well to the liberal arts environment at CMC," Green said. "Last spring, I took a course with Professor (Diana) Selig in the history department, who was very supportive of my project idea and sent me many valuable articles examining this topic from a historical perspective. In conversations with my professors in other disciplines—philosophy, art, public policy—it is clear that this topic intersects their fields of study, too."
During the last two weeks of the program, Green and other SRP students shared short presentations of their work with the entire cohort. Huber marveled at the range of topics covered—from philosophical considerations of what drives people to excellence, to how immigration affects trade, to building better estimates for machine learning, to the effects of aging on neural processing.
This year's program also featured a weekly lecture series with advisors and students over Zoom to talk about a new aspect of research, including how to create a conference poster, how to navigate the journal process, and how to build a curriculum vitae. Those recorded lectures can help guide faculty who may want to pursue their own project next year, Huber said.
"I learned so much this summer about the research side of life as academic, be it through seminars on methodologies, different databases, or how to deliver effective presentations," Green said. "It has given me such strong foundational knowledge and made me really excited to start planning my actual thesis."
—Thomas Rozwadowski
Contact
Office of Strategic Communications & Marketing
400 N. Claremont Blvd.
Claremont, CA 91711
Phone: (909) 621-8099
Email: communications@cmc.edu

Media inquiries: David Eastburn
Phone (O): (909) 607-7377
Phone (C): (808) 312-8554
Email: deastburn@cmc.edu