Like many students, Biniyam Asnake '20 was astounded by the high cost of textbooks, which can sometimes top $200 a piece. Trying to buy used books from other students through online marketplaces, he found, wasn't much help. "You could spend an hour looking for a book and you may never find it," he said.
Why, he wondered, couldn't there be a search tool as easy to use as Google? The Computer Science major from Los Angeles decided last year to create one.
He taught himself five programming languages. Guided by free online Coursera classes, he wrote 3,000 lines of code. The project so consumed him that he dropped a class to make time. By last spring, Asnake had developed a web-based system enabling book searches by ISBN, title, or author.
The result was NextDorm.college, a web platform that pairs used books with students who need them. CMC students can search the site to see if the texts they need are available, and rent them at no charge for a semester.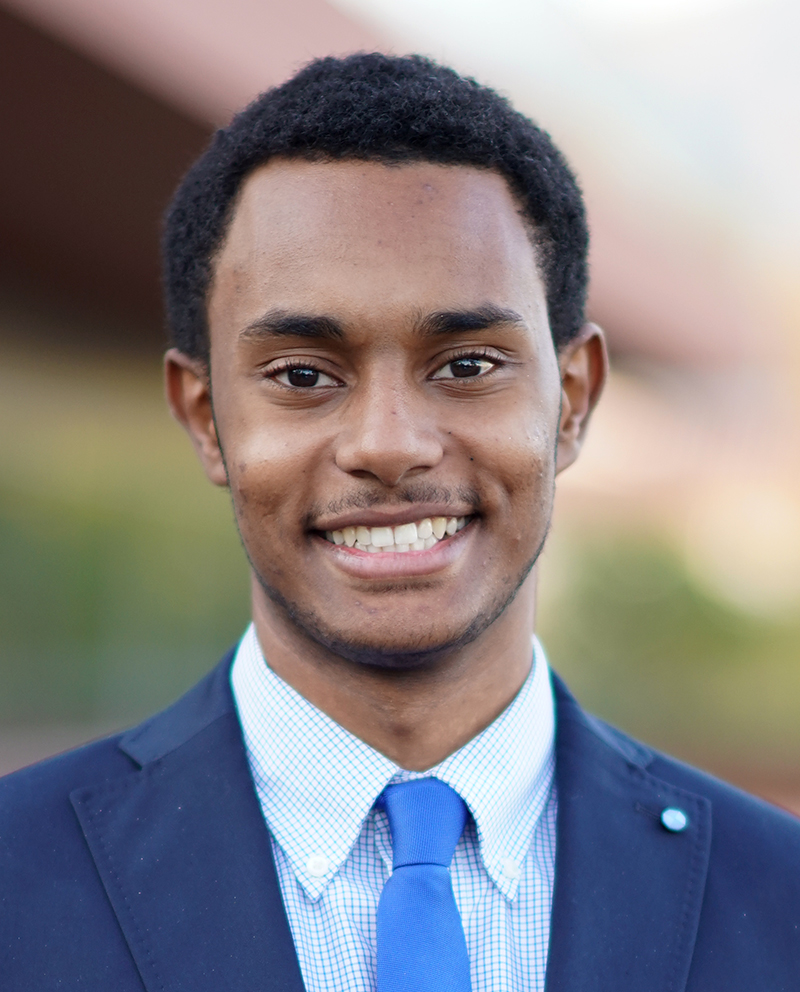 Biniyam Asnake '20
NextDorm is a product of CMC's support system for student ventures. Asnake spent his freshman year attending workshops, events, and retreats at the Kravis Lab for Social Impact, a campus resource for students to learn about social entrepreneurship and leadership. Those experiences sharpened his skills and built confidence, which influenced Asnake's conception of NextDorm. It also taught him that "social entrepreneurship and technology are not mutually exclusive," he said.
Ultimately, Asnake wanted to get books into students' hands and save them some money. But connecting the product to the people proved harder than developing an in-demand website.
Asnake found his ideal partner: The CARE Center, which thought NextDorm fit well with its mission of removing student barriers to success. Together, they landed on a free rental service rather than a marketplace. The CARE Center provided both a physical site for the program in Heggblade and a ready network of students.
By the end of last school year, the NextDorm team—Asnake, Ryan Bellissimo '20, Kara Corley '20, and Lincoln Bernard '21— along with several CARE fellows, collected and registered more than 1,400 textbooks, many of them from graduating seniors and drop boxes placed on campus. On the first day of classes this fall, about 50 students lined up outside the CARE Center as it opened. Another 100-plus students dropped in throughout the day; and the crowds kept coming. This fall, 1,400 books were available, and 286 were rented.
The program's success "is a big deal," said Vince Greer, Director of the CARE Center and Associate Dean of Students for Diversity, Inclusion, and Residential Life. "Everybody can benefit from cheaper textbooks." With the average price for CMC texts to be about $70 each, Asnake estimates that students have saved more than $20,000 through NextDorm.
Asnake actually missed fall semester's rush at the CARE Center. He is studying computer science this semester in Hungary at the Budapest University of Technology and Economics. When he returns to campus in spring, Asnake plans to develop analytics tools to measure the growth and impact of rentals across class years and determine which books are most popular.
"I knew NextDorm would be a practical project for me to apply all of the skills I had cultivated," said Asnake, who is planning a career in software engineering and product development.
"Like CMC teaches us, you learn by doing."
—Alicia Reynaga '22