Welcome to CMC exudes special energy

It can be hard to see smiles behind masks.
That definitely wasn't the case Sunday afternoon at the inside entrance of Roberts Pavilion.
With joyous claps and cheers greeting first-year families as the doors slid open, a line of student leaders made sure everyone got the rock star treatment heading into Welcome to CMC, an annual capstone ceremony to Orientation and move-in day. High fives, fist bumps, and even a few adrenaline-charged leaps from student and parents followed—a strong indication that campus newcomers are more than ready for life at CMC.
"You see them getting pumped up, and it gets you pumped up," said Jiwon Chung '23, a Second-Year Mentor who was part of the exuberant welcome committee. "It's been awhile since we could be around each other, and this is just our way of letting out some of the excitement."
"This past year especially, with everyone away from school, some students might be worried that others have been socializing or creating bonds and they're the ones left out," added Angie Zhao '23, also a Second-Year Mentor. "By doing this, we wanted to give them a feeling to remember. We're not only excited for you to start school here, but we're all in this together."
The return-to-campus buzz continued inside Roberts Pavilion, where CMC leadership offered a formal welcome to first-year families—a long-awaited moment amid an ongoing pandemic and its effect in shutting down residential living and learning since March 2020.
Not to be outdone, sophomores moving in for the first time received their raucous campus welcome on Tuesday. Zane Yamamoto '24, the sophomore class president, summed up the past virtual year for his class as a "fever dream. … where time has just zipped right by." "I blinked and now I'm a college sophomore," Yamamoto said from the Roberts stage, affirming that the best is yet to come.
"I know how excited we all are to stay in a real dorm, to eat food with friends that aren't pixels broadcast on a screen, and to live and learn in the kind of tight-knit community we chose CMC for," he said.
Heather Antecol, vice president for academic affairs and dean of the faculty, asked both classes to reflect on what "brings us together and sustains us as a community," to search for "deeper connectivity" this academic year. She encouraged students to explore the breadth and depth of a liberal arts education—especially a CMC hallmark, opportunities to engage with viewpoints different from their own. Antecol further pointed to one of the biggest benefits of CMC: the ability to get to know and learn from faculty beyond the classroom.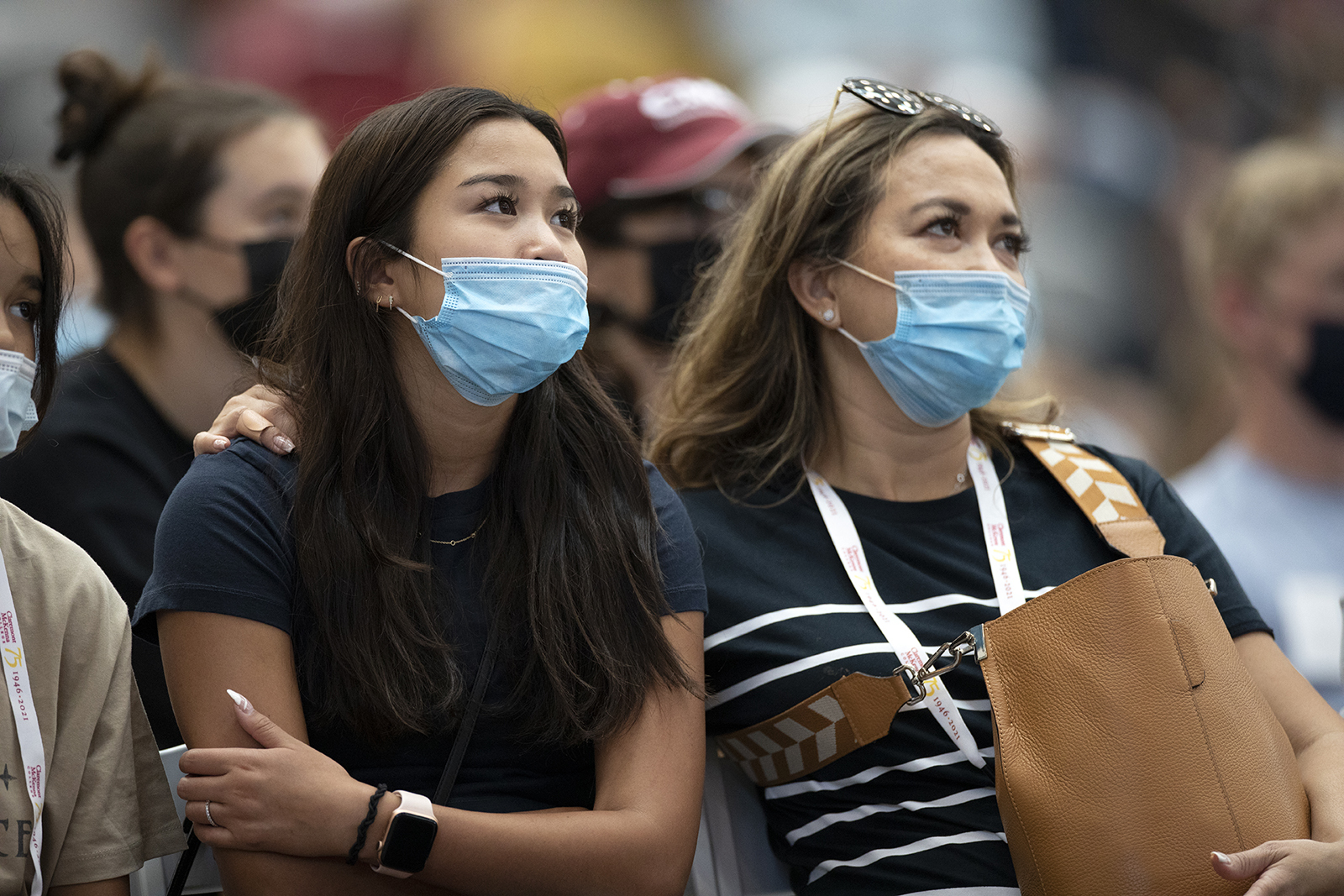 "Make the time to swing by office hours and introduce yourself. Say hello when you see us at Collins or the Athenaeum. We are so excited to see you and we can't wait to spend the year working together," she said.
In his closing remarks, President Hiram E. Chodosh left CMC's newest on-campus arrivals with a powerful impression—the importance of a single question. He shared how when Izzy Rabi won the Nobel Prize in Physics in 1944, he attributed his success to his parents. Upon coming home from school every day, Rabi's parents didn't ask about his grades or what he learned, Chodosh said. Instead, they wanted to know: "Izzy, did you ask a good question today?"
Chodosh posed his own question—Why are we here?—framing it three different ways, each time with an emphasis on a different word to allow for new opportunities and solutions. Asking a good question, he said, is the "one simple move, an expression of our curiosity" that allows people to understand what the world needs and how we can define a purpose larger than ourselves.
"In this CMC cycle of learning and doing, you will learn to learn. So that you can keep ahead of and influence the big changes you will face in your lifetime, prepare for what we cannot anticipate, the unknown unknowns, the questions not yet framed. You will navigate the dilemmas of your time. You will lead, and lead responsibly, in business, in government, in the professions, in your families, communities, and the world beyond," Chodosh said.
"That's why we are all here at CMC."
Contact
Office of Public Affairs and Communications
400 N. Claremont Blvd.
Claremont, CA 91711
Phone: (909) 621-8099
Email: publicaffairs@cmc.edu

Media inquiries: Gilien Silsby
Phone: (213) 500-8673
Email: gsilsby@cmc.edu