Zach Fogel '22 passed on Broadway—to do college his way
"An actor is good as long as everyone wants them. A football player is good as long as his body lets him compete. But an academic is good as long as he wants to be."

Somewhere on campus, Zach Fogel '22 is singing an Ed Sheeran song right now.
It could be while walking to class or during a workout at Roberts Pavilion. Even in the shower. Doesn't matter if it is a Broadway medley or a pop earworm, "I always have a song in my head," Fogel said enthusiastically. "Music is what keeps me going."
Fogel's love of music propelled him to the Broadway stage to sing with the best young talent in the country at the National High School Musical Theatre Awards—The Jimmys—this past summer.
At CMC, he performs for a different crowd: With a helmet and while leading the huddle as a freshman quarterback on the Claremont-Mudd-Scripps football team.
Being vocal on the gridiron means serving as a locker room leader and motivator to his teammates. Fogel is also expected to make a big play or two, which he's already done (see: CMS' crucial road win over Redlands in mid-October) while splitting reps at quarterback.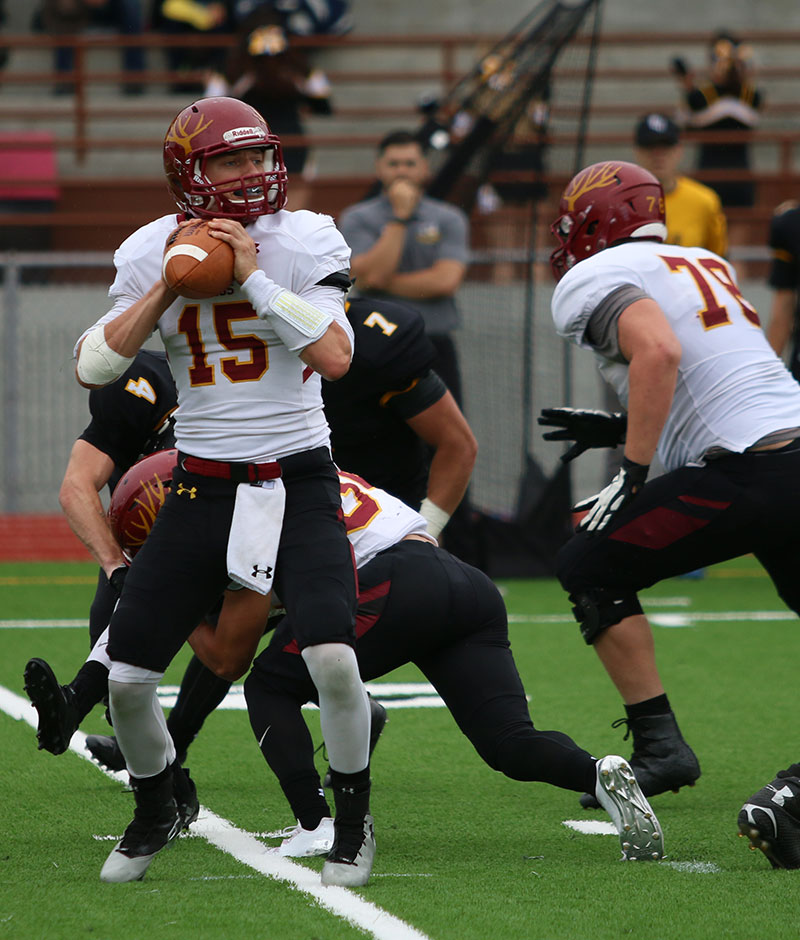 Fogel's college decision found him caught between two passions—sports and theater. Should he continue with his football career, knowing it probably wouldn't lead to anything professionally? Or should he follow his creative muse and head to a renowned theater school—or more audaciously, take a shot at Broadway?
In the end, Fogel picked door number three—a liberal arts education at CMC. Here, he gets to play football at a highly-competitive Division III level, pursue singing with student a cappella group The After School Specials, and excel in the classroom. It's win-win-win, Fogel said. Yet it can still be hard for people to understand.
While at The Jimmys, which assembled 80 rising theater stars for a 10-day Broadway whirlwind, Fogel was peppered with questions. He was the only high school senior in the group going to college to play sports.
"I had some actors and coaches tell me, 'Hey, you'd be great on Broadway right now.' They respected my college decision, but it was also kind of like, 'This is set up for you,'" Fogel said.
"Look, theater is beautiful. It makes me happier than anything," he added. "But if I decided to do that instead of going to college, all doors are closed except one."
Dual talent threat
When you can throw a football 60 yards, it puts some unique, admittedly difficult, choices in front of you as a high school senior. At La Habra High School, Fogel was playing safety as a freshman when, one day at practice, he fired a few impressive warm-up balls to his fellow defenders. He was told to talk to the quarterback coach. "Three weeks later, I was the starting quarterback," Fogel said.
He was instrumental in La Habra winning one California Interscholastic Federation (CIF) championship and three league championships. A team captain and league MVP, Fogel considered Division I schools (Army and Navy) and several successful Division III programs.
He was also La Habra's theater lead. Fogel performed in 14 shows, plays, and musicals during his time there—21 if you go back to his start at Fullerton Children's Repertory Theater, where he fell in love with acting. Fogel was recruited from FCRT to attend La Habra, a rare performing arts and athletics powerhouse that encouraged its students to participate in both venues. He estimated that half the theater students were also varsity athletes.
"People know our football program is intense. Really intense," Fogel said. "But so was our theater program. I ended up in a really ideal place for someone who wanted to play football and sing. At La Habra, I didn't have to choose."
Being in leadership roles and balancing a schedule jammed with classes, games, performances, and practices proved difficult year-round. The intensity level reached its peak each November for a two-week stretch—the collision of CIF playoffs and show weeks for theater. Long days became even longer with classes from early morning to 2 p.m., football practices until 6 p.m., and show rehearsals until 11 p.m. On Friday nights, Fogel quarterbacked the football team. On Saturdays and Sundays, he led the school play.
"Oh yeah, people thought I was crazy," Fogel said. "I lived at the school. I didn't sleep."
By his junior year, he was established in California as a sought-after football recruit. But his biggest accolade—and point of personal pride—came at the 2018 Spirit of the MACY Awards, a celebration of excellence in high school musical theater. Fogel won Best Actor in Orange County for his role as Leo Frank in Parade, which sent him to The Jimmys on Broadway.
Fogel is still in "pinch me" mode while recounting summer memories. At the Minskoff Theatre in front of a sell-out crowd of 1,700 (plus 100,000 viewers live streaming), Fogel shined during his big moment—an early solo during a Disney medley. He also checked a few boxes off his Broadway bucket list: Snapping pictures in The Lion King costume room, eating at Sardi's before a viewing of Dear Evan Hansen, and talking craft with Phantom of the Opera star Howard McGillin.
"I got so much better in that one week. I reached as high as I've ever reached in the acting field," Fogel said. "There definitely was a part of me that said, 'OK, when can I do this again?'"
Keeping all paths open
And yet, even with some doubt after singing alongside elite voices at The Jimmys, Fogel stuck with his top choice: CMC. To make his decision, Fogel set up a recruiting board—just like football coaches do—and weighed the pros and cons. He knew he wasn't going to lose his ability to sing and dance. He also wanted to play football competitively as long as he could. His No. 1 goal on the board stayed firm: "Keep evolving into a well-rounded person."
After all, it's not like Fogel was skating by in the classroom. He maintained a 4.78 GPA and was taking five AP classes his senior year—almost exclusively doing homework on the weekend to make his packed schedule work. Fogel loves to learn and relishes the challenge of being in small classroom discussion with his peers. He plans to dual major in Economics and Psychology at CMC—"Though that could change. There are so many options in front of me," Fogel said. "It's why I love the liberal arts."
Yes, theater and football taught Fogel how to be a leader. He's experienced the highest of highs as a prep standout defined by and admired for both pursuits. But by exploring all facets of his personality, Fogel doesn't see his life at CMC as choosing one path over another. This way, all paths stay open for the foreseeable future.
"An actor is good as long as everyone wants them. A football player is good as long as his body lets him compete," Fogel said. "But an academic is good as long as he wants to be."
—Thomas Rozwadowski and Chris Watts
Contact
Office of Public Affairs and Communications
400 N. Claremont Blvd.
Claremont, CA 91711
Phone: (909) 621-8099
Email: publicaffairs@cmc.edu

Media inquiries: Gilien Silsby
Phone: (213) 500-8673
Email: gsilsby@cmc.edu