Celebrating CMC as a beacon for community on Commencement Day 2023
President Hiram E. Chodosh delivered the following Commencement remarks to the Class of 2023: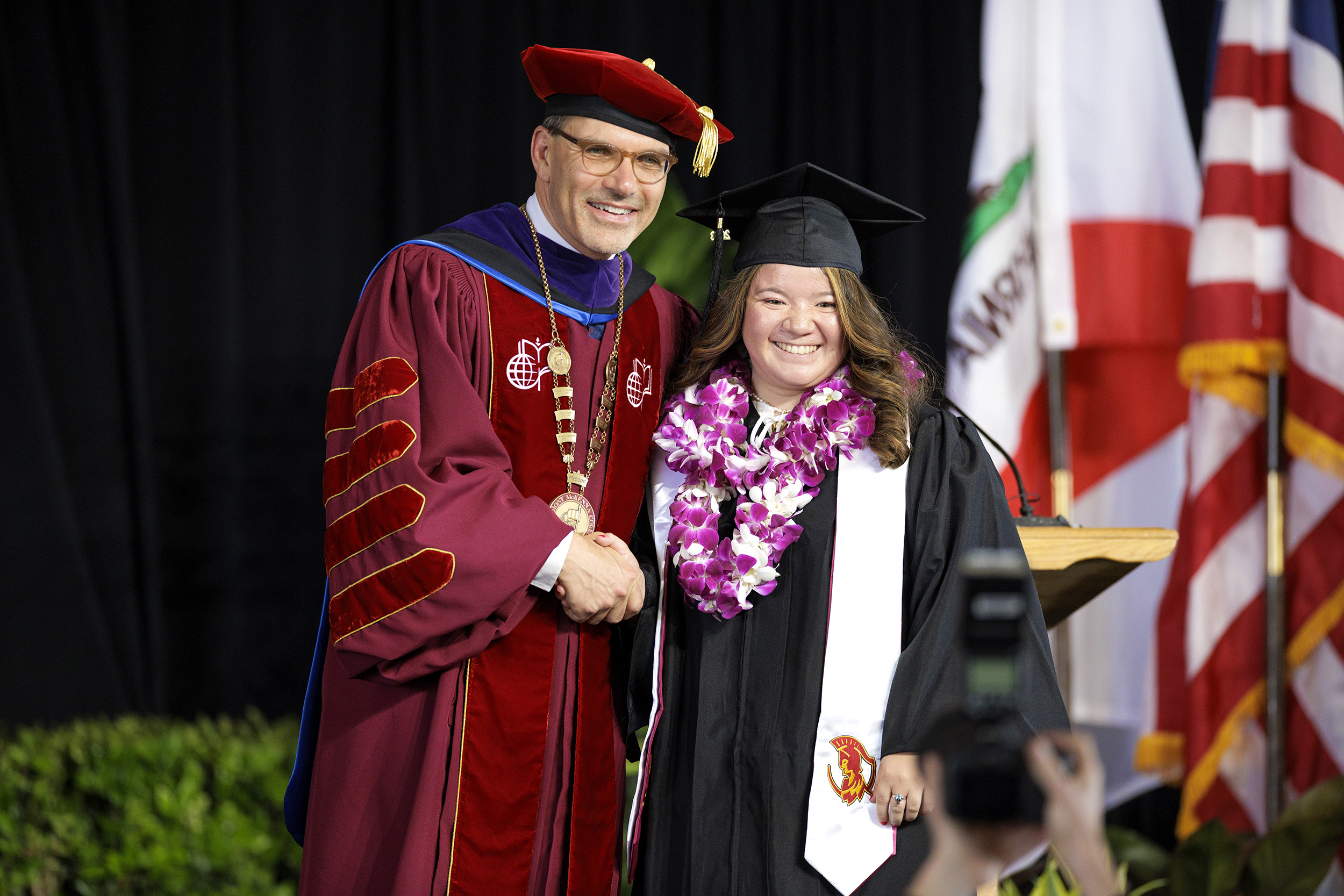 Wow, what a moment!
My heart swells, and aches, and swells up quickly again for every one of you.
Swells with love for all of you here to celebrate:

The love and care of our parents, families, and friends.
who have sacrificed so much:
the financial stress, the worry with you far away,
I might add, patience in the wake of many unanswered texts
the unconditional support and high expectations
the championship of our graduates through thick and thin.

The dedicated brilliance and love of our faculty and staff,
including the legendary, retiring Marc Massoud,
who has demonstrated for over 40 years that
love is a powerful medium for full learning success,
even in the discipline of accounting,
a tough test case by any standard!

The leadership and generosity of our board of trustees and alumni.
Incalculable contributions of time, talent, and treasure
to fuel our rocket ship as it soars through CMC's 75th commencement.
From the original idea of a college
in this rocky valley of orchards
to prepare this next great generation
for our future world of affairs,
to this gorgeous campus, on parent's field
to prepare for a future that is now.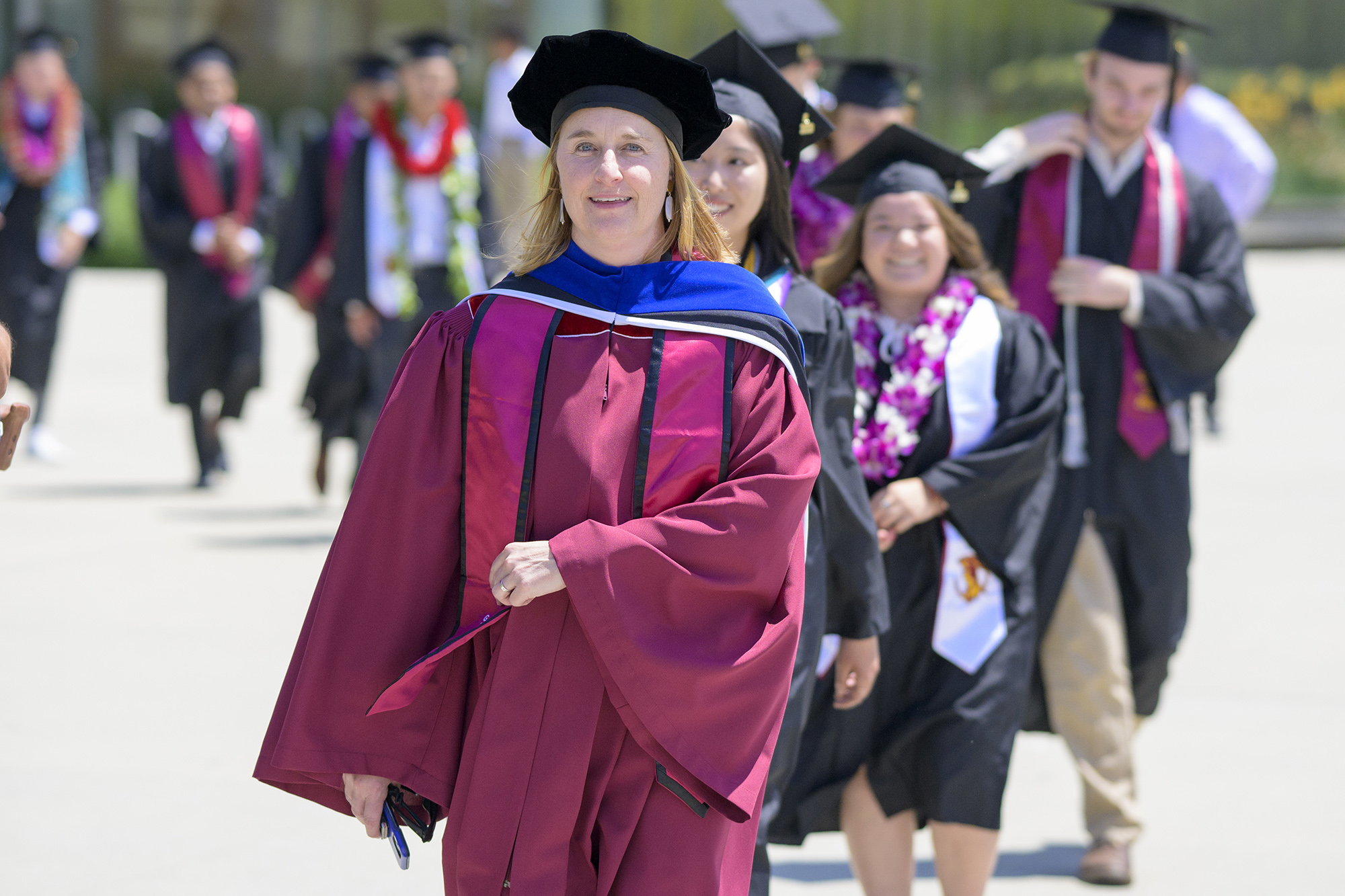 At Claremont McKenna's 75th Commencement ceremony, the Class of 2023 celebrated their determined resilience, quest for excellence, and shared pride in building a welcoming, warm community at CMC.
Most of all, they celebrated being together.
Family and friends — some of whom had traveled across the country and around the globe — gathered under the big tent on Parents Field, with CMC trustees, faculty, and staff to cheer on this year's graduates.
"We celebrate all the moments that got you here, all the moments you made here for yourselves, to get to this point, a proud finish, as you graduate, a thrilling start, as you commence," CMC President Hiram E. Chodosh told the jubilant audience.
The theme of the day was reinforced by keynote speaker Robert Putnam, author of Bowling Alone: The Collapse and Revival of American Community, the acclaimed 2000 bestseller that documents how Americans have grown increasingly disconnected while showing how essential it is that we rebuild social capital.
"This institution represents precisely the kind of civic community that my whole life's work has been devoted to showing to be so important in a country like ours," Putnam began, applauding CMC's history and mission to prepare students for thoughtful and productive lives and responsible leadership.
Fittingly, CMC's senior class president and commencement speaker Amari Huang '23 played a leading role in bringing Putnam to campus, inspired by reading Bowling Alone in her "Introduction to American Politics" course with Prof. Jon Shields.
"We are not bowling alone," she said. "To me, Claremont McKenna College's campus has been our unique home where we have been able to encapsulate Putnam's vision of an America where people come together to transcend their differences to create a community for everyone."
'Community Matters'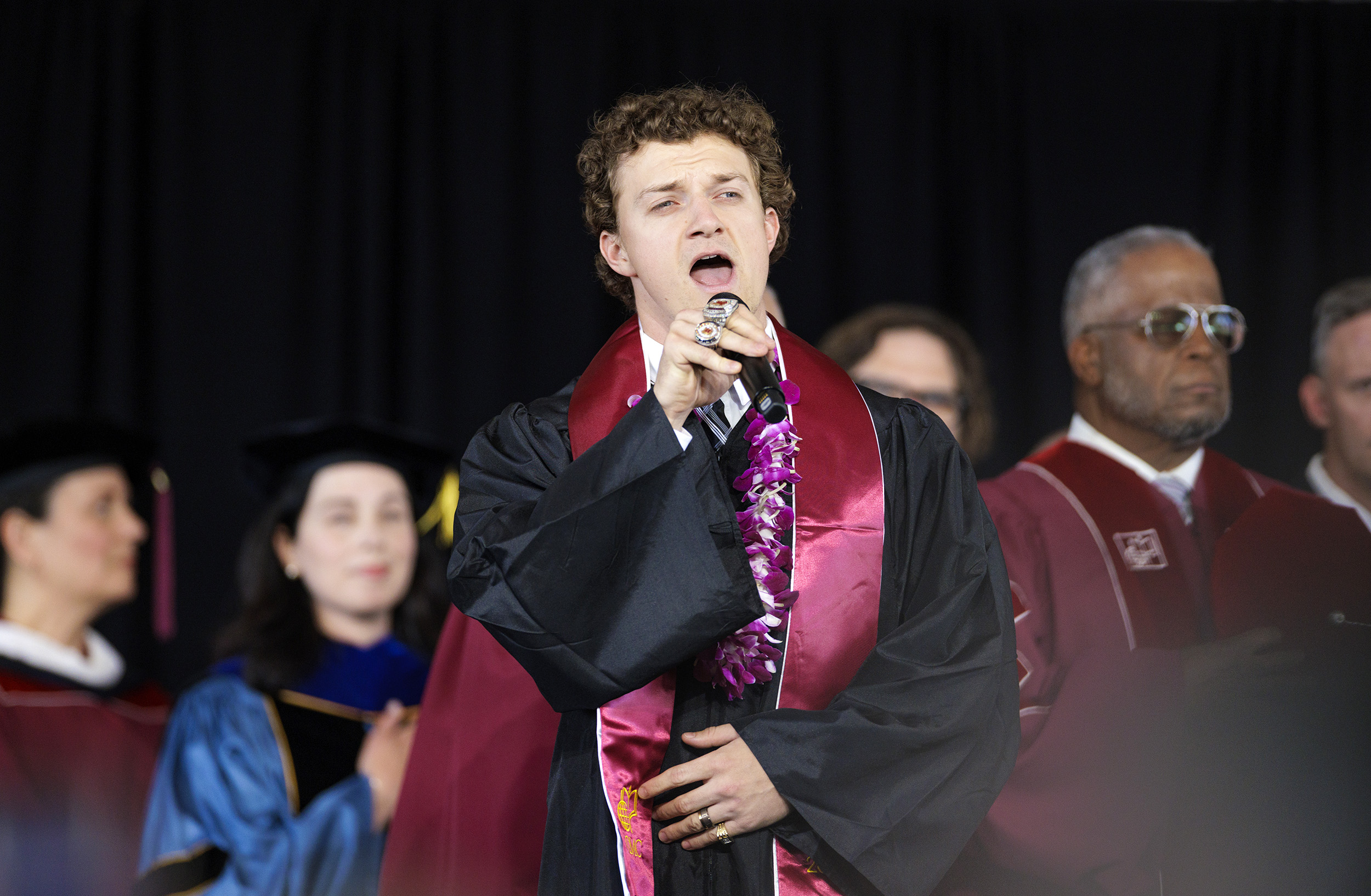 Stags quarterback Zachary Fogel '23 kicked off the program, performing the National Anthem to enthusiastic applause. The Rev. Darrell Smith '74 P'00, a CMC Trustee, delivered the invocation, expressing gratitude for fond memories of his own lessons at CMC in scholarship, leadership, citizenship, and forgiveness. Then, Associate Vice President and Dean of Students Dianna "DT" Graves '98 introduced the program with thoughts about the power of the CMC community.
"Our world is messy, folks, and community matters. Shared human experiences and social warmth matter," said Graves, who noted that she is celebrating her 25th reunion next month at CMC. "Graduates, while you have been a student at CMC, I hope you laughed with someone so hard you cried. I hope you argued with someone with a different opinion and came around to see it their way or at least understand their point of view. I hope that you sat with faculty outside of class and puzzled over the hardest concepts and realized your intellectual potential. I hope you made close friends who stuck by you no matter how difficult times were.
"And as you graduate today, I hope that you will carry the power of the CMC community with you and that you will maintain your connection to this place even as you seek new connections that will fortify your soul and nurture your heart and your mind."
Elected class speaker Annette Njei '23, president of CMC's Black Student Association, addressed the Class of 2023 — whose first year was interrupted by the pandemic —with enthusiasm and a touch of humor. She continued the theme of community and connection, saying that the relationships her class formed helped them to succeed against uncertainty.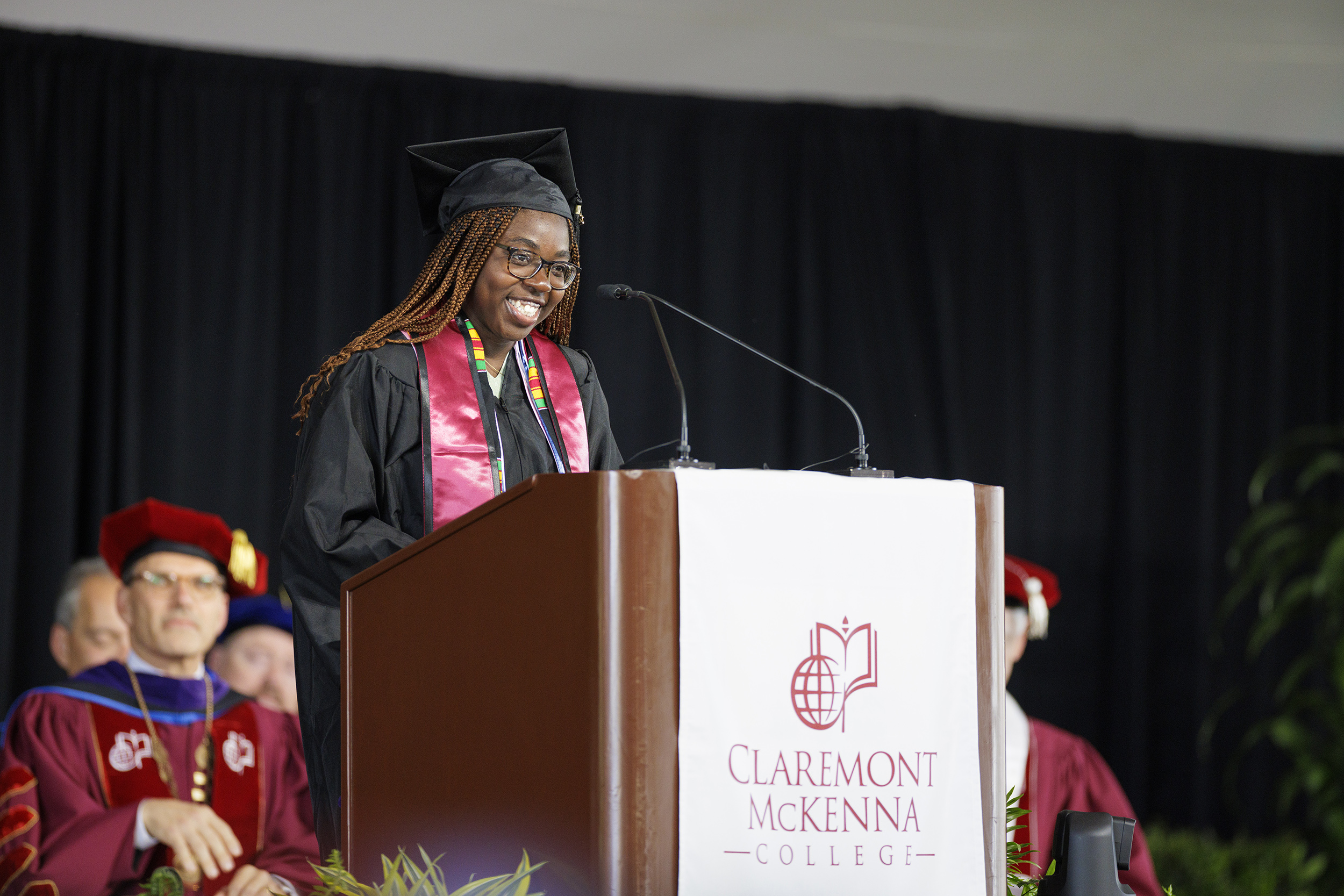 "There are truly no words that can describe the impact the friendships we have cultivated with each other have on all of us. Class of 2023: WE are the definition of resilience."
"As I look back at these last four years, I've learned a lot about myself, about you all, and about what it truly means to be a responsible leader and create community," she added. "At CMC, I had the opportunity to brighten up other people's days, to advocate for myself and for others, and be unapologetically me. I learned to make mistakes and take accountability for them. Most of all, I found my purpose, which is to help those around me thrive and live their best lives."
In her commencement remarks, Senior Class President Huang proudly highlighted the essence of the CMCer, as someone deeply involved on campus and in the community.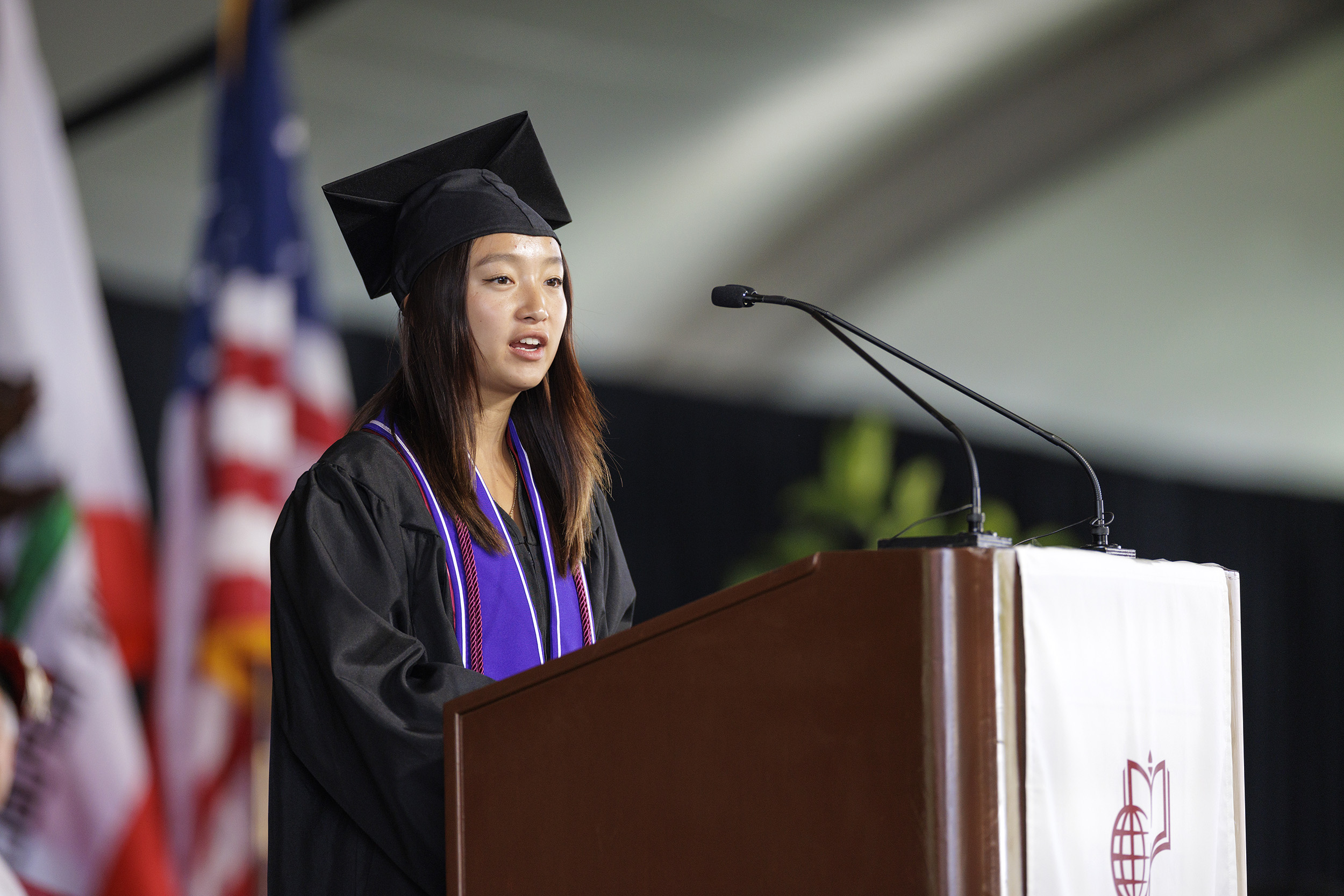 "I'm incredibly proud to be the president of a class where a student can be the president of a product management club and part of the 5C DJ club Table Manners, where a student can be on the football team and in acapella, where a student can be a professional photographer and a published researcher in economics, where a student can be on the Athenas soccer team and the CEO of the Student Investment Fund," she said. "We are a class that breaks social norms as seemingly contradictory people."
"…CMC has been a beacon of its own."
A Challenge to Lead
In his keynote ¬— which he promised would be challenging —Putnam, a leading humanist and renowned political scientist, described "the fearfully polarized, deeply unequal and unjust and fragmented America that my generation has bequeathed to you."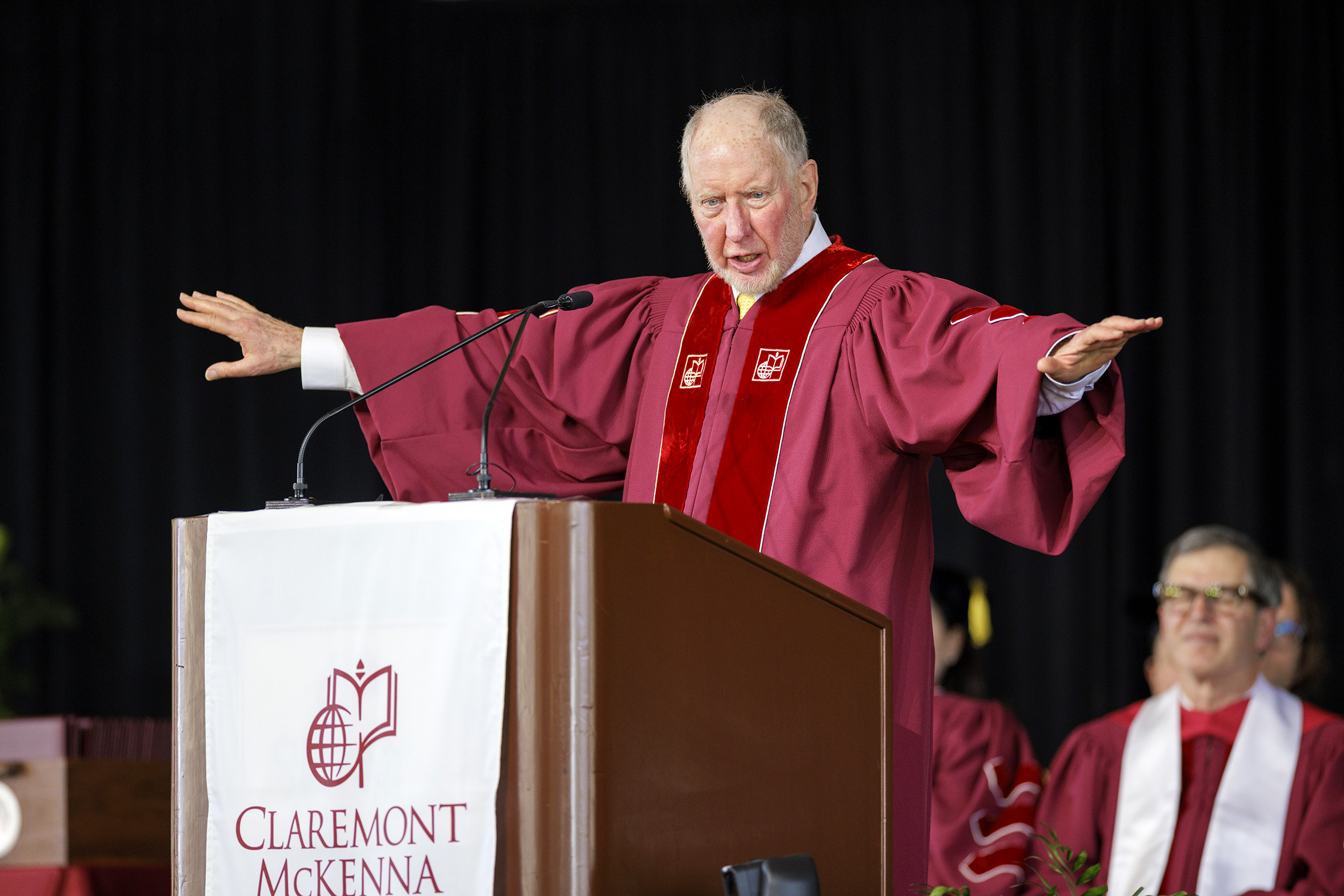 "We have become a society that ignores our obligations to others, and our obligations to future generations around the world," said Putnam, the Peter and Isabel Malkin Professor of Public Policy, Emeritus at Harvard University and former dean of the Kennedy School of Government.
But, he added, "I'm optimistic your generation can turn these trends … around because Americans just like you have done it before."
He called on the graduates to be social reformers in the mold of those who led innovations such as public kindergarten and high schools, the NAACP, the Rotary Club, and the Sierra Club more than 125 years ago, people such as workers-rights advocate Frances Perkins and Nobel Peace Prize winner Jane Addams.
"Only you can lead the way to a more diverse, a more tolerant, a more cohesive, a more equal society, a society in which rather than shout—or shoot—at one another, we listen to one another," he said. "You can do this. This has been the most unique purpose of your years in this beautiful place, as illustrated by the CARE Center to mitigate social division. That's designed to cultivate in you these skills. And the Open Academy. So I'm deeply hopeful that you will rise to the task….
"Your generation has the challenge and the opportunity to hear Kennedy's admonition again: 'Ask not what others can do for you. Ask what you can do for others.' Talk is not enough. Because as I said at the outset, your lives will speak more loudly than your words. So, what will you say with your lives?"
A Charge to the Graduates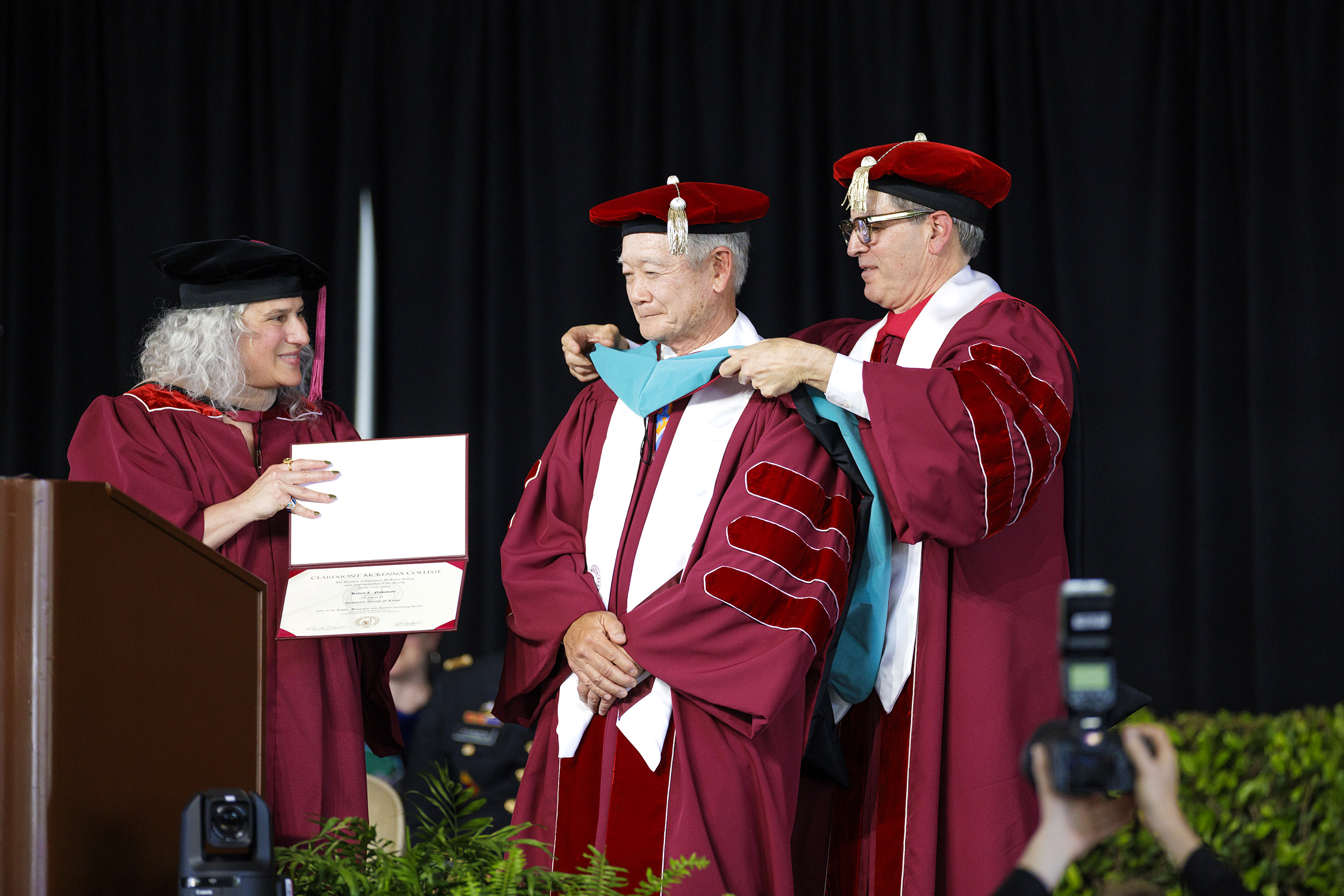 Honorary Doctor of Laws degrees were presented to Putnam and CMC Trustee Robert Nakasone '69 P'98, retired CEO of NAK Enterprises, LLC, an investment and consulting company; Staples, Inc., and Hormel Foods Corporation board member; and former CEO of Toys "R" Us.
After the conferring of degrees, Chodosh shared inspiring stories of triumph over obstacles, including the story of Nakasone's mother, who recently passed away at age 98, and her 80-year-old blanket—"an Army-issued internment camp blanket for Japanese Americans unjustly incarcerated during World War II."
"Over his lifetime, for Bob Nakasone his mom's brown blanket served as a symbol of inspiration, an artifact to honor his parents' resilience, a source of comfort on an unimaginable journey to and beyond this college, from winning baseball championships with Coach Arce in Europe to building a beautiful family and trailblazing career and philanthropic legacy."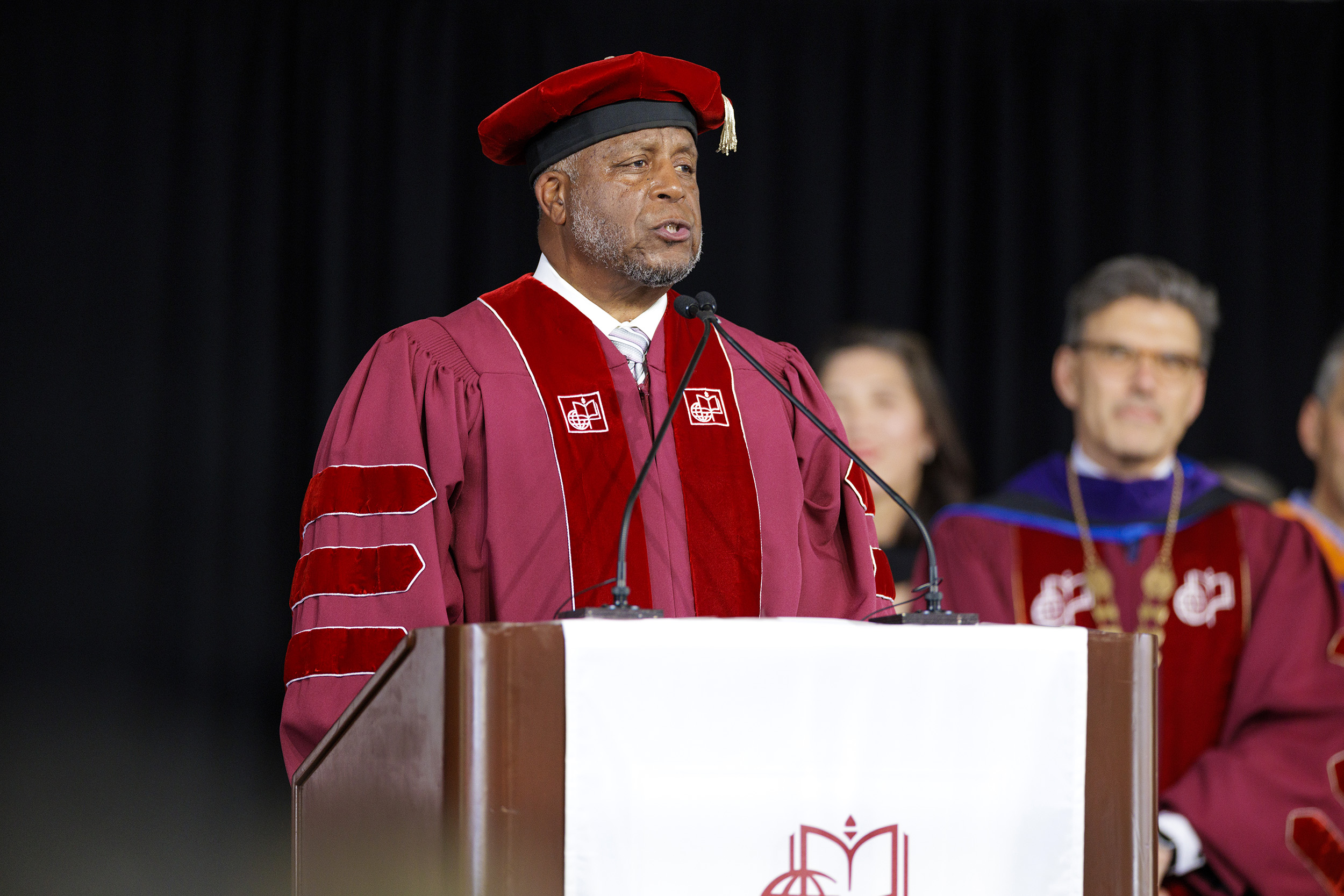 'we roll together, we bowl together'
Before dispatching the new graduates into the world with a charge, Chodosh shared a hopeful vision for the Class of 2023. "From the original idea of a college in this rocky valley of orchards to prepare this next generation for our future world of affairs, to this gorgeous campus on Parents Field to prepare for a future that is now, we express pride in our outstanding graduates, your shared commitments— to strive for excellence, to build a close-knit community, to leverage the fusion of learning and experience— all in order to produce a powerful virtuous cycle of expanding opportunity," he said.
"Congratulations to the Class of 2023!"
Read Chodosh's entire remarks here.
---
Check back for more photos in the coming weeks!
Relive the Commencement Ceremony in full!
---
The Class of 2023 received the following academic awards:
Robert Day School of Economics and Finance Award for the Outstanding Major: John William Wallace
Robert Day School of Economics and Finance Award for the Outstanding Senior Thesis: Viola Hernandez Derbez
Robert Day School of Economics and Finance Award for the Outstanding Major (Accounting): Justin Blake Esters
Robert Day School of Economics and Finance Award for the Outstanding Major (Financial Economics): Joshua Phillip Angle
Robert Day School of Economics and Finance Award for the Outstanding Senior Thesis (Financial Economics): John William Wallace
Environment, Economics, and Politics Department Award for the Outstanding Major: Diya M. B. Courty-Stephens
Environment, Economics, and Politics Department Award for the Outstanding Senior Thesis: Kiran A. Kruse
Government Department Award for the Outstanding Major: Tara Nicole Mehra
Government Department Award for the Outstanding Senior Thesis: Melinda Ximen
History Department Award for the Outstanding Major: Molly Elizabeth Luce
History Department Award for the Outstanding Senior Thesis: Miriam Farah
International Relations Department Award for the Outstanding Major: Grace Anne Hickey
International Relations Department Award for the Outstanding Senior Thesis: Nisha Singh
Keck Science Department Award for the Outstanding Major: Nicole M. Oberlag
Keck Science Department Award for the Outstanding Senior Thesis (Biological Sciences):& Abigail Grace Parrish
Keck Science Department Award for the Outstanding Senior Thesis (Neuroscience): Jasmin Josh
Keck Science Department Award for the Outstanding Senior Thesis (Physical Sciences): Jonathan G. Soriano De Jesus
Science Management Best Thesis: Gabrielle Faith Lee
Science Management Best Overall Student: Min Hyung Lee
Literature Department Award for the Outstanding Major: Axel Sverker Ahdritz
Literature Department Award for the Outstanding Senior Thesis: Annie Elizabeth Cave
Mathematical Sciences Department Award for the Outstanding Major: Angie Wang
Mathematical Sciences Department Award for the Outstanding Senior Thesis: Angie Wang
Military Science Department Outstanding Major: Athulya Nath
Military Science Department for the Outstanding Senior Thesis: Gillian Elizabeth Torza
Modern Languages & Literatures Department Award for the Outstanding Major (Spanish): Marissa Claire Talcott
Philosophy Department Award for the Outstanding Major: Jack Benjamin Stern
Philosophy Department Award for the Outstanding Senior Thesis: Eva Josephine Augst
Psychological Sciences Department Award for the Outstanding Major: Juliana Gutierrez
Psychological Sciences Department Award for the Outstanding Senior Thesis: Juliana Gutierrez
Public Policy Department Award for the Outstanding Major: Sydney Miller Smith
Public Policy Department Award for the Outstanding Senior Thesis: Anika Elizabeth Kimme
Religious Studies Department Award for the Outstanding Major: Brian Forrest Loudermilk , Jr.
Religious Studies Department Award for the Outstanding Senior Thesis: Samrath S. Machra
OTHER AWARDS
George S. Blair Award for State and Local Government: Cameron Wade Stevens
The Philip Roland Award for Excellence in Public Affairs: Augusta H. Lewis
The Philip Roland Prize for Best Thesis in Public Administration and Public Policy: Michelle Lourdes Ramirez
The John R. and Bonnie Snortum Award for Distinctive Character: Nishka Haresh Khoobchandani
Best Thesis in Gender Studies: Miriam Farah
Best Thesis in Jewish Studies: Kimiko Jeanne Adler
The Keck Center Outstanding Senior Thesis - International Security: Ava Liao
The Keck Center Outstanding Senior Thesis - Comparative Politics: Erik Herbert Lohmus
The Keck Center Outstanding Senior Thesis - Political Economy: Ben Eibl
The Keck Center Outstanding Senior Thesis - History and International Politics: Thomas Anthony Falci
The Keck Center Outstanding Senior Thesis - Environment and Global Politics: Caelyn Rachel Smith
The Keck Center Outstanding Senior Thesis - Gender and International Relations: Anya Syed
Mgrublian Center for Human Rights Best Thesis - Human Rights: Nisha Singh
Mgrublian Center for Human Rights Best Overall Student - Best Overall Student in the Human Rights, Genocide, and Holocaust Studies Sequence: Michelle Lourdes Ramirez
Randall Lewis Center for Innovation and Entrepreneurship - Best Thesis in Business, Innovation, and Entrepreneurship: Sabrina Jillian Stone​​​​
STUDENT AWARDS
William H. Alamshah Award for Student Leadership: Samuel Chase Bogen
The Alumni Association Citizenship Award:

Zachary Hayden Fogel
Elizabeth Ann Iwicki

The Alumni Association Outstanding Athlete Award:

Joshua Phillip Angle
Augusta H. Lewis

The H. N. and Frances C. Berger Award for Outstanding Senior:

Kimiko Jeanne Adler
Joshua Phillip Angle

The William Dickinson Athletic Award: William Daniel DeForest
The Brian Walkenbach Award for Outstanding Resident Assistant: Madison Force McCue
NATIONAL AWARDS
Elbaz Post-Graduate Fellowship:

Miriam Farah
Valentina Gonzalez
Michelle Lourdes Ramirez

Emerson National Hunger Fellowship: Jeanie Han Kim
Fulbright Student Scholarship:

Eva Josephine Augst
Thomas Anthony Falci
Sarai Perez Ortega
Contact
Office of Strategic Communications & Marketing
400 N. Claremont Blvd.
Claremont, CA 91711
Phone: (909) 621-8099
Email: publicaffairs@cmc.edu

Media inquiries: David Eastburn
Phone (O): (909) 607-7377
Phone (C): (808) 312-8554
Email: deastburn@cmc.edu