CMC wins at "Olympics of Model UN" in Paris
In a blockbuster season, CMC's Model UN won the Best Small Delegation award at Harvard WorldMUN in Paris—billed as the "Olympics of Model UN." The win marks CMCMUN's sixth delegation award in 11 years.
CMCMUN also received three Diplomacy Awards and three Verbal Commendations at the conference, which brought together more than 1,000 delegates from over 100 schools in Paris, France, March 12-16.
"Harvard WorldMUN is a truly unrivaled experience made possible to us here at CMC," CMCMUN President Jon Joey Telebrico '23 said. "I am proud of the fact that the spirit of diplomacy we cultivate within the CMCMUN team can forge long-lasting connections and progressive solutions at the scale of the conference setting. The awards we received at the conference are evidence that Model United Nations actively empowers us as students to take the real-world problem-solving and critical dialogue skills we learn at CMC to the next level."
In addition to Head Delegates Telebrico and Nicole Jonassen '24, the team included Miller McCraw '24, Michael Gadinis '24, Katherine Lanzalotto '25, Shaira Busnawi '25, and Rohaan Bhojwani '26. They tackled a number of historical and geopolitical topics, such as the Myanmar genocide, child soldiers, and sustainable finance on the General Assembly side, and the Haiti cholera outbreak and post-WWI order on the Crisis side.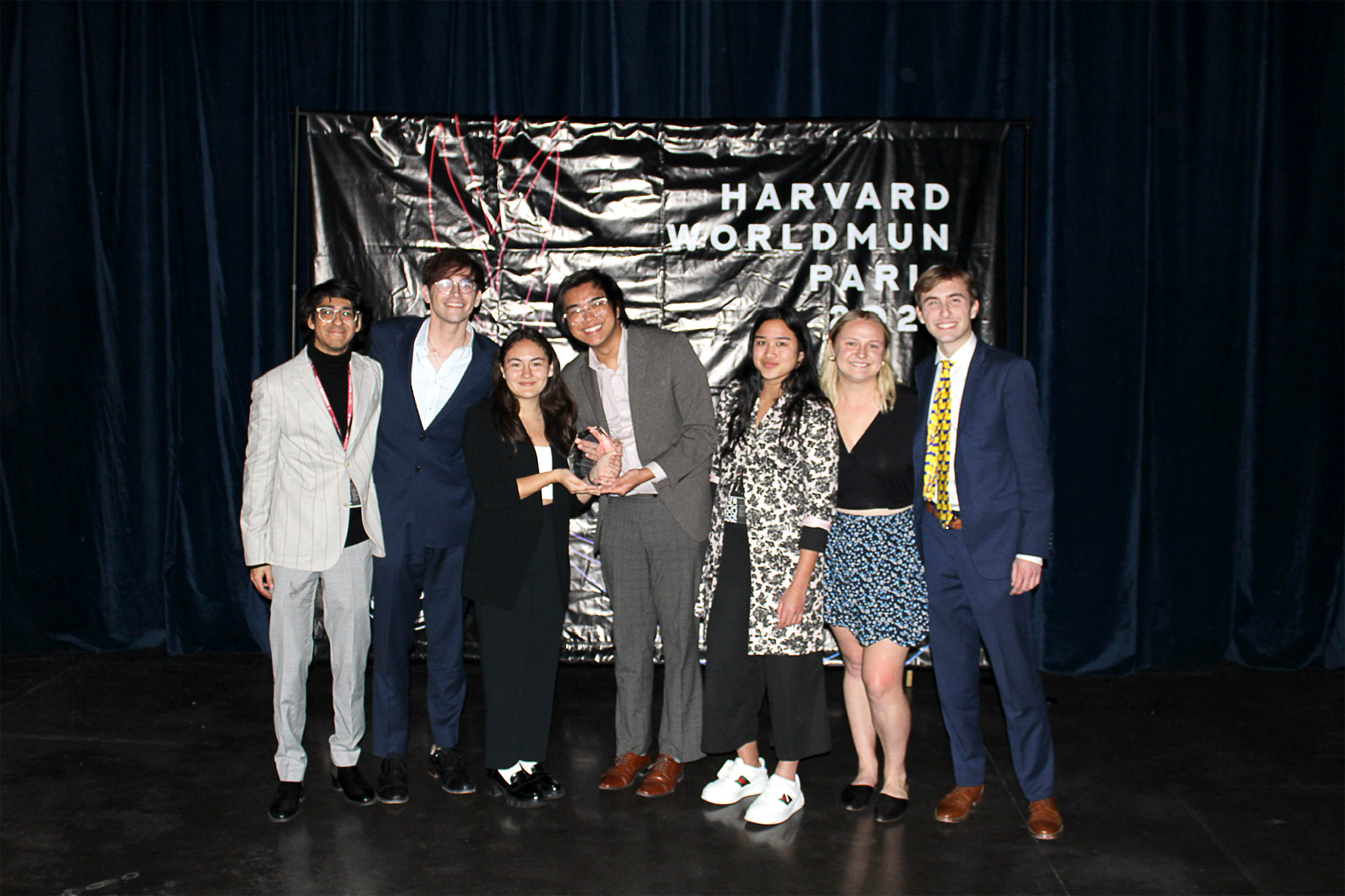 Telebrico said CMCMUN's "collective environment centered on collaboration" contributed to the team's success, while also calling out the revamping of training efforts on the domestic front, led by McCraw and Enya Kamadolli '26. Additionally, WorldMUN Head Delegate Olivia Fish '23 served a vital role.
"A majority of the WorldMUN-focused practice came from separate practices designed and scheduled by Olivia Fish," Telebrico said. "Olivia reached out to alumni of past Harvard WorldMUN delegations, tailoring our additional practices around the shared insights so that this year's delegation could repeat the historical success that CMCMUN has had at this conference since 2012. Throughout multiple intense days of competition, Olivia continued to advise every member of the delegation from Claremont—she truly embodied our team motto of 'Team Comes First' in her unwavering commitment to the delegation's well-being and competitive drive."
Telebrico also thanked Faculty Advisor Professor Jennifer Taw for her guidance, CMC President Hiram E. Chodosh for "his continued confidence in our commitment to dialogue" as well as financial support from donor and Keck Center for International and Strategic Studies Board Member Eric X. Li, "who has helped to sustain our program with his generous financial contributions."
During the conference week, the team bonded further as they explored Paris and enjoyed social and cultural events organized by Harvard WorldMUN, such as the Diplomatic Gala held at Le Salles du Carrousel at the Louvre, where a diplomat from the International Monetary Fund was among the distinguished guests.
Delegates also met current and former team members Jack London '24 and Brianna Roldan '24 who are currently studying abroad. "We caught up with each other well into the night, truly emblematic of the fact that CMCMUN functions like a family—no matter how much distance or time we've spent apart," Telebrico said.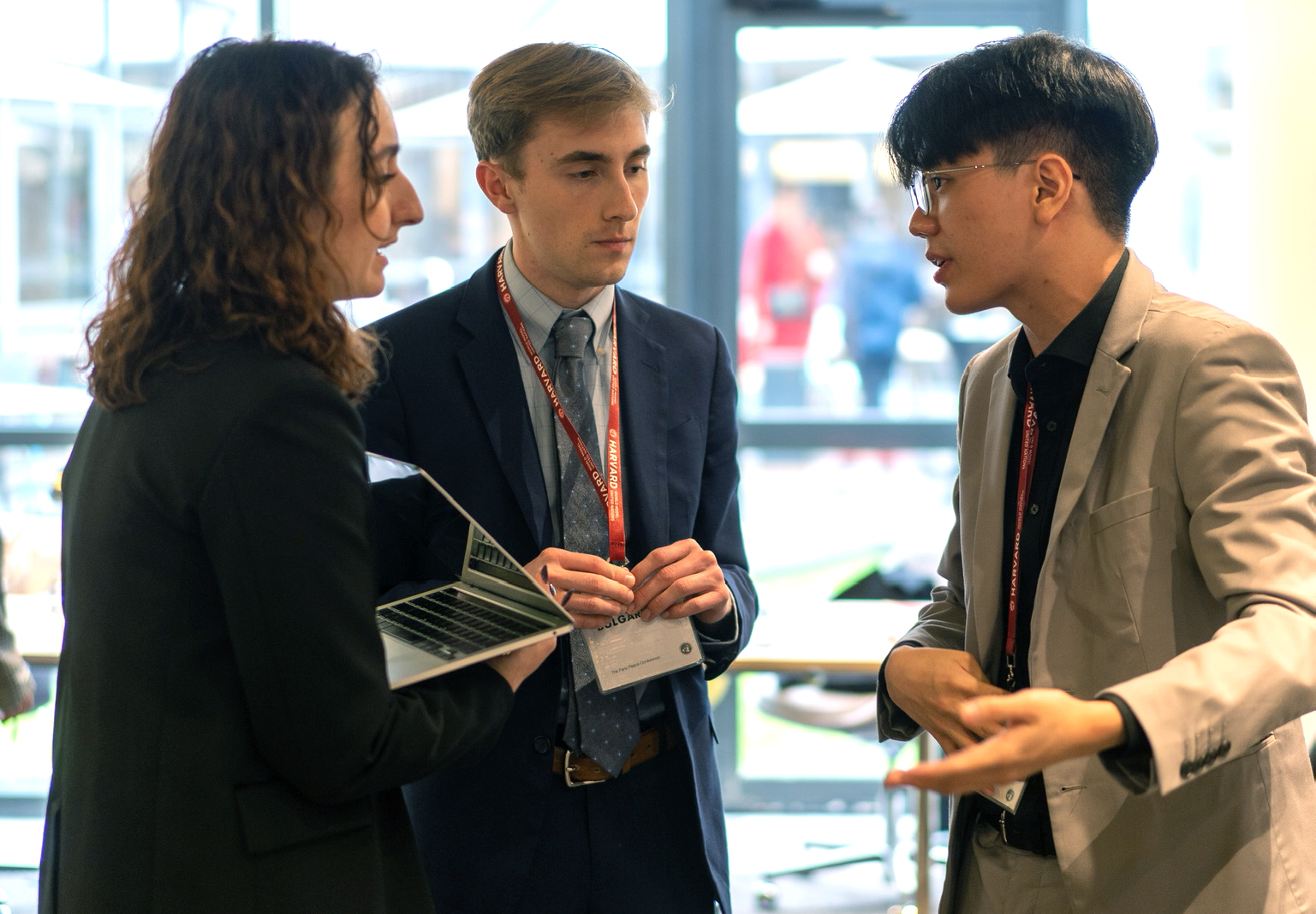 The Harvard WorldMUN win marks CMCMUN's sixth delegation award in a blockbuster season, along with four Best Small Delegation awards from BarMUN (Boston University), UPMUNC (University of Pennsylvania), NCSC (Georgetown University), and SBIMUN (UC Santa Barbara), as well as an Outstanding Small Delegation award from UCBMUN (UC Berkeley).
"Winning Best Small Delegation awards at three extremely competitive East Coast conferences in the fall was an unprecedented and unheard-of competitive feat in CMCMUN history," Telebrico said.
In the Fall 2022 North American College Model UN Rankings released earlier this month, CMCMUN once again ranked in the top five, maintaining its place at No. 5.
Looking ahead, CMC will be hosting McKennaMUN, a competition for Southern California high school students, on April 22 and 23. The event returns in person for the first time since 2019 thanks to the efforts of McKennaMUN Secretaries General Katherine Lanzalotto '25 and Joshua Morganstein '25 and support from the Office of Admission, the Office of Events, and the Dean of Students Office.
Telebrico said, "McKennaMUN X, the 10th iteration of our premier high school conference, is distinguished in the fact that the professors—who are advising CMCMUN members who write background guides for the conference's various committees—each give an address to the high school delegates, sharing their expertise on the subject matter that the delegates are debating."
Contact
Office of Strategic Communications & Marketing
400 N. Claremont Blvd.
Claremont, CA 91711
Phone: (909) 621-8099
Email: communications@cmc.edu

Media inquiries: David Eastburn
Phone (O): (909) 607-7377
Phone (C): (808) 312-8554
Email: deastburn@cmc.edu