CMC's Model United Nations: Best in the West
As members of CMC's Model United Nations team, students compete on both the national and international stages, debating topics ranging from nuclear proliferation to the refugee crisis, while brainstorming solutions to these pressing world issues. 
And through it all, they form fast and lasting friendships.
"We say unabashedly that MUN is family," said Calder Altman '22, vice president of CMC's Model United Nations (MUN). "There's an intense level of commitment that we have to each other."
That level of commitment has translated to the team's longstanding success—and has also garnered them impressive national accolades.
Ranked No. 1 on the West Coast and in the top five in North America in 2020 by Best Delegate, CMC MUN was the only team from a small liberal arts college to reach the Top 25. Among their pre-pandemic credentials: At the Harvard World Model United Nations Conference (the "Olympics of MUN"), the CMC team won Best Small Delegation in 2019. That victory established CMC as a back-to-back world champion after the team's victory in the same category in 2018—following a recent tradition of CMC winning top team and individual awards at WorldMUN.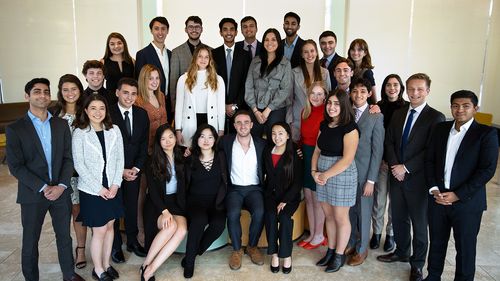 "Being one of the most competitive teams at WorldMUN is always a proud moment for our team," said Kelsey Clarke '22, CMC MUN president.
CMC's team is comprised of 35 members across class years and major disciplines. Members share a passion for international relations and form a bond while traveling around the world together to competitions.  
Two months before COVID-19 hit in 2020, 16 members of the team—double the number that usually compete—traveled to WorldMUN. Though it wasn't enough to land CMC a large delegation award, Altman said the team felt it had competed at an entirely new level—and proved something to itself.
"We did something we had never done before. We broke out of whatever box we were cast into because of our size, location, and relatively short history," Altman said. "It was a huge moment for our team."
With their accomplishments, the team has begun to gain recognition amongst powerhouse schools such as Harvard, Georgetown, and the University of Chicago, which boast larger delegations. Does that add more pressure moving forward?
"We're used to slipping under the radar, and it's too soon to tell what our reputation is going to be now," Clarke said.
Striving to not let the victories go to their heads, Clarke said they focus on what brought them together in the first place. 
"At the end of the day, we are a bunch of college kids who really like to debate international issues during our weekends," she said. "We don't want to forget our nerdy roots."
 
Contact
Office of Strategic Communications & Marketing
400 N. Claremont Blvd.
Claremont, CA 91711
Phone: (909) 621-8099
Email: communications@cmc.edu

Media inquiries: David Eastburn
Phone (O): (909) 607-7377
Phone (C): (808) 312-8554
Email: deastburn@cmc.edu