Learning across the lifespan at CMC
As students in Roberts South Room 104 circled up desks to form working groups, they compared notes on their shared projects, offering up ideas and feedback. Nothing new for CMC students, who are used to collaborating, except that in this course, a few of their classmates had already graduated college — some 50 years ago in the 1970s.
Taught by Prof. Sharda Umanath, the upper-division psychology course, "Effective Learning Across the Lifespan," offered an "in-depth look at what psychological science has discovered in how we learn best, how memory works, and how both change as we age" — a topic pertinent to any student of any age.
The fall semester course was the result of a partnership with the Napier Initiative to offer intergenerational courses at the 5Cs, bringing theory and practice together, and enrolling undergraduate students to co-learn with retirees from Pilgrim Place and other local elder communities. And it's the first time a Napier course has been taught at CMC, and the only one among the 5Cs to actually focus on aging itself.
"I found the premise of the class extremely interesting and practical," said Joanna Hwang '22, a student in the class who also works in Umanath's Memory and Aging Lab. "I value learning and wanted to see what evidence-based strategies have been found to help with learning, especially as we age. In addition, I believed I could gain a lot of practical knowledge from the class that would ultimately help me be the best lifelong learner I could be."
Perhaps the biggest draw for Hwang, however, was a chance to collaborate with elders to make "a positive difference" in their own community. "Not many college classes offer a chance for civic engagement, let alone with people who are much older than you," she said.
The course's major project was to "bridge the gap between the lab and the real-world experiences of older adults…how can we make an older adult's life better?" In addition, Umanath gave students the opportunity to deepen their learning by requiring students to volunteer at least one time at the Claremont Joslyn Senior Center and create a video detailing their experience.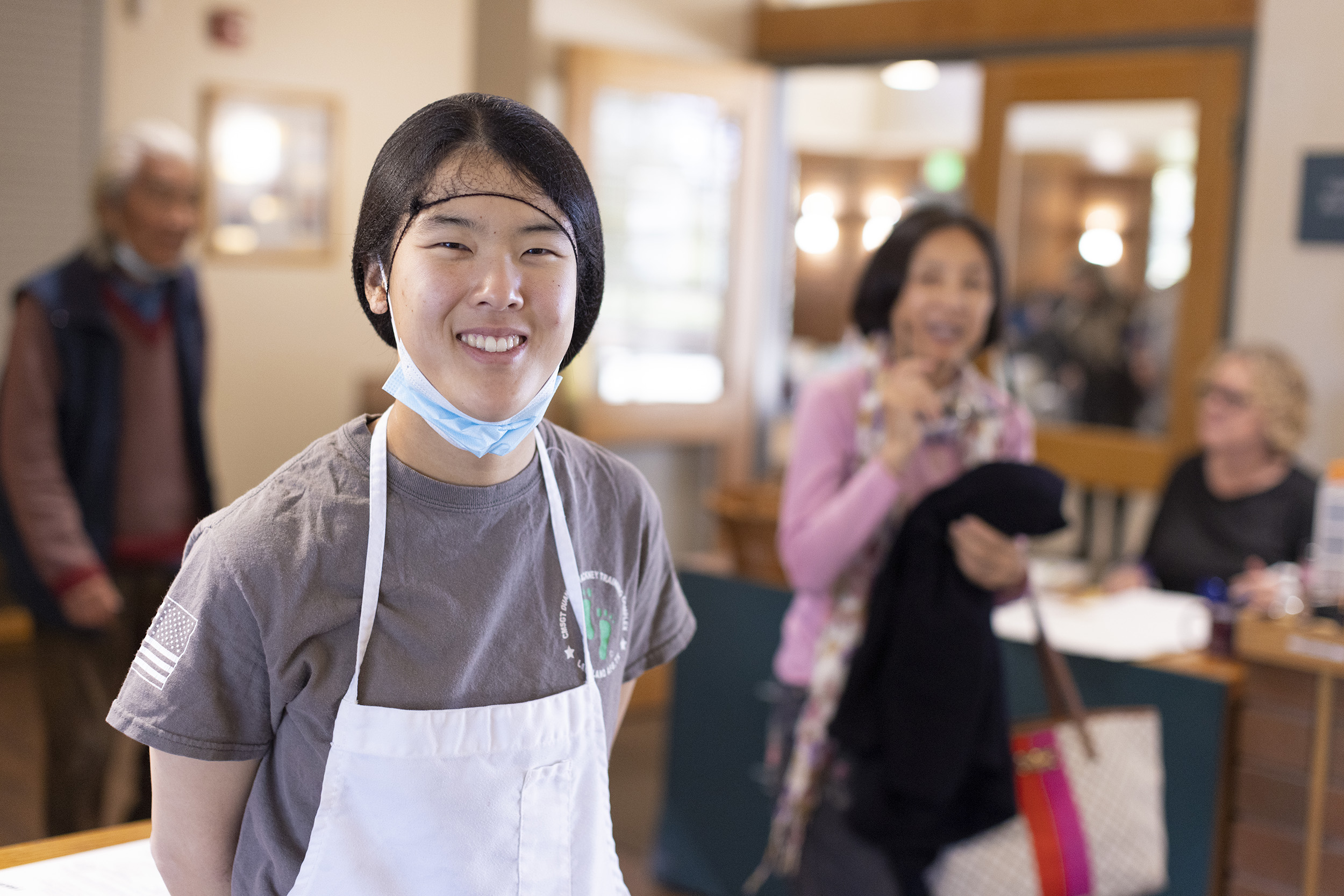 Hwang — who upon graduating CMC plans to delve further into understanding cognitive aging — volunteered to serve lunch to seniors at the Joslyn Center. She described the experience as "a check on my own perceptions of life in elder communities, and it increased my interest in helping older adults in the future."
As a teenager, Umanath herself found value in volunteering to call bingo at her local senior center. And, she's pursued an interest in aging throughout her academic career. Her research — which includes how knowledge works in memory and explores related issues involving cognitive aging — has earned her numerous honors, including a Career Award grant from the National Science Foundation.
In fact, while preparing to write the NSF proposal, Umanath developed the idea of creating a Napier class as part of the teaching initiative required for the grant.
She approached the course as a "pilot experiment of sorts" and was pleased to learn that her students appreciated how co-learning with elders "changed the dynamics of the course." Umanath hopes to teach it again next fall.
"The undergraduates got to experience, on a class-by-class basis across the full semester, that one really can be a lifelong learner and learn just for the sake of curiosity, interest, and the pursuit of knowledge rather than a grade on their transcript," she continued. "I think it changed how they approached this class, and — as the professor—it was incredibly rewarding to observe.
And, Umanath, continued, the elder co-learners "entirely transformed the classroom — they were active, present, and fully participatory."
"A personal interest in neuroscience" is what drew John Howell, a former physics professor at Earlham College in Indiana, to enroll in the course. He describes his CMC classmates "as bright, involved and personable - and very busy." And while he's taken other Napier courses, this one, he conceded, was "more demanding in terms of the participation of the 'elder' co-learners."
Reflecting on her own days as an undergraduate at Pomona, Lyn Juckniess, who graduated in 1974, said, "How I wish I had had the opportunity to hear perspectives and experiences of older adults in some of my Claremont Colleges classes in the 1970s."
Juckniess signed up for the course, she said "to learn from students and the course material, and to contribute vignettes from my life."
Juckniess found working on the project to be "rewarding," adding that she and her fellow students were "comfortable together" and the "undergraduates were curious about older adults and open to questions and additions to class discussion from the elder students."
For Hwang, the experience has drawn her attention to the "misunderstandings and stigma surrounding aging. We hear a lot about the other 'ism's' like racism and sexism, which certainly deserve attention, but I think many of us aren't as tuned in to ageism," she said. "All of us are going to get older. I believe this class has helped — and will continue to help — younger and older generations embrace aging and become lifelong learners."
Contact
Office of Strategic Communications & Marketing
400 N. Claremont Blvd.
Claremont, CA 91711
Phone: (909) 621-8099
Email: publicaffairs@cmc.edu

Media inquiries: David Eastburn
Phone (O): (909) 607-7377
Phone (C): (808) 312-8554
Email: deastburn@cmc.edu