The anticipation and energy emanating from Claremont McKenna College's Marian Miner Cook Athenaeum felt like Opening Night, as students—many of them new to CMC—excitedly gathered with faculty and staff to welcome the first speaker of the 2023-24 academic year.
"It's the first Ath, I can't miss it!" said one first-year CMC student, who was eager to hear the perspective of opening night speaker, Nury Turkel, Commissioner at the U.S. Commission on International Religious Freedom, and author of No Escape: The True Story of China's Genocide of the Uyghurs.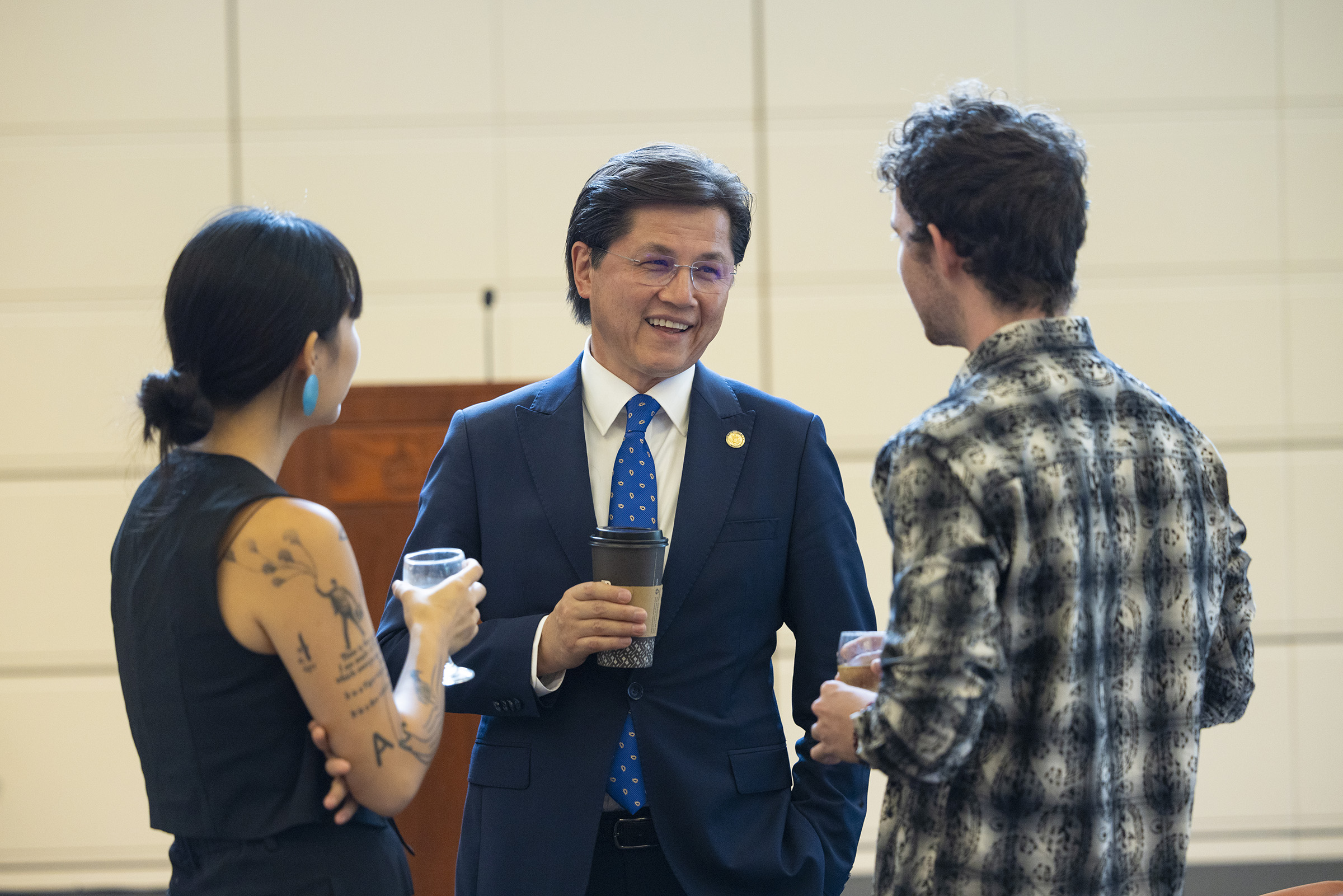 In 2003, Turkel, who is Uyghur American, co-founded the Uyghur Human Rights Project, which he currently chairs. In his talk on Sept. 11, "Confronting the Unthinkable: Understanding the Uyghur Genocide in China," he shared his personal story, and drew upon decades of experience as an attorney and human rights advocate.
A senior fellow at Washington think tank, the Hudson Institute, where he works on U.S. foreign policy and national security issues, Turkel is also a life member of the Council on Foreign Relations. In 2020, he was named as one of TIME Magazine's 100 Most Influential People in the World, and in 2021, was listed as one of Fortune's 50 Greatest Leaders. In June 2021, he was honored with the inaugural Notre Dame Prize for Religious Liberty.
Turkel's Athenaeum visit was co-sponsored by the Mgrublian Center for Human Rights and the CMC Chapter of The Alexander Hamilton Society. During his time on campus, Turkel recorded podcast episodes for the international journalism program, and the Mgrublian Center, and spent time with students at a reception prior to the Ath talk.
An estimated audience of 150 packed the Ath for Turkel's evening talk, absorbing Turkel's narrative, which detailed his efforts to raise the profile of the Uyghur cause, including testifying before Congress multiple times about Uyghur internment camps, and advocating a legislative response to China's atrocities in Xinjiang.
Speaker quotes
Turkel urged members of the Ath audience to be wary of consuming goods produced in China, noting that many multinational corporations use Uyghur forced labor in their supply chain.
"People deserve better than to be unwittingly complicit in modern-day slavery with their investment and consumer dollars," he said. "Over the years, I've had the opportunity to meet with presidents, prime ministers, ambassadors, and legislators to pass laws. But taking in the big picture, despite those accomplishments, I have been frustrated by the lack of action for those who could make a difference in people's lives. I often remind myself of those words of the late Senator John McCain that hope is a powerful defense against oppression."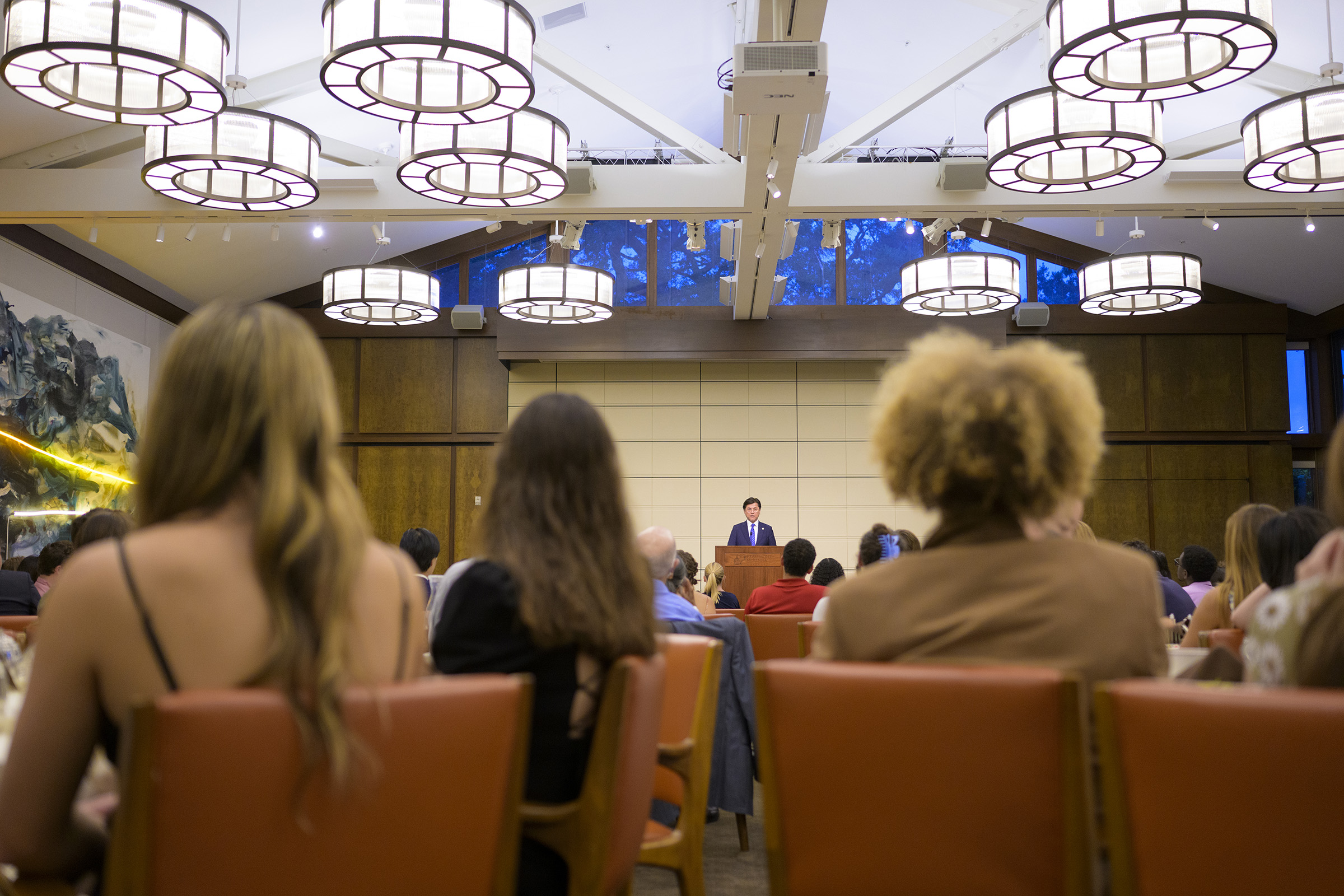 Turkel acknowledged the personal toll that his work has taken. "It's impossible to just turn your phone off and sleep because I have a mother in China and to have this work every day can be disappointing. It's difficult. But I have to stay faithful in the level of the support that we the community have received from the Jewish community, the Catholic community, and the LDS (Church of Latter Day Saints) community around the world," he said.
Student quotes
Nikhil Agarwal '24, president of CMC's Alexander Hamilton Society chapter, worked with the Mgrublian Center to bring Turkel to campus. After Turkel's Ath appearance, Agarwal reflected that Turkel was "an ideal speaker whose work sheds light on human rights violations," and shared that "it always feels surreal to meet people you've seen in the news and on television in the flesh."
"It's no secret that the CMC community cherishes any and all opportunities to hear from people like Mr. Turkel, whose story is just as incredible as it is inspiring," said Pieter van Wingerden '24, vice president of CMC's Alexander Hamilton Society chapter about Turkel's Ath talk, which drew both CMC students and students from across the 5Cs, representing a cross-section of nationalities.
"I was touched to see so many students engage with him and want to learn about what's been unfolding in Xinjiang for far too long," he said.
To sign up for all open Athenaeum events, please register online.
Contact
Office of Strategic Communications & Marketing
400 N. Claremont Blvd.
Claremont, CA 91711
Phone: (909) 621-8099
Email: communications@cmc.edu

Media inquiries: David Eastburn
Phone (O): (909) 607-7377
Phone (C): (808) 312-8554
Email: deastburn@cmc.edu